A Very Untidy Bowl Season: Degenerate Gamblers, Trickeration and Oregon vs. Ohio State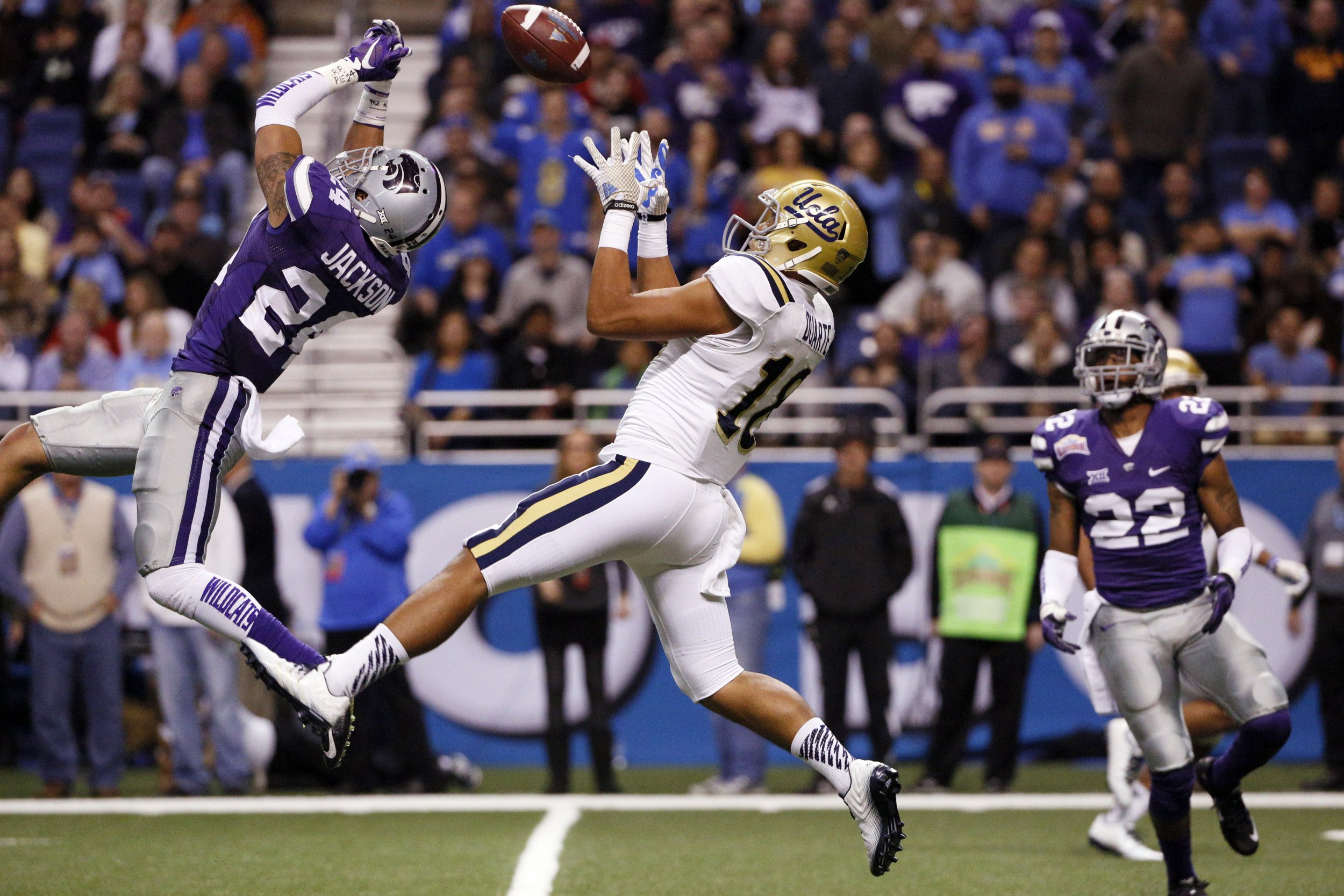 Time, as philosopher-sleuth Rust Cohle once said, is a flat circle. So is the emblem on the Oregon Duck helmet. So is the first letter in Ohio State University. Time is a flat circle: Everything we've ever done or will do, we're gonna do over and over and over again. Ohio State faced Oregon in the championship game of the inaugural NCAA men's basketball tournament in 1939 (the Webfoots, as they were then known, won 46-33). Ohio State is about to meet Oregon in the championship game of the inaugural college football playoff on January 11.
Oregon vs. Ohio State. When the game begins, the score will read 0-0. When it ends, the clock will read 00:00. Flat circles abound. The 1999 movie Office Space was both filmed and set in suburban Dallas, as next Monday's championship will be, and it was in that cult classic that the term "O Face" was introduced. O, my.
When we reach the end, we return to the beginning. Hence, before the last of 38 bowl games are played, let's travel the circumference of the previous 37, stopping along the fortnight-long story arc to recall the highlights of bowl season. Or was it all the same dream?
Wake-Up Call
Not only was the December 20 New Orleans Bowl the first bowl to be played, but the local time at kickoff was 10 a.m. Nevada hit "Snooze," as the Wolf Pack were held to a field goal in a 16-3 loss to Louisiana Lafayette.
Deja Voodoo
The aforementioned Ragin' Cajuns, whose campus is two hours due west of the Crescent City, won the New Orleans Bowl for the fourth consecutive year, which is a record for any school in any bowl.
Fraternity Row
Utah State linebackers Nick and Zach Vigil combined for 16 tackles in the Aggies' 21-6 New Mexico Bowl victory against Texas-El Paso.
Tuning the Strings
Notre Dame defeated LSU in the Music City Bowl, 31-28, starting second-string quarterback Malik Zaire. Ohio State topped Alabama in the Sugar Bowl, 42-35, starting third-string quarterback Cardale Jones. And Utah State beat UTEP in the New Mexico Bowl starting fourth-string quarterback Kent Myers…who was injured late in the first half and temporarily replaced by fifth-string quarterback Ronald Butler.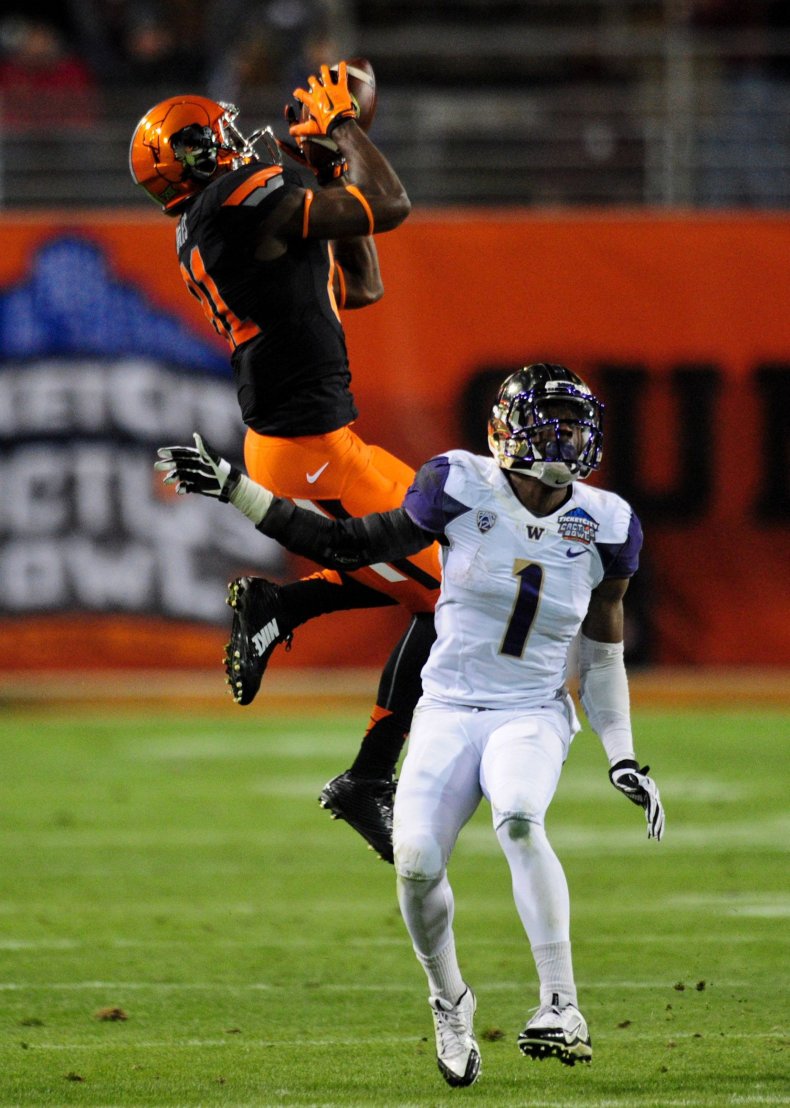 Trickeration 101
While LSU pulled off a modified fumblerooskie against Notre Dame, the most popular and effective trick play was the overhand lateral-downfield pass, which Colorado (Las Vegas Bowl), Texas Christian (Peach Bowl), Baylor (Cotton Bowl) and Tennessee (Taxslayer Bowl) all parlayed into touchdowns.
Trickeration 400
Utah met Colorado State and its interim coach, Dave Baldwin, in the Las Vegas Bowl. On their first offensive play from scrimmage, the Utes subjected Baldwin's defense to a double-reverse, double pass (overhand lateral back to quarterback Travis Wilson, who then spun it downfield to Kaelin Clay) for a 36-yard gain.
Sideline Carnage, Part I
In the Camellia Bowl, South Alabama coach Joey Jones suffered a bloody nose after Jaguar tight end Ryan Onkka was pushed out of bounds after a catch and somersaulted, his cleats catapulting into Jones's mug.
Superlatives
Winning: The Utes' Las Vegas Bowl victory gives the school a 13-4 record in bowls. The .765 win percentage is the best of any program that has played in at least 15 bowls.
Rushing: Georgia's true freshman Nick Chubb, the Bulldogs' backup to Heisman candidate Todd Gurley the first half of the season, rushed for 266 yards in a 37-14 Belk Bowl win over Louisville. The Cardinals entered the contest with the nation's No. 2 rushing defense.
Passing: Baylor's Bryce Petty threw for 550 yards in the Bears' spleen-busting 42-41 Cotton Bowl loss to Michigan State.
Touchdown Passing: Central Michigan quarterback Cooper Rush threw seven scoring passes, five of them in the fourth quarter, in the Chippewas' 49-48 Bahamas Bowl loss to Western Kentucky.
Catching: Marshall's Tommy Shuler caught 18 passes from his former high school teammate, Rakeem Cato, in the Thundering Herd's 52-23 Boca Raton Bowl win.
Field Goal-ing: Jake Elliott of Memphis kicked a 55-yard field goal, the longest in a bowl in 26 years, to force overtime versus BYU in the Miami Beach Bowl.
Tackling: South Alabama linebacker Maleki Harris had 18 tackles in his team's Camellia Bowl loss to Bowling Green.
Haunted Turf
The inaugural Miami Beach Bowl featured 103 points and two overtimes as Memphis prevailed 55-48. The game may best be remembered, however, for a post-game brawl between players from Memphis and BYU, including an already bloodied Kai Nacua of the Cougars sucker-punching Tiger tight end Alan Cross in the back of the head. The game was played in Marlins Park, which was built on the site of the former Orange Bowl.
Geography Quiz
Sixteen states and one island nation hosted bowl games. Can you name them? (Answer below)
Worst Beat (Degenerate Gamblers Only)
The Bahamas Bowl became the first bowl played outside of the United States or Canada since 1937. Early in the fourth quarter, Western Kentucky, a three-point favorite, led Central Michigan by 35 points, 49-14. The Chippewas chipped away at the lead until the score stood 49-42 and, after a Hilltopper punt, Central Michigan had the ball on its own 25 with :01 on the clock. Then this happened.
Central Michigan went for the two-point conversion and failed. Technically, Western Kentucky won, 49-48. But someone should overturn that upon review.
G-N-A-T-sized
Jayson Carter, a running back at Rice who stands four-foot-nine and weighs 140 pounds, had one carry in the Hawaii Bowl for two yards. For Carter, a senior walk-on who suffers from a genetic growth disorder, it was his second career carry.
G-I-A-N-T-sized
LaQuan McGowan, an offensive lineman for Baylor who stands 6-foot-7 and weighs 390 pounds, lined up at tight end and caught an 18-yard touchdown pass for the Bears in the Cotton Bowl. The gods may have frowned upon that, as Baylor then surrendered 21 unanswered fourth-quarter points to Michigan State and lose, 42-41.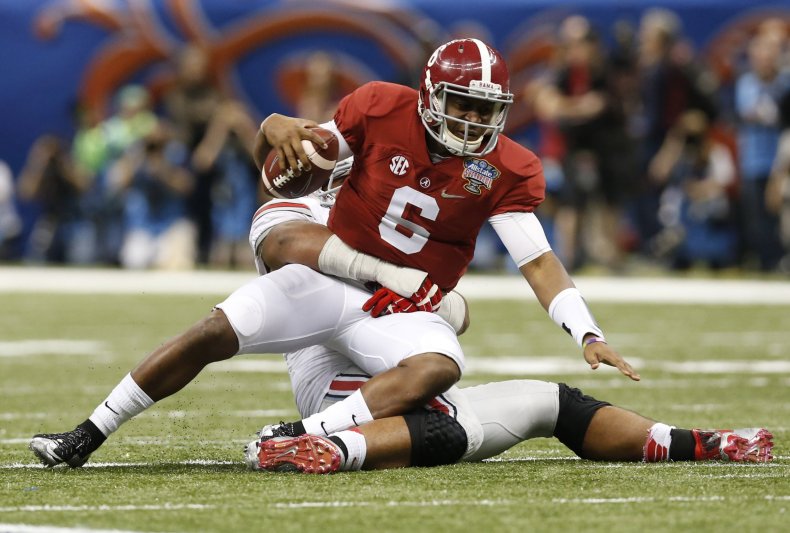 Sideline Carnage, Part II
On two separate occasions in the first half of the Liberty Bowl, Texas A&M student assistant Michael Richardson went Woody Hayes-at-the-Gator Bowl crazy on West Virginia players who ventured onto the Aggie sideline. Richardson, a former Texas A&M player, was ordered not to return to the field for the second half and was dismissed from the program the following day by Aggie coach Kevin Sumlin.
My Old Schools
Illinois met Louisiana Tech in the Heart of Dallas Bowl. Tech linebacker Houston Bates graduated from Illinois last May but, with one year of eligibility remaining, the Louisiana native transferred to the Ruston, Louisiana, school for his final season. Facing his former teammates, Bates had 4½ sacks, or the same number he had in three seasons with the Illini.
Quiz Answer
Alabama, Arizona, California, Florida, Georgia, Hawaii, Idaho, Louisiana, Maryland, Michigan, Nevada, New Mexico, New York, North Carolina, Tennessee and Texas. And, the Bahamas.
Returners Who Will Return
LSU's Leonard Fournette returned a kickoff 100 yards for a touchdown in the Music City Bowl, USC's Adoree Jackson returned one 98 yards for a score in the Holiday Bowl and Arizona State's Kalen Ballage returned one 96 yards to set up the game-winning touchdown in the Sun Bowl. Fournette, Jackson and Ballage are all freshmen.
Captains' Log
Penn State team captain Sam Ficken, the Nittany Lion kicker, booted the game-winning PAT in overtime of the Pinstripe Bowl to defeat Boston College, 31-30, in Yankee Stadium. Ficken, who had tied the game late in regulation with a 45-yard field goal, used the locker of former Yankee captain Derek Jeter, who probably would not have minded someone in a blue-and-white uniform whose design has not changed in decades savoring an extra-innings win over a team from Boston.
Don't Look, Earl
With Longhorn legend and 1977 Heisman Trophy winner Earl Campbell watching, Texas rushed for all of two yards in a 31-7 Texas Bowl loss to former Southwest Conference rival Arkansas. In his final two seasons in Austin, Campbell had rushed for 131 and 188 yards against the Razorbacks.
Wrong Way Riegels Tribute
Stanford took part in the Foster Farms Bowl at Levi's Stadium in Santa Clara. The venue is 11 miles south of the school's Palo Alto campus, but the Cardinal team hotel, the Grand Hyatt in San Francisco, was situated an hour north of Palo Alto.
Peach Pique
TCU, which fell from third to sixth in the final College Football Playoff rankings despite a 52-point win in the last week of the season, entered the Georgia Dome with a chip on its shoulder pads. Facing No. 9 Mississippi, which entered the game with the nation's No. 1 scoring defense, the Horned Frogs leaped out to a 42-0 lead midway through the third quarter. Final score: 42-3.
"I don't think I have to say anything." —TCU coach Gary Patterson, when asked if his playoff-spurned Horned Frogs considered their emphatic win a statement
Boise in the Hood
Boise State returned to University of Phoenix Stadium in Glendale, Arizona, and a New Year's Day Fiesta Bowl and not only won but also once again successfully pulled off its Statue of Liberty play. The Broncos are now 3-0 in Fiesta Bowl games in the past eight years.
Chris Petersen, who had coached Boise State to that unforgettable 43-42 Fiesta Bowl triumph in overtime against Oklahoma in 2007, was also in the Phoenix area. His current team, Washington, played Oklahoma State in the Cactus Bowl in Tempe the following night.
Retro Orange Bowl
For one night the Orange Bowl had a late-'70s Oklahoma or Nebraska wishbone feel, as Georgia Tech's triple-option attack rumbled for 452 yards in a 49-34 win against Mississippi State. The Yellow Jackets' rush total was an Orange Bowl record.
"For a week or so we won't have to hear about the SEC" —Georgia Tech coach Paul Johnson, after his Georgia Tech team mauled a Mississippi State squad that had been ranked No. 1 for nearly half the season.
SEC West, SEC Worst
Do they serve humble pie at Dreamland? The Southeastern Conference's vaunted West division, which has accounted for five of the past seven national champions, went 2-5 in bowls. Only Arkansas and Texas A&M, which finished in the bottom two spots in the seven-team division, won. For the record, SEC West teams lost to: a Midwest school with a substitute head coach (Auburn to Wisconsin), a Midwest school that had lost four straight (LSU to Notre Dame) and a Midwest school that had an 0-10 bowl record vs. SEC opponents (Alabama to Ohio State).
Alabama and Auburn, by the way, are 0-4 in bowls the past two seasons.
"Pawwwwwl!"
Cheer up, Johnny Reb: The SEC East went 5-0 in its bowls.
About that SEC Speed…
Wisconsin's Melvin Gordon, the nation's leading rusher, galloped for 251 yards against Auburn in an overtime win in the Outback Bowl. Ohio State's Ezekiel Elliott broke through for a game-sealing 85-yard scamper in the Buckeyes' Sugar Bowl defeat of Alabama. It was the longest run from scrimmage the Crimson Tide had allowed in Nick Saban's eight seasons in Tuscaloosa.
"Before you play a guy you're like, 'You've got to show me.' Today, he showed us." —Auburn cornerback Trovon Reed, on Melvin Gordon
Happy New Year, Jim Delany!
By the end of the first day of 2015, not only had Wisconsin and Ohio State upset Auburn and Alabama, respectively, but Michigan State had stormed back from a 20-point fourth-quarter deficit to shock Baylor (the Bears had finished fifth in the final selection committee standings), 42-41, and Michigan had installed alumnus Jim Harbaugh as its new head coach. Twenty-four hours in and 2015 may already be the best year in Big Ten history.
"I am alive" and "My mom said I would never get hit" —tweets from Baylor kicker Chris Callahan after his field goal was blocked and he was decleated by Michigan State's Tony Lippett
"This is one of the toughest non-wins that I've ever experienced" —Baylor coach Art Briles, after the Bears blew a 20-point fourth-quarter lead, including squandering an 84-yard pick-six that would have put Baylor up by 27 due to a clipping penalty that occurred 10 yards behind the play. At the time the Bears were the only team in the country to come back from 20 points down in the fourth quarter and win (October 4, versus TCU) this season and only the second team—after TCU—to blow a 20-point or more lead in the fourth quarter. Until…
... The Armed Forces Bowl
One day after Baylor's Cotton Bowl debacle in Arlington, Pittsburgh blew a 31-6 fourth-quarter lead to Houston in nearby Fort Worth. The Panthers actually led 34-13 before the Cougars scored three touchdowns and one two-point conversion in the final 3:49 to win 35-34. Thirty-five years and one day earlier, in the Cotton Bowl, Houston had squandered a 34-13 fourth quarter lead to Joe Montana and Notre Dame only to lose by the same 35-34 score.
This was the largest blown fourth-quarter lead (25 points) in bowl history and the second by 20 or more points in as many days. Before New Year's Day, teams that trailed by 20 or more points entering the fourth quarter in 2014 had a 1-333 record.
Don't Blame Jameis
The record books will show that defending national champion Florida State lost by 39 points to Oregon in the Rose Bowl—surrendering the most points, 59, in the game's history—but Seminole quarterback Jameis Winston was not really inaccurate when he stated, "We beat ourselves." The Noles were trailing 18-13 and driving for the go-ahead score early in the third quarter when they committed the first of five turnovers in the span of 16 minutes.
Florida State may well still have lost, but Winston, outside of a surreal fumble that epitomized his team's inexplicable third-quarter implosion, had a respectable game: 29 of 45 for 348 yards.
"If you don't calm the fuck down, you're going to the bench" —Florida State coach Jimbo Fisher to Winston, after Winston's fumble was returned for a touchdown and the Noles found themselves trailing 45-20
Remember the (Last Play of the) Alamo Bowl
UCLA coach Jim Mora, taking umbrage at a Kansas State defensive player's attempt to leap over the offensive line on a victory formation play in the Bruins' Alamo Bowl win, extended a cursory, dead-fish handshake to the Wildcats' 75 year-old coach, Bill Snyder.
Sideline Carnage, Part III
Early in the TaxSlayer Bowl, Iowa's Desmond King was blocked into Hawkeye coach Kirk Ferentz, giving him a nasty shiner above his right eye.
Storming the Castleman
Oklahoma State defensive lineman James Castleman, a 6-foot-2, 300-pounder, made a pair of cameo appearances on offense in the Cowboys' Cactus Bowl win. Castleman opened the scoring by taking a shotgun snap and bulldozing in from a yard out in the first quarter. Late in the fourth quarter, with Okie State clinging to an eight-point lead, Castleman lined up in the slot and caught a short pass on third down, then rumbled 48 yards before he was finally dragged down. "Once somebody hit me," Castleman said, "the 'Check Engine' light came on."
Five Plays Not To Be Forgotten
5. Boise State Statue of Liberty Redux (Fiesta Bowl).
4. Ohio State's Michael Thomas' incredible TD catch (Sugar Bowl).
3. Melvin Gordon's fourth down touchdown run (Outback Bowl).
2. The Jameis Winston fumble that launched a thousand memes (Rose Bowl).
1. Central Michigan's Hail Mary play (Bahamas Bowl).