A Vet Visit Video Shows a Nervous Cat's Love for Its Human
Many people don't love going to the doctor, and the same can be said for pets. If you have a furry friend, chances are you've had at least one vet visit in which your buddy really doesn't want to be there.
A man shared his latest vet experience with his cat, and it could be the sweetest thing you'll see all day.
It's unclear if the poster on Reddit is really the man who owns the cat—or even the other way around. The short video was first uploaded to Gfycat.com and later shared on Reddit. It shows a sweet cat laying nervously on a vet table before creeping its way over to the owner. There, the car hides nearly its entire body in the man's jacket.
Obviously, the man can't help but smile and seem completely charmed by the cat's trust and love for its human, and his new cloak of protection.
The post appeared on Reddit's r/aww subreddit, a place dedicated to cute things and events. Most of the shares are of animals, though a handful of adorable human interactions are shared from time to time, too. The community adored this nervous cat and gave the post over 100,000 upvotes and a handful of awards.
One of the most touching things about the post, in addition to the cat's innovative escape, was the number of commenters that shared similar experiences with their own pets.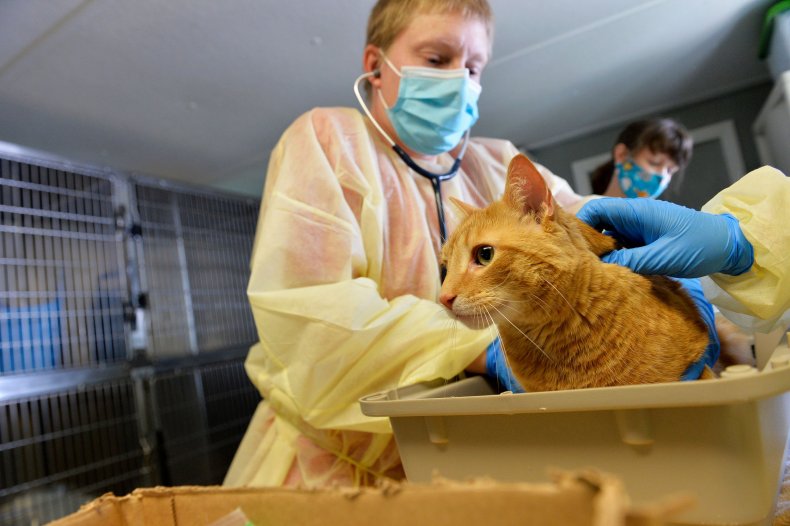 It seems that hiding in jackets is a popular cat escape method. "My cat tried to hide in my jacket last time she had to go to the vet too its [sic] so sweet and I felt so bad for having to betray her a minute later," wrote u/kaldaka16.
u/peach445 shared the same kind of story. "Same thing happened with me and my kitty! She tucked her face in my jacket and her tail was wrapped around my waist. It was heartbreaking," the user wrote. "Good vet visit though. All was fine with the little one."
One user reflected on the moment their parrot found a different hiding place. "Not a kitty, but my little parrot (weighs 66 grams) thought the PERFECT place to escape to was up the vets hijab," wrote u/SabrinaT8861. "Never have my partner or I been more mortified. Thankfully, the vet just chuckled, pulled her out and told her it was a good try."
The stories contunied to come in, and they included bunnies and dogs, too. It seems many animals are terrified of the uncomfortable, yet necessary vet visits, and a few commenters shared how to calm your pet down.
Some animal owners prefer to hold their pet for as much of the visit as possible. Others create moment of safe places for their pets. "My cat tries to hide in/under me—I've never thought to wear a jacket when going to the vet (never needed to go in the winter, apparently...) so I always just lean over the table and make a circle with my arms," wrote u/spazticcat.
A dog owner shared a similar tactic. "I've learned that as long as I kneel beside her and pet her/talk softly to her, she'll let the vet do whatever he needs to," said u/clutterqueenx. "The vet knows when I bring her in that all he needs to do is ask me to walk her somewhere specific or hold her and all is golden!"