Veteran Affairs Pledges to Remove Swastika Gravestones from Military Cemeteries
The U.S. Department of Veterans Affairs (VA) Monday announced it will remove and replace three headstones bearing swastikas from military cemeteries in Texas and Utah. The decision comes two weeks after the VA initially said it wouldn't remove them.
The gravestones signify Nazi military officers who died as U.S. prisoners of war (POWs) during World War II. The Military Religious Freedom Foundation (MRFF), a nonprofit dedicated to maintaining religious freedom in the armed forces, initially requested the VA to remove them after a retired U.S. military colonel saw the gravestones while visiting the grave of his grandfather, who fought Nazis during World War II.
The VA initially said it couldn't remove them under the 1966 National Historic Preservation Act (NHPA), which directs federal agencies to protect historic resources, even ones recognizing divisive historical figures or events.
However, Section 106 of NHPA states that federal agencies like the VA can consult the Advisory Council on Historic Preservation (ACHP), an independent federal agency, for comment on how to "mitigate or avoid adverse effects" publicly caused the gravestones.
The VA pledged to "consult with stakeholders about how to replace these headstones with historically accurate markers" that don't include the Nazi swastika and German text.
"Americans must always remember the horror of the Nazi regime and why so many Americans sacrificed so much to free the world from its reign of terror," said VA Secretary Robert Wilkie. "It is understandably upsetting to our Veterans and their families to see Nazi inscriptions near those who gave their lives for this nation. That's why VA will initiate the process required to replace these POW headstones."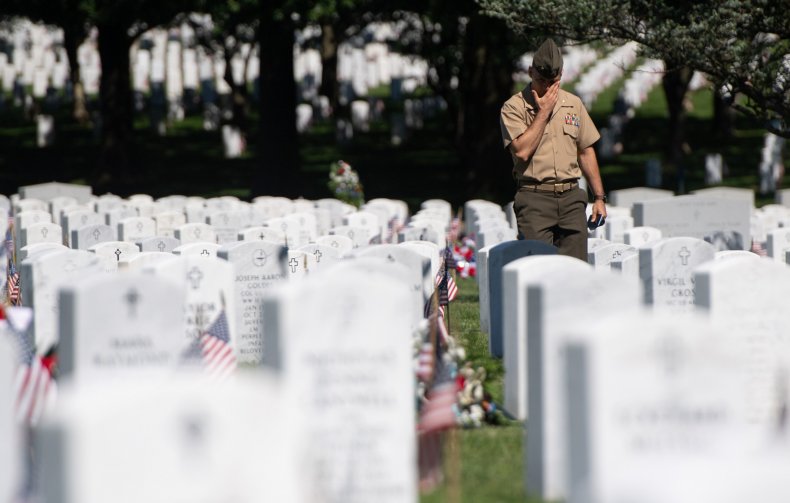 The three gravestones contain swastikas and the phrase "He died far from his home for the Führer, people and fatherland," a reference to Germany under the dictatorship of then-Chancellor Adolf Hitler.
The headstones are located in the Fort Sam Houston National Cemetery in Texas and Fort Douglas Post Cemetery in Utah. Of the nation's 142 veteran cemeteries, only 13 contain POWs from other countries, according to the VA's National Cemetery Administration website. It's unclear how many total gravestones have swastikas.
After they are replaced, the VA may preserve the headstones in its National Cemetery Administration History Collection.
"The VA's initial decision to leave the gravestones in place was callous and irresponsible, but today's decision is an honorable move in the right direction," wrote Florida Congresswoman Debbie Wasserman-Schultz, who serves as the Chair for the U.S. House Military Construction and Veterans Affairs Appropriations Subcommittee.
"I will eagerly monitor how VA moves forward with this process, including how they choose to provide historical context to enemy prisoners of war buried in U.S. Veterans cemeteries," Wasserman-Schultz said.
The MRFF had created a coalition of fellow civil rights organizations and individuals to advocate the headstones' removal. Their coalition of supporters included the Southern Poverty Law Center, Americans United for Separation of Church and State, Faithful America, Vote Vets, B'nai B'rith International, Columbus Jewish Foundation, the American Jewish Committee, and others.