Military Veteran Lawmakers Call for Assault Weapons Ban: 'Stop Easy Access to Weapons of War'
Two ex-military Democrats with experience handling assault weapons in the line of duty are calling on Congress to once again ban such firearms from being obtained by the general public.
Representatives Mikie Sherrill of New Jersey and Jason Crow of Colorado, who both served overseas during their tenure in the armed services before being elected in 2018, want AR-15s and other military-style assault rifles to be banned in an attempt to curb the number of mass shootings in the wake of two shootings that killed at least 31 people. And they're going off their past experiences to make an argument.
"While serving in the Army and Navy, we both experienced the rigorous training required of all military personnel who carry them," the duo wrote in a USA Today op-ed published on Monday. "And we know the purpose of a gun that can fire hundreds of rounds in minutes. It's not for hunting or for civilian self-defense. It's for warfare."
The recent mass shootings in El Paso, Texas, and Dayton, Ohio, earlier this month were committed with assault-style firearms, allowing the gunmen the ability to disperse dozens of rounds in a short period of time.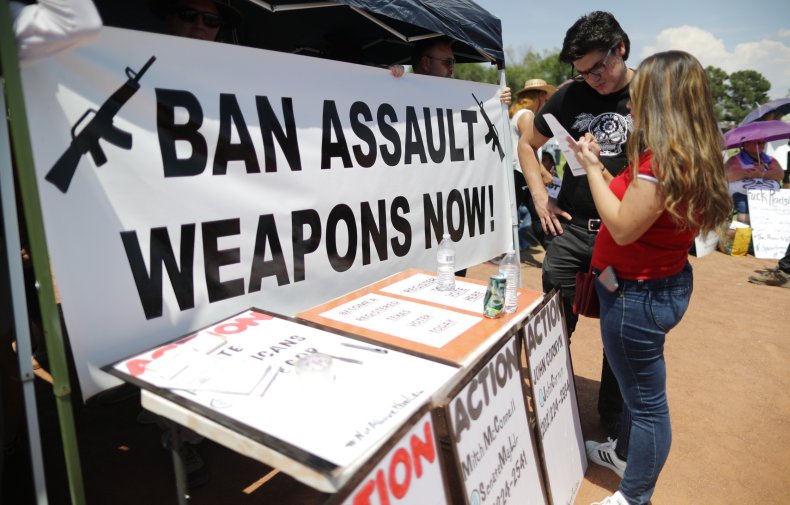 Sherrill, who served in the Middle East and elsewhere abroad for the Navy, and Crow, who was an Army Ranger and served in Iraq and Afghanistan, said they believe one of the best ways to combat the rise in mass shooting deaths in recent years would be to bring back the 1994 assault weapons ban.
"Mass shootings are occurring at an alarming rate and will continue unless we stop the easy access to weapons of war," they wrote. "The assault weapons ban is an obvious place to start because it's a solution that has already worked."
Implemented between 1994 and 2004, the ban prohibited the purchase of high-capacity magazines and assault weapons. During that decade, the number of mass shootings declined by roughly 37 percent and the number of deaths dropped by about 43 percent as compared to the decade prior without the ban, according to data compiled by Statista shown in the chart below. In the decade following the ban's expiration, the occurrence of mass shootings exploded by 183 percent and the number of deaths increased by nearly 240 percent.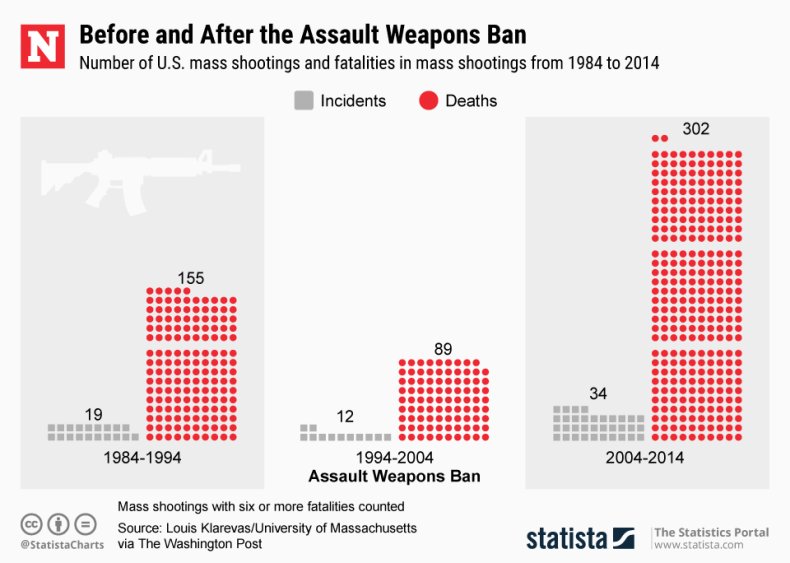 Sherrill and Crow have co-sponsored legislation written by Representative David Cicilline, a Rhode Island Democrat, that would reinstate the ban and create a government buy-back program. They also pointed to their home states as examples of how to implement "common sense" gun laws to help prevent such tragedies. Colorado passed universal background check legislation after the Aurora movie theater shooting in 2012 and New Jersey has "some of the strongest gun laws in the nation," the pair wrote in the op-ed.
Congress has not acted on gun control in the wake of the two mass shootings earlier this month, as lawmakers and President Donald Trump search for a path forward in passing legislation that could muster enough bipartisan support to make it to Trump's desk. The Democratic-led House passed universal background check measures in February, but the GOP-controlled Senate has taken action, something that's caused more than 200 House Democrats to demand Senate Majority Leader Mitch McConnell recall members from their August recess to address the gun control legislation.
In a local radio interview last week, McConnell said background checks would be "front and center" once Congress returns the second week of September. Other proposals, such as "red-flag" laws, which would allow law enforcement to temporarily confiscate firearms from those believed to be an imminent threat to themselves or others, have been floated as potential solutions.
Trump last week threw his support behind "common sense background checks" and said there's a "strong appetite" for them. However, when it comes to an assault weapons ban, the president said there's "no political appetite."
Still, no concrete plan on how to proceed has been finalized by lawmakers.
"We are both veterans and parents to young kids. As our children and yours head back to school this fall, here is a lesson we hope none of our kids have to learn," Sherrill and Crow wrote. "A loaded AR-15 rifle — the military-grade weapon used in more mass shootings than any other — can fire dozens of rounds in a minute."