Veteran Tells Donald Trump Jr. to Join Military If He Wants to Understand 'Sacrifice'
On Veterans Day, Iraq War Veteran Paul Rieckhoff criticized first son Donald Trump Jr. for comparing business deals his family gave up so his father could be president with the sacrifices veterans made.
"Don Jr. is of age, if he really wants to understand what sacrifice is all about, he can join the military," Rieckhoff told CNN New Day host John Berman.
In a segment of his new book, Triggered: How the Left Thrives on Hate and Wants to Silence Us, Trump Jr. described a visit to Arlington National Cemetery. While his father, then-President-Elect Donald Trump, stood in front of the Tomb of the Unknown Soldier and the Army played "Taps," which is performed at military funerals, Trump Jr. said he thought about his family's sacrifices.
"In that moment, I also thought of all the attacks we'd already suffered as a family, and about all the sacrifices we'd have to make to help my father succeed—voluntarily giving up a huge chunk of our business and all international deals to avoid the appearance that we were 'profiting off the office,'" Trump Jr. wrote, according to Axios.
Rieckhoff, who founded the Iraq and Afghanistan Veterans of America (IAVA) organization, told Berman this was an example of how the president and his family are "tone-deaf about what it means to serve." While he acknowledged there are many different ways to serve your country, he called comparing losing business deals to the veterans buried at Arlington "ridiculous."
"Unfortunately, that's the kind of tone that's permeated the last three years of this administration," Rieckhoff said.
Rieckhoff wasn't alone in finding Trump Jr. comparing his own experience to those who served in the military to be inappropriate. Veteran Army Major Richard Ojeda posted on Twitter that the first son should be "banned from that hallowed ground."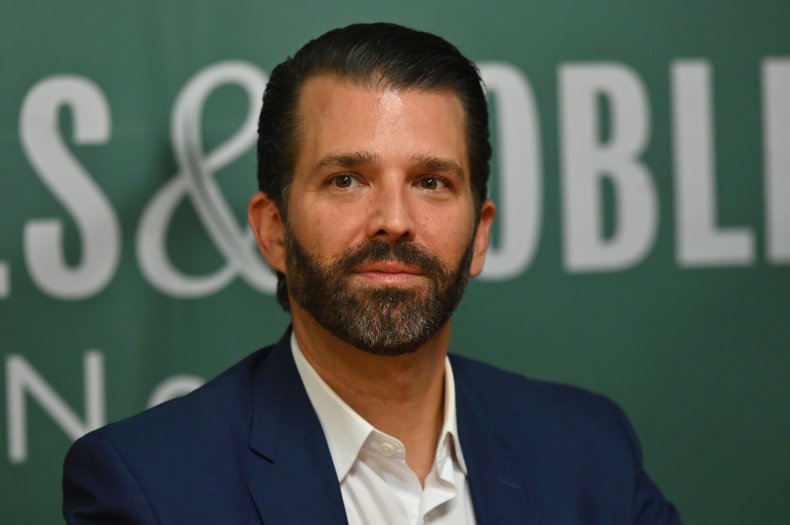 "His bloodline has nothing to do with the selfless courage that fills those gardens of stone," Ojeda wrote.
Khizr Khan, whose son Humayun was killed in Iraq, told MSNBC on Sunday that Trump Jr.'s book segment was "disgusting" and "shameful." However, he added that he didn't expect "any better" from Trump or his family.
During the 2016 election, Khan gave a powerful speech at the Democratic National Convention criticizing Trump for his proposed immigration policies and floated the idea that Trump may have never read the Constitution. In return, Trump, who later signed a bill naming a post office after Khan's son, claimed Khan had "no right" to make "inaccurate" claims in front of millions of people.
On Monday, Trump will deliver a speech at the opening ceremony of New York City's Veterans Day Parade, making him the first president to attend. Organizers championed his appearance, but Rieckhoff said he would be boycotting the parade because Trump's attendance automatically made an event that should be about unity, all about him.