Veteran Says Students Who Flashed 'OK' Symbol at Army-Navy Football Game 'Disgraced the Armed Forces'
A Navy veteran believes Army cadets and Navy midshipmen "disgraced the armed forces" when they flashed possible white power symbols at a football game between the services.
Malcolm Nance, an author and former Navy chief, told MSNBC that he "took a very dim view" of students who showed hand symbols that can sometimes indicate support for white supremacism, and suspected that senior officers would be "coming down on top of them like a ton of bricks" following the Saturday match.
But he also noted there was no certainty the cadets and midshipmen were indicating support for white power by flashing the "OK" hand symbol—which involves putting thumb and index finger together while leaving remaining fingers stretched.
Footage of the students showing the symbol to cameras was caught by ESPN as journalist Rece Davis delivered a sideline report before the game, prompting social media backlash and investigations by both the U.S. Naval Academy and the U.S. Military Academy at West Point.
The Anti-Defamation League, an NGO that fights against hate groups and anti-Semitism, said most uses of the symbol were "harmless" and "entirely innocuous." While recognizing that the symbol had been adopted by some white supremacists to represent the letters "WP" or "white power," ADL further noted people "have been falsely accused of being racist or white supremacist" for using the symbol in its original, harmless context.
The Southern Poverty Law Center also published an article in 2018 recognizing that the symbol can have a variety of meanings that range from indicating that someone is OK to signaling white supremacist beliefs, adding that its most common use was the harmless signal for all being well.
Users of 4chan's /pol/ board adopted the symbol in 2017 as a hoax aimed at trolling liberals and "triggering" a reaction from them, according to the SPLC. It has also been noted that the gesture is used in a game where people tricked into looking at the circle get punched on the shoulder.
Speaking to MSNBC on Sunday, Nance said he could not say "whether it was a white power symbol or whether it was the 'make you look game'" flashed by students on Saturday, adding that he would leave that judgment to commanders.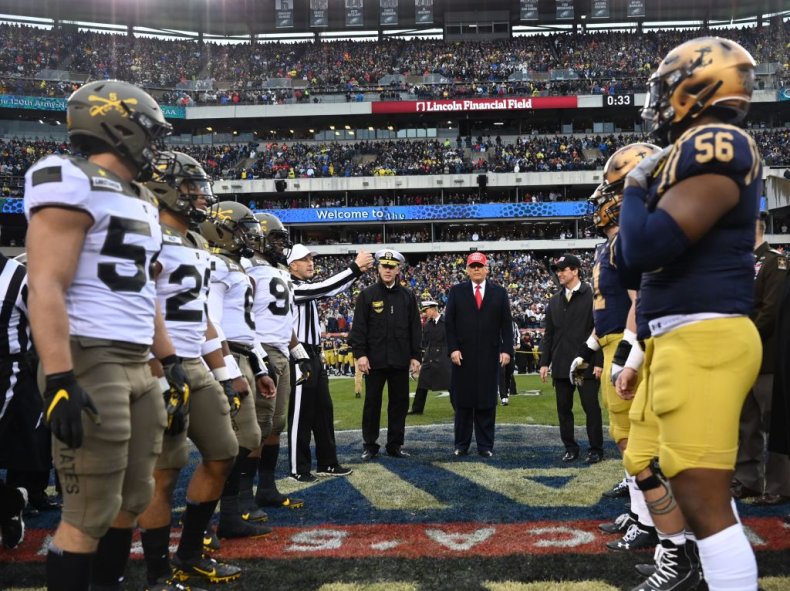 But he added: "The good order and conduct, and the appearance of probably and dignity of West Point and the naval academy have been breached, and that is precisely why by tomorrow morning we are going to have some very decisive looks into precisely what happened."
The veteran also said there was a "subculture within the armed forces" that plays a game where the symbol is shown below a person's waist which another person has to put their finger through if they don't want to be punched.
"But what we are seeing now is you may be seeing people who have, you know, not doing good order and discipline in the ranks, but you may also be seeing people who have an opportunity to present a white power symbol," Nance later added. "And again we are not going to be the arbiters of this."
Asked by MSNBC anchor Kendis Gibson what punishment the students could expect, the author said: "We are going to find out and all of their senior non-commissioned officers, senior ranking officers, are going to be coming down on top of them like a ton of bricks because they have disgraced the armed forces, whether they were just, as we say, lollygagging and playing around, or whether they actually had the intent to make that symbol in front of a national audience."
Responding to a Newsweek request in an emailed statement, Lt. Gen. Darryl Williams of the U.S. Military Academy said: "The United States Military Academy is fully committed to developing leaders of character who embody the Army Values.
"I have appointed an Investigating Officer according to Army Regulation 15-6, to conduct an administrative investigation into the facts, circumstances, and intent of the Cadets in question."
In a statement sent to Newsweek on Sunday, Navy Commander Alana F. Garas of the U.S. Naval Academy said: "U.S. Naval Academy officials have appointed a preliminary inquiry officer to conduct an internal investigation into the hand gestures made during the ESPN College GameDay broadcast prior to yesterday's Army-Navy game."
The commander added that it would be "inappropriate to speculate any further" while investigations were ongoing, but did say that those involved would "be held appropriately accountable" based on findings.
The Navy beat the Army 31-7 at the Saturday football game in Philadelphia, ending a three-game losing streak.