Veteran Texas Senate Candidate Responds to GOP Super PAC Calling Her Tattoos 'Radical': 'They Cover My Shrapnel Wounds'
Democratic Senate candidate M.J. Hegar, a veteran of the war in Afghanistan, called out a conservative super PAC for using an image of her tattoos and describing her as "radical," pointing out that the body art covers her shrapnel wounds.
A website paid for by Texans for a Conservative Majority featured an image of Hegar with her tattooed upper-right arm exposed. "M.J. Hegar is a radical liberal who lacks the judgment Texans need in the Senate," the caption below the image says. A video describing Hegar as a "radical" for supporting universal health care and other progressive policies is embedded below.
"A pro-Cornyn Super PAC is using a photo of my tattoos to make me seem 'radical.' That's pretty funny to me," Hegar wrote in a Thursday morning tweet, posting the image from the conservative ad and another of herself flexing her tattooed arm. "You think I'm ashamed of them? They cover my shrapnel wounds from when my helicopter was shot down. They're a mark of my service to our country. I'm damn proud of them."
Although the Texans for a Conservative Majority page does not specifically mention Republican Senator John Cornyn, Hegar is his main opponent in the Texas race.
Newsweek reached out to a press representative for Cornyn's campaign for comment but did not receive a response in time for publication. Hegar's campaign told Newsweek it did not have "any further comment past what MJ said in the tweet."
Hegar joined the Air Force and became a helicopter pilot following her graduation from college, the candidate's website explains. "MJ went on to serve three tours in Afghanistan as a combat search and rescue and medevac pilot," it says.
"During a rescue mission in Afghanistan, MJ's helicopter was destroyed by the Taliban, and she was injured by enemy gunfire. MJ received the Purple Heart for her injuries, and she is one of only a few women to be awarded the Distinguished Flying Cross with Valor for her actions saving the lives of her crew and patients," her website explains.
Cornyn first entered the Senate following his election in 2002. Recent polls suggest that he is favored to win over Hegar on November 3.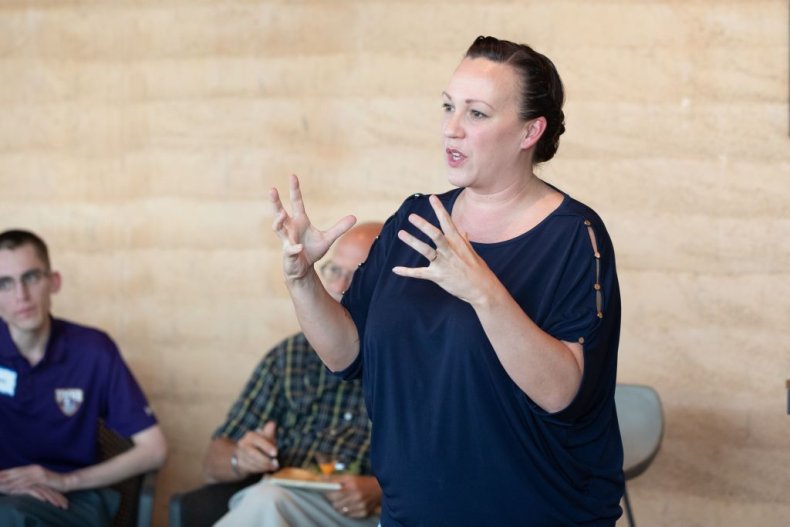 Polling carried out by CBS News/YouGov from September 15 to 18 showed Cornyn backed by 46 percent of Texans, while 41 percent supported Hegar. A separate survey, conducted from September 16 to 21 by The New York Times/Siena, showed the Republican ahead by 6 percentage points, with the backing of 43 percent of voters, compared with 37 percent for his opponent.
Despite what appears to be an uphill battle, Hegar told The Texas Tribune in an interview this week that she's confident of victory. She also had a dire warning about the GOP senator.
"I don't know how much more Texas can survive John Cornyn's experience. He's got a steady hand on the wheel driving toward a cliff," she said.