Two identical twins who enlisted together and died on the same day have been reunited after 74 years apart.
Julius and Ludwig Pieper, age 19, were on U.S. Navy cargo ship LST-523 when it hit a mine while trying to reach the Normandy beaches on June 19, 1944, 13 days after the D-Day landings. One hundred and seventeen of the 145 total crew members, who were going to drop off supplies and bring back wounded soldiers, died in the explosion.
The body of Julius, known as Henry, sank with the ship, while that of Ludwig, known as Louie, was found and buried in the Normandy American Cemetery and Memorial in France. On Tuesday, Julius' body was placed beside his brother's in a graveyard that looks onto the English Channel, where they died.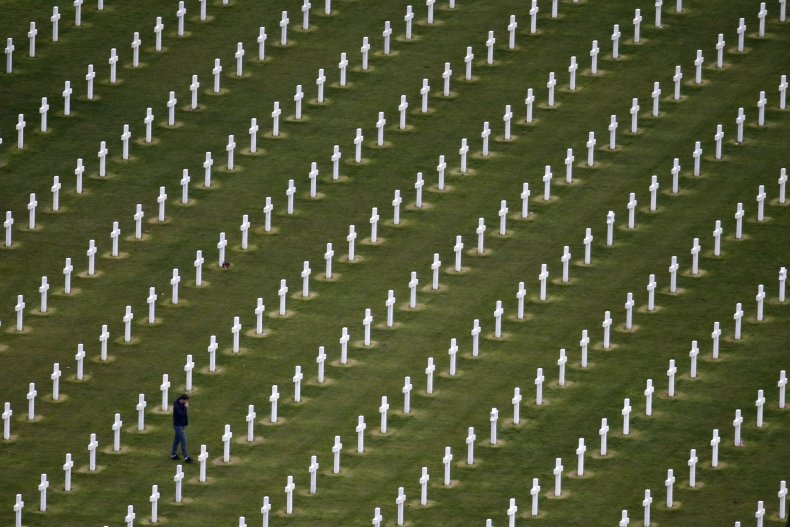 The twins, who were born in South Dakota on May 17, 1925, enlisted in the Naval Reserve at age 17. They both served as radio operators.
A recovery diver discovered Julius' body in 1961, and his remains had been kept in a Belgium cemetery, where he was identified as Unknown X-9352. The nearly forgotten, decades-long process of reuniting the twins was reignited half a century after the body was buried in Belgium in 1965, when a historian working for the Defense POW/MIA Accounting Agency came across Julius' file.
Katie Skorpinski, a forensic anthropologist at the Offutt lab that matched dental and chest X-rays to identify the body, said the process was straightforward. "He was the only person associated with the remains," she said.
The Navy's notification call to Mary Ann Lawrence, the twins' only surviving sibling, caught her by surprise. "I was shocked and surprised and happy," Lawrence told The Omaha World Herald.
But not all had given up hope that Julius would be identified. In 2014, the twins' story inspired high school student Vanessa Taylor, who was conducting a research project. Taylor, who visited Normandy with her teacher, said she knew there was a possibility the remains could be identified. She was elated when told that Julius' body had been found.
Julius and Ludwig are the first twins to rest together in the Normandy American Cemetery and Memorial, but they are accompanied by 44 other pairs of brothers lying side by side. More than 9,380 people are buried in the cemetery.
This, Lawrence said, was the resting place they would have wanted. "They were born together, they wanted to be together."