Veterans Affairs Says Lawmakers Can No Longer Have Congressional Offices at Facilities, Sparking Outrage
Out of the 535 members of Congress, just six have congressional offices within U.S. Department of Veterans Affairs hospitals. Soon, that number will be zero.
The VA has moved to oust all six of the representatives from Florida from having small offices at two local medical facilities, spaces that the lawmakers' staff use to provide services to constituents and veterans.
In a letter from the VA dated August 30, the Congress members were advised that as of the end of 2019, their staff will no longer be afforded the office space to meet with any constituents, including veterans who seek help to receive proper VA benefits and treatment.
VA Executive in Charge Richard Stone wrote that, because the "office space is for non-clinical purposes" and is "not authorized by law," acting VA Secretary Robert Wilkie has determined that all of the department's medical facilities are "no longer to permit the use of those spaces by Members of Congress and their staff."
The directive has sparked suspicion and outrage among the six Sunshine State lawmakers, who say their staff has played a critical role in helping veterans receive the proper benefits they deserve. Those Florida representatives are Brian Mast — the only Republican of the group — Alcee Hastings, Ted Deutch, Lois Frankel, Stephanie Murphy and Darren Soto. Operating on rotating schedules, Mast, Hastings, Deutch and Frankel share an office at the VA hospital in West Palm Beach while Murphy and Soto share one at the VA in Orlando.
Mast, a double amputee who lost both his legs from an IED explosion while serving in Afghanistan in 2010, was the first to open a congressional office inside a VA medical facility in 2017, allowing his staff to meet with more than 500 veterans since then.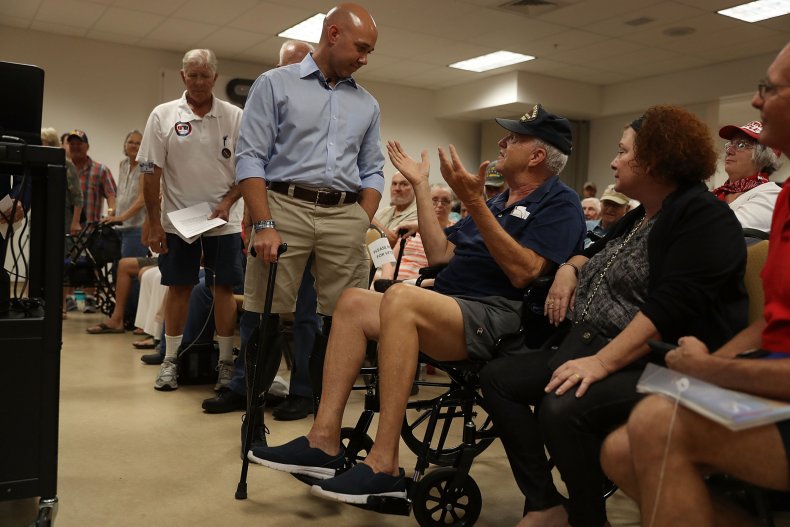 "No other federal agency has been so plagued by crisis after crisis as the VA has, and apparently they will go to no end to avoid accountability," Mast said in a statement. "The bottom line is that shutting down this office hurts veterans, who often don't have the mobility to get to another Congressional office. Today, the Department of Veterans Affairs chose to prioritize avoiding transparency and accountability over the veterans they are tasked with caring for."
The Army veteran, Purple Heart recipient and second-term congressman said the office is shared between members of his staff and of the other lawmakers, taking turns utilizing what is the size of a storage closet.
"But that hasn't stopped us from meeting with and helping hundreds of veterans," Mast added.
In a separate joint statement from Mast, Hastings and Deutch, the lawmakers said they "will explore all options to keep the office open." The shared office spaces are used free of charge, according to the VA, and were arranged via agreements with the local VAs.
Responding to the VA's letter notifying them that their offices would be closed, which was first reported by the Orlando Sentinel, Murphy penned a letter of her own to Wilkie. She stated that roughly a quarter of the office's work involved veterans and was a convenient place for many to find guidance.
"The VA's unilateral decision to prohibit this arrangement, without giving me or other Members of Congress an opportunity to explain its merits, strikes me as unwise," Murphy wrote, according to the Sentinel.
The VA's decision to boot the lawmakers from their facilities came just days before the House Veterans Affairs Committee held a hearing, in which Mast testified to advocate for his bipartisan bill that would force the VA to allow members of Congress to have a congressional office in their medical facilities. The legislation is co-sponsored by Soto, among other lawmakers, and has not yet advanced out of the committee.
In a statement to Newsweek, VA spokesman Randal Noller said their "primary mission is delivering medical care to Veterans, and the physical spaces within our facilities are used for that mission." The decision to oust the representatives from their shared offices was made in order to "maximize the clinical space in VA medical facilities," Noller continued, adding it had "nothing to do with any Congressional hearing."
He repeated the VA's belief there is no law that authorizes the department to allow "members of Congress to provide constituent services. Past bills authorizing the Department to do so have not been enacted."
Noller said once the offices are vacated by the lawmakers' staff at the end of the year, the spaces will be used "for the facility's veteran smoking cessation program."
The VA blasted Mast's criticism on Friday, stating in a letter obtained by Newsweek that his remarks during his congressional testimony did not play a factor in the department's decision. The letter, penned by Wilkie, accused the Republican lawmaker of making inaccurate statements to the media when questioning the VA's accountability and transparency for ousting the Congress members, including during a recent Fox & Friends appearance.
"While that was true during the Obama Administration, under President Trump, VA has done more in the last two and a half years than previous administrations have in decades to reform the Department and improve health care and benefits for our Nation's patriots," Wilkie wrote. "VA has made groundbreaking success, particularly in the areas of accountability, transparency and efficiency, while enjoying an unprecedented series of legislative successes."
Wilkie said there was a possibility the VA would consider allowing Mast's staff to hold monthly mobile office visits within a common area of the local VA medical facility.
This story was updated to include information and comments from VA spokesman Randal Noller. It was further updated to include information from a letter to Rep. Mast from VA Secretary Wilkie.