Veterans Affairs Chief Shinseki Resigns After Waiting List Scandal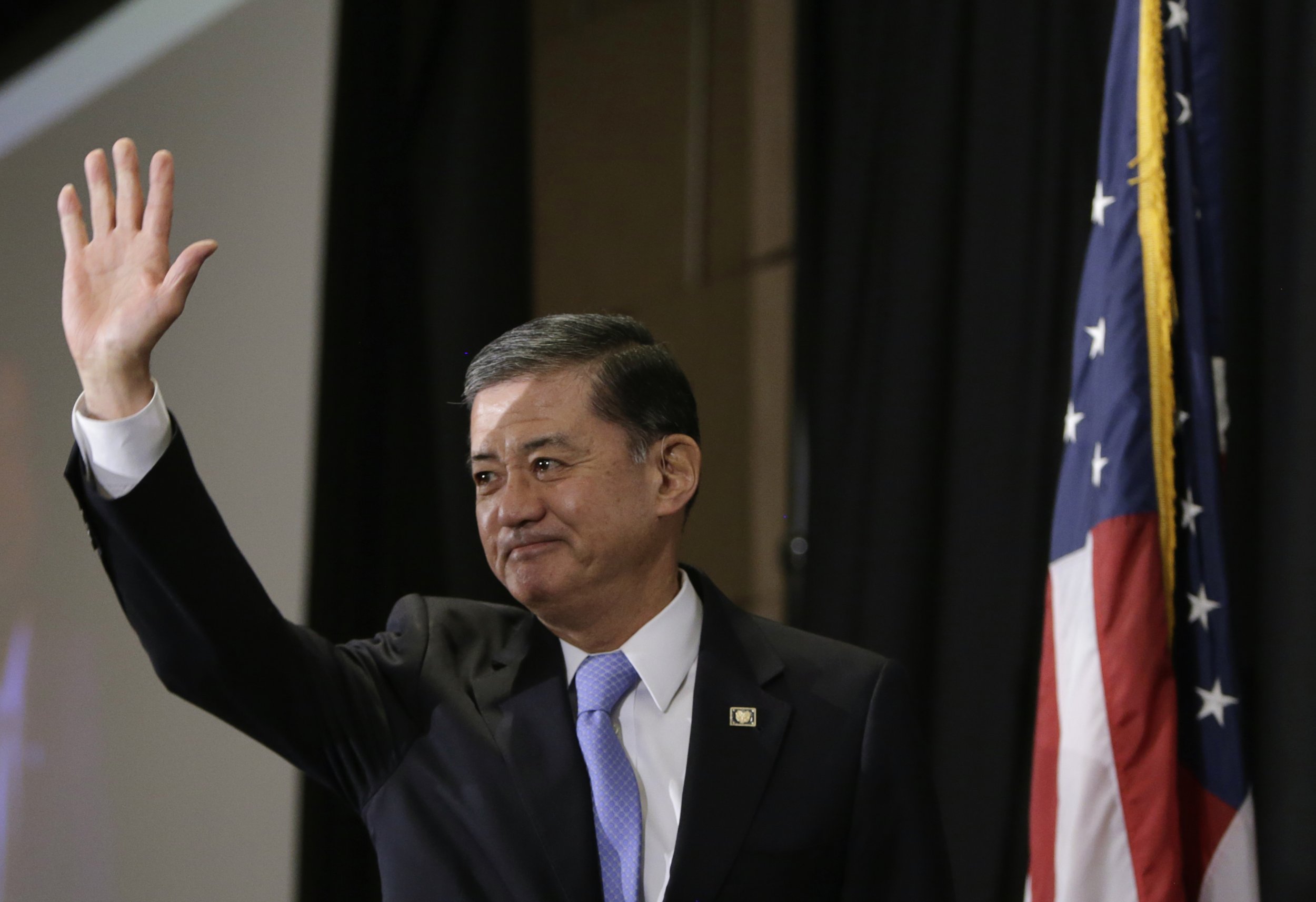 Update: 11:20 AM ET: President Obama made the announcement that Veterans Affairs Secretary Eric Shinseki offered his resignation during a meeting with the president. VA Deputy Secretary Sloan Gibson will becoming acting secretary while the president looks for a replacement. "I said we wouldn't tolerate misconduct, and we won't," Obama said. "I want every man or woman who served under our flag to know that we will never stop working to do right by you and your families."
The president praised Shinseki, himself a veteran, personally but emphasized the need for change at the department. Obama also said changes were underway in the department, including firings and withholding of bonuses.
***
WASHINGTON (Reuters) - Veterans Affairs Secretary Eric Shinseki, condemning a systemic "lack of integrity" at some VA hospitals, apologized to veterans on Friday for abuses that hid the lengthy wait times for patients to see doctors, saying the problem was worse than he thought.
The 71-year-old, soft-spoken retired Army general, who has been under pressure from lawmakers and veterans groups to step down, said he accepted responsibility for the VA's failures, initially found in Phoenix but now identified in other facilities across the country. But he did not indicate whether he would resign.
While Shinseki was speaking, the White House announced that President Barack Obama would meet with him at 10:15 a.m. EDT (1415 GMT).
Obama, in an interview Friday on ABC, said he plans to "have a serious conversation with him about whether he thinks he's prepared and has the capacity to take on the job of fixing it, because I don't want any veteran to not be getting the kind of services they deserve."
Representative Tim Walz, a Minnesota Democrat, is among the scores of lawmakers who have called for Shinseki to step down. He told MSNBC he was respectful of the popular former general but "there need to be changes."
"Changes in leadership change the tone of where things are going. General Shinseki has done honorable work. The suggestions he's making are right, but I can tell you that the trust among the veteran community has been damaged," Walz said.
But Senator Bernard Sanders told MSNBC said he did not think Shinseki – a two-time Purple Heart recipient - should be fired.
"I think he's a tough guy," Sanders said. "I would like to see him be able to complete the job that he started and bring the long-needed changes to the VA that we have to see."
In his remarks to the National Coalition for Homeless Veterans, Shinseki said the steps he was taking deal with the corrupt practices found at some veterans healthcare facilities, where waiting lists were manipulated to hide the length of time some veterans had to wait to see a physician.
He said he was removing the senior leaders at the Phoenix VA medical center and would use all authority at his disposal to hold accountable those "who instigated or tolerated dishonorable or irresponsible scheduling."
Shinseki said no senior executives of the Veterans Health Administration would receive performance awards this year and the use of scheduling times as a measure of good performance would be eliminated.
The VA is also taking action to ensure that the 1,700 Phoenix veterans still waiting to see a doctor would have appointments quickly, he said.
"We now know that VA has a systemic, totally unacceptable lack of integrity within some of our veterans health facilities," Shinseki said. "That breach of integrity is irresponsible, it is indefensible and unacceptable to me."
The embattled secretary acknowledged he had been misled about the extent of the problem and expressed puzzlement at the "lack of integrity among some of the leaders of our healthcare facilities."
"I said when this situation began weeks and months ago that I thought the problem was limited and isolated because I believed that," he said. "I no longer believe it. It is systemic. I was too trusting in some and I accepted as accurate reports that I now know have been misleading with regard to patient waiting times."
"Given the facts I now know, I apologize as the senior leader of Veterans Affairs," he said, adding that the leadership and integrity woes at the VA can be fixed.