Veterans Tell Donald Trump They 'Feel Deeply Betrayed' in July 4 Video Calling For Impeachment
As President Donald Trump geared up for his military-style "Salute to America" Fourth of July parade and celebration, some veterans voiced how they felt betrayed by him in video calling for his impeachment.
"I served almost 15 years in the Army and I feel deeply betrayed," veteran Jose Vasquez says in a video produced in light of Independence Day. "Our democracy is under attack and we want to make sure that we protect it."
Vasquez's organization, a veteran advocacy group formed in 2016 to oppose Trump called Common Defense, collaborated on the video with the Need to Impeach campaign, which has gathered more than 8.2 million signatures on an online petition urging Congress to begin proceedings to remove Trump.
Common Defense lead organizer Kyle Bibby, a Marine Corps veteran, says in the video that the oath members take to join the military "establishes our ties to something that is greater than us," and, "I don't see Donald Trump as someone who is serious about our values, who is serious about his job to serve the American people."
Bibby, 33, told Newsweek on Wednesday that he "never had much faith in him at all."
"The way he's acted as president has been completely at a detriment to our nation's unity," Bibby said. "It's run contrary to any characteristics you would expect from a good leader."
Bibby added that Congress should at least begin an impeachment inquiry into Trump.
Marine Corps veteran Marie Delus says in the video that Trump "should be impeached" because she believes he is not only cruel, but "also a criminal."
Another Marine Corps veteran, Alexander McCoy, shares that his service involved protecting U.S. embassies from foreign infiltration and that he "never suspected that our Commander-in-Chief would be colluding with a foreign dictator to undermine our democracy." McCoy was referring to Russian President Vladimir Putin.
Army veteran Perry O'Brien said in the video that the Fourth of July is for celebrating the country's independence from foreign powers, and, "How can we do that when we have someone in the White House who actively conspired with a foreign adversary to get there?"
Russia probe special counsel Robert Mueller did not find evidence that Trump colluded with Russia, but did not draw a conclusion on obstruction of justice and did not exonerate him.
Need to Impeach founder Tom Steyer states at the beginning and end of the video that military members have risked their lives for the country and love America.
"That's why this Fourth of July, we ask you to help us save it from our criminal president," Steyer says.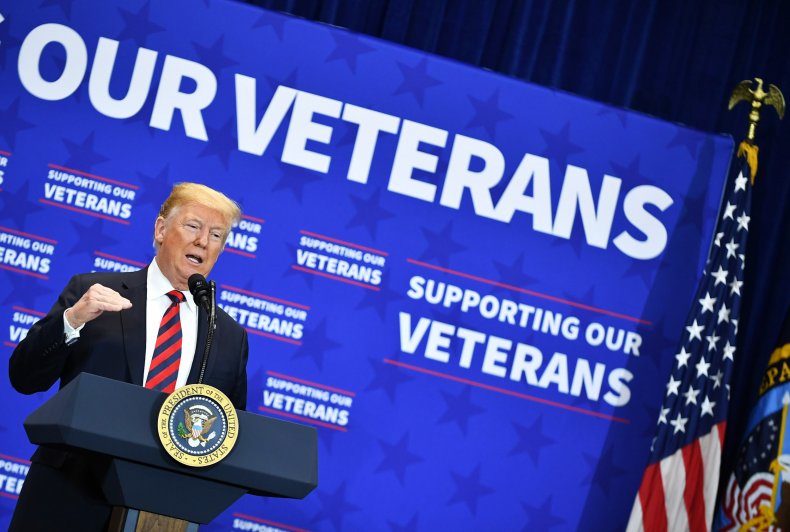 Trump, who has not faced criminal charges, in October 2018 attacked billionaire Democratic donor Steyer on Twitter.
"He comes off as a crazed & stumbling lunatic who should be running out of money pretty soon," Trump tweeted.