Veteran Scorns Donald Trump Jr. for Comparing His Family's Suffering to Dying in Battle: 'Sacrifice is Only a Word to the Trumps'
Donald Trump Jr. has drawn backlash from military veterans after his new book compared his family's experience during the run-up to his father's election to those who died in service of the United States.
Writing in his new book—titled Triggered: How the Left Thrives on Hate and Wants to Silence Us—Trump Jr. detailed a list of grievances his family has suffered since his father decided to run for public office, while saying a "victimhood complex has taken root in the American left."
In it, the 41-year-old detailed a visit to Arlington National Cemetery the day before his father's inauguration in which he likened the lost lives of the service members interred there to the financial toll allegedly suffered by his family.
"I rarely get emotional, if ever," Trump Jr. wrote, according to an excerpt of the unreleased book published by Business Insider. "I guess you'd call me hyper-rational, stoic.
"Yet as we drove past the rows of white grave markers, in the gravity of the moment, I had a deep sense of the importance of the presidency and a love of our country.
"In that moment, I also thought of all the attacks we'd already suffered as a family, and about all the sacrifices we'd have to make to help my father succeed—voluntarily giving up a huge chunk of our business and all international deals to avoid the appearance that we were 'profiting off of the office.'"
He later added: "Frankly, it was a big sacrifice, costing us millions and millions of dollars annually. Of course, we didn't get any credit whatsoever from the mainstream media, which now does not surprise me at all."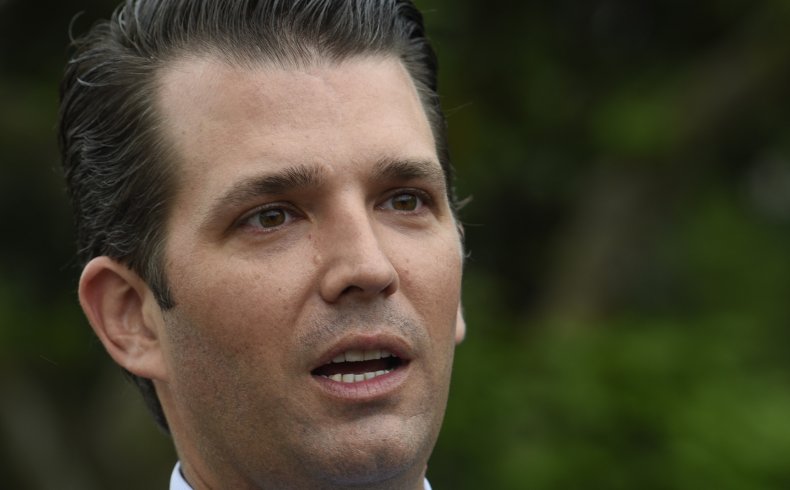 Democratic Congressman Ruben Gallego, who is an Iraq War veteran, heaped scorn on Trump Jr.'s words.
"Eight men I served with are buried in Section 60 of Arlington," Gallego wrote on Twitter. "I visit them monthly. Even if Donald Jr. lived a 1,000 years, he will never even get close to being as good and honorable as they were. Sacrifice is only a word to the Trumps."
Matt Gallagher, a former U.S. Army captain and also a veteran of the Iraq war, also weighed in.
"Imagine going to Arlington…and being moved to think about money," he wrote. "You are a soup sandwich, Donald Trump Jr., and my friends buried there would tell you the same thing."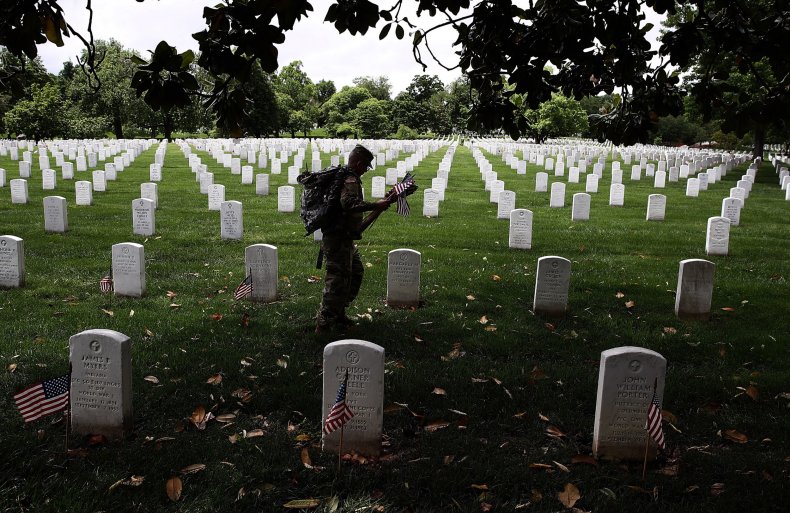 President Donald Trump is also not believed to have lost money directly as a result of holding office. OpenSecrets.org, a non-profit group which tracks money in U.S. politics, reported that upwards of $20 million was spent by a variety of political factions at Trump properties since 2016.
"Trump has refused to do as his predecessors have done: sever ties to the companies or financial interests that may pose, or present the appearance of, a conflict of interest," the organization said.
"By keeping his assets in a family-managed trust, which he can revoke at any time, Trump and his family are in the unique position to profit directly from his public service.
"Special interests in Washington have caught on. Those seeking to curry favor with Trump are not only donating to his re-election campaign but holding fundraisers and galas at his resorts, private clubs and hotels—the proceeds of which benefit him and his family."
Newsweek has contacted Donald Trump Jr, via his publisher, for comment. Newsweek has contacted Arlington National Cemetery for comment.