Veterans Criticize Trump's Calls to Stop Vote Count as Military Ballots Could Prove Pivotal
A number of military officers have strongly criticized Donald Trump's calls to stop the vote counting across several states, imploring him not to intervene in the electoral procedure.
Absentee ballots can be cast by U.S. military members working overseas and their families, as well as those with illnesses or other conditions that prevent them from voting in person or by those who would rather mail in a ballot.
The group Count Every Hero, whose members include a number of veterans, highlights that it can take longer for those ballots to reach their home states because of the long distances they have to travel and the delayed postal service.
Retired Marine Corps Gen. Tony Zinni, chairman of the organization, urged Trump to "remember" his role as commander-in-chief.
"I think one of the obligations is to protect the rights of your service members that serve under you and ensure that their voice is heard and their vote is counted."
Count Every Hero is a member of the Military Vote Coalition, a group of military family and veteran support organizations whose mission is to increase voter participation. This week, the organization has highlighted the significant role absentee ballots may play in the outcome of some battleground states where votes are still being tallied.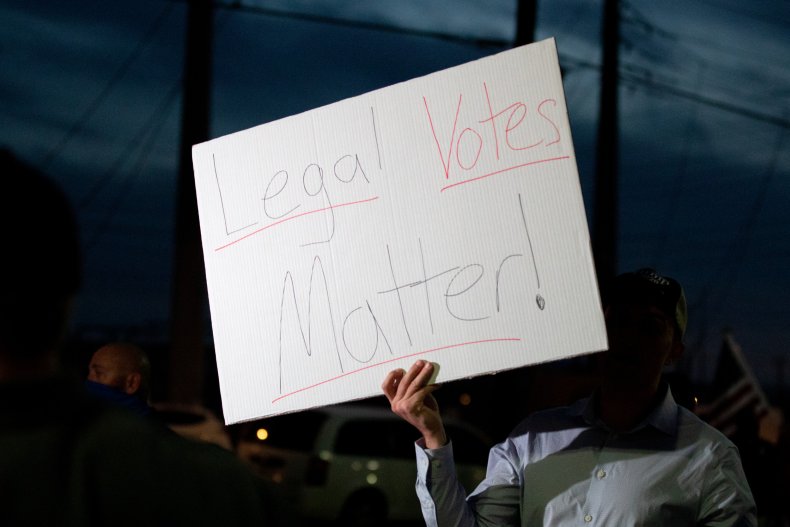 In Georgia, Pennsylvania and North Carolina, absentee ballots from military and overseas U.S. citizens can be counted after election day, according to state laws. Federal law requires states to provide special voting rights for service members and their families stationed away from home.
"We ask a lot of our military. On a volunteer basis, to make sacrifices, separate from their family, risk life and limb—what is the message we're sending by not counting their lawful votes?" said Count Every Hero secretary Debbie Lee James.
"The 99 percent of Americans who do not or have not served owe it to the one percent that do to make sure that their voices are heard."
Research Manager Jack Noland said "razor thin" margins in certain key states could contribute to the deciding votes at the end of the count.
"Any attempts to stop vote counts, or disqualify mail-in ballots, will disproportionately affect military voters," Noland said. "Every vote must be counted to protect the military and gain the trust of all Americans, regardless of their preferred presidential candidate."
Anthony Brown, the vice chairman of the House Armed Services Committee, said Trump's "meritless insistence that vote counting stop on Nov. 3 threatens to disenfranchise thousands of voters, including military veterans.
"Vote by mail has long been trusted among military personnel serving abroad—millions of whom have voted by mail for decades," Brown said in a statement.
"When I served in Iraq in 2004, I was one of them. Ballots postmarked on election day coming from service members in Baghdad should count just the same as those coming from voters in Baltimore."