How to Find Out Whether Your Ancestors Were Veterans Using Free Access to U.S. Military Records
In the lead up to Veterans Day, you can look back into history and find out whether your ancestors served in the military or during wars. Consumer genomics company Ancestry is opening up its archive of U.S. military records and letting people search for free between November 8, 7:00 p.m. ET and November 17, 11:59 p.m. ET.
The rise in interest of consumer DNA testing has increased over the past decade, with companies such as Ancestry, 23&Me and others offering direct-to-consumer (DTC) services. The market is currently estimated to be worth around $175 million and is expected to grow to $340 million by 2020. The graph below, supplied by Statista, shows just how fast the market is growing.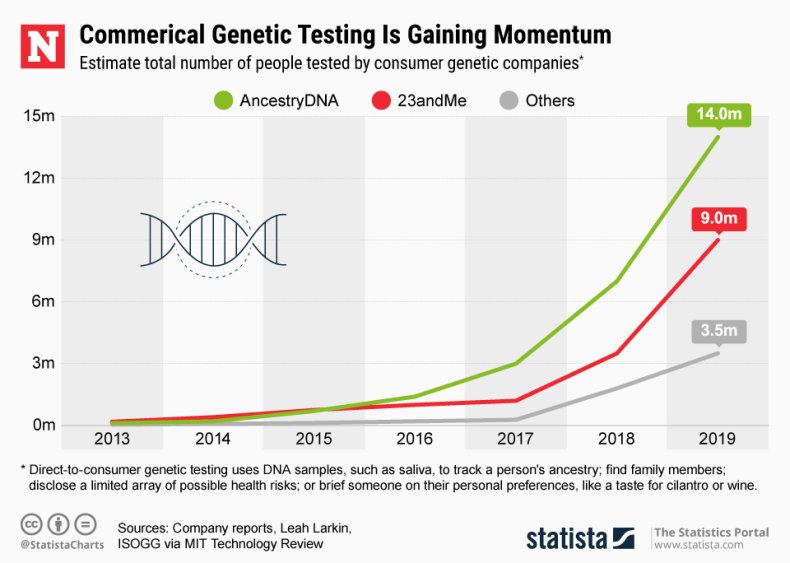 DTC genetic testing uses DNA samples such as saliva to track a person's ancestry. This includes finding family members, disclosing a limited array of possible health risks or briefing someone on their personal preferences for things like food or drink. This can be paired with Ancestry's opening of the U.S. military records so Americans can trace whether their family members served in the military and took part in any famous battles.
Ancestry has more than 260 million U.S. military records, the company told Newsweek. In honor of Veterans Day, it is allowing people to search documents from every major U.S. war from the American Revolution through to Vietnam, including draft cards, veterans' grave sites, soldier pension indexes, enlistment records, muster rolls and more. Americans can access these records by visiting the company's website and entering a family member's first name, last name, and birth year or location (city, county, state, or country).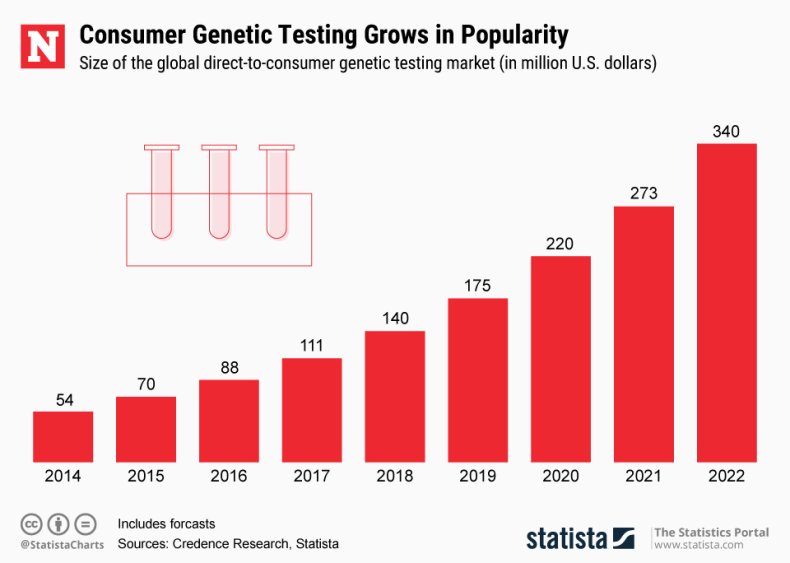 Americans can join the ranks of two veterans who have already traced their roots as far back as the revolutionary and civil wars. Christopher, a former marine who rescued seven prisoners of war in Iraq, discovered his ancestors fought in the Revolutionary War using Ancestry.
His grandmother would often tell him stories of his family's military service, but he had no idea how far it went back. Thanks to Ancestry's Baptismal, Birth and Death Records, Christopher was able to retrace his family history back to the American Revolutionary War and, as a result, joined the Sons of the American Revolution to pass on his ancestor's service.
Another veteran, David, an air force soldier, discovered he and his wife's ancestors fought on the same Civil War battlefields. His ancestor, Jacob Harmon(y) and his wife's ancestor, Andrew Jackson Koonce, and were in opposing military regiments and fought in several of the same engagements in Kentucky, Tennessee and Georgia. David met his wife, Mary Beth Laffitte, in 1988 while in the U.S. Air Force stationed in Louisiana. Until now, they never knew their ancestors met nearly 125 years before on a Civil War battlefield.
The records will be available from November 8, 2019, at 7:00 p.m. ET through to November 17 at 11:59 p.m. ET.