Veterans Day Restaurant Deals 2019: Free and Discounted Meals for Military, Exclusive Promo Codes
Veterans Day is today, November 11, and many restaurants have Veterans Day 2019 deals to celebrate veterans and military personnel. Veterans Day is a federal holiday honoring those who have fought as well as active-duty military personnel, and it is sometimes called Memorial Day.
There are so many Veterans Day deals for vets and veterans day deals for military offering free or discounted food, including at Denny's, Chili's, Red Lobster and more. Check out our list below to find out where to get free meals for veterans on Memorial Day 2019.
Restaurants and Fast Food Restaurants with Veterans Day 2019 deals include:
Denny's
Chili's
Red Lobster
Bubba Gump Shrimp Co.
Applebees
Starbucks
White Castle
Dunkin'
Chipotle
Additionally, Newsweek and CouponFollow have exclusive online food deals to help you celebrate Veterans Day. There are deals for coffee, kitchen equipment, subscription boxes and more.
Veterans Day restaurant deals for military
Denny's
Denny's is offering all active, inactive and military personnel a complimentary Build Your Own Grand Slam on November 11 from 5 a.m. until noon with a valid military ID or DD 214.
The Build Your Own Grand Slam includes a choice of four with more than 13 choices. Choose from fluffy buttermilk pancakes, eggs cooked to order, bacon strips, buttermilk biscuits, hash browns, and oatmeal.
Chili's
All veterans and active military members can get a free entrée at any Chili's restaurant nationwide on November 11. Entrees at Chili's include burgers, ribs, steaks, fajitas, tacos, quesadillas, and more.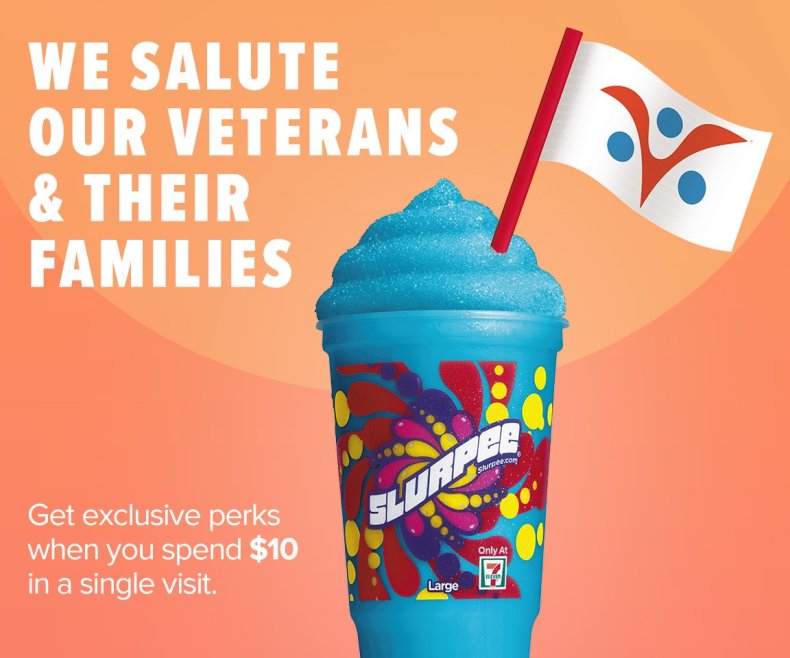 Red Lobster
At Red Lobster, veterans, active-duty military and reservists with a valid military ID can claim a free appetizer or dessert November 11. The offer is available in-restaurant or on To Go orders picked up in-restaurant.
Guests can choose their free appetizer or dessert from the following options: appetizers include Sweet Chili Shrimp, Mozzarella Cheesesticks, Parrot Isle Jumbo Coconut Shrimp, Seafood-Stuffed Mushrooms, Lobster and Langostino Pizza, Signature Shrimp Cocktail, Langostino Lobster-Artichoke-and-Seafood Dip, and dessert options are Vanilla Bean Cheesecake, Key Lime Pie, Warm Apple Crostada, Chocolate Wave, Brownie Overboard.
Chipotle
Chipotle is offering veterans, military personnel, and military spouses a Buy-One, Get-One Free Entrée in-store on November 11.
Smoothie King
On November 11, military personnel with military ID can get a free 20 oz. smoothie of their choice at Smoothie King.
Applebees
Veterans can visit Applebees on Veterans Day for a free entree from an exclusive menu. Veterans can choose from a Classic Bacon Cheeseburger6 oz. USDA Select Top Sirloin, Chicken Tenders Platter, Double Crunch Shrimp, Fiesta Lime Chicken, Oriental Chicken Salad or a Three-Cheese Chicken Penne.
Ponderosa and Bonanza Steakhouses
Participating Ponderosa and Bonanza Steakhouses locations will be offering either a free buffet or 50 percent off the buffet to all veterans on November 11. Additionally, veterans who visit participating locations on Veterans Day will receive a coupon for 20 percent off their meal on their next visit.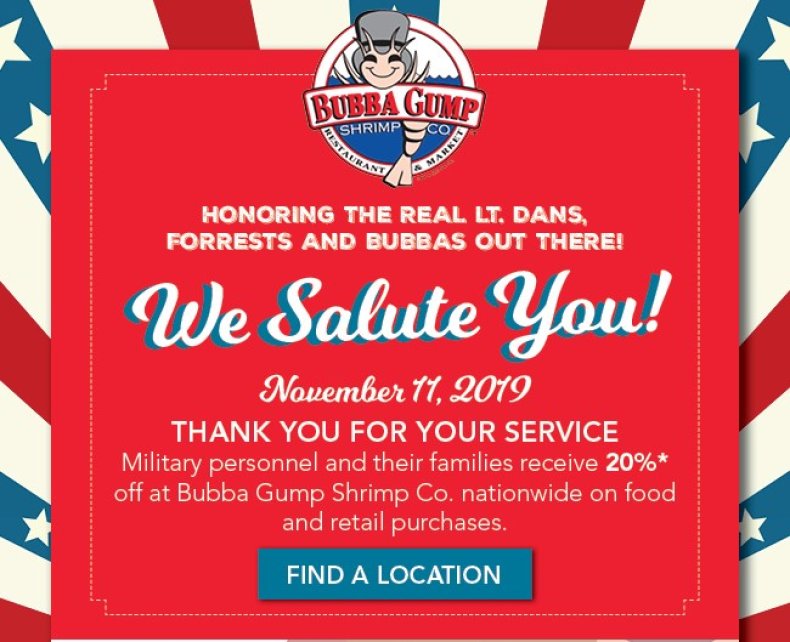 Sheetz
Sheetz will offer veterans and active-duty military personnel on Veterans Day a free meal made up of a 6-inch turkey sub and a regular size fountain drink, and a free car wash on November 11. Military ID or proof of service must be presented.
Farmer Boys
Veterans can claim a free cheeseburger from Farmers Boy on November 11 with valid proof of service at participating locations.
7-Eleven
Veterans can get a free coffee or Big Gulp at 7-Eleven on Memorial Day, July 4th, and Veterans Day. Additionally, 7-Eleven works with Veterans Advantage to offer military discounts year-round.
Bubba Gump Shrimp Co.
Veterans can take 20 percent of their bill at Bubba Gump Shrimp Co. on November 11. The offer applies to food and retail purchases. Additionally, if you purchase Lt. Dan inspired merchandise from now through November 30, Bubba Gump Shrimp Co. will donate 10 percent to the Gary Sinise Foundation.
Dunkin'
Dunkin' is offering veterans a free doughnut of their choice on Veterans Day. The first 50 veterans to visit participating Dunkin' locations will also receive a thank you card written by members of the community from A Million Thanks.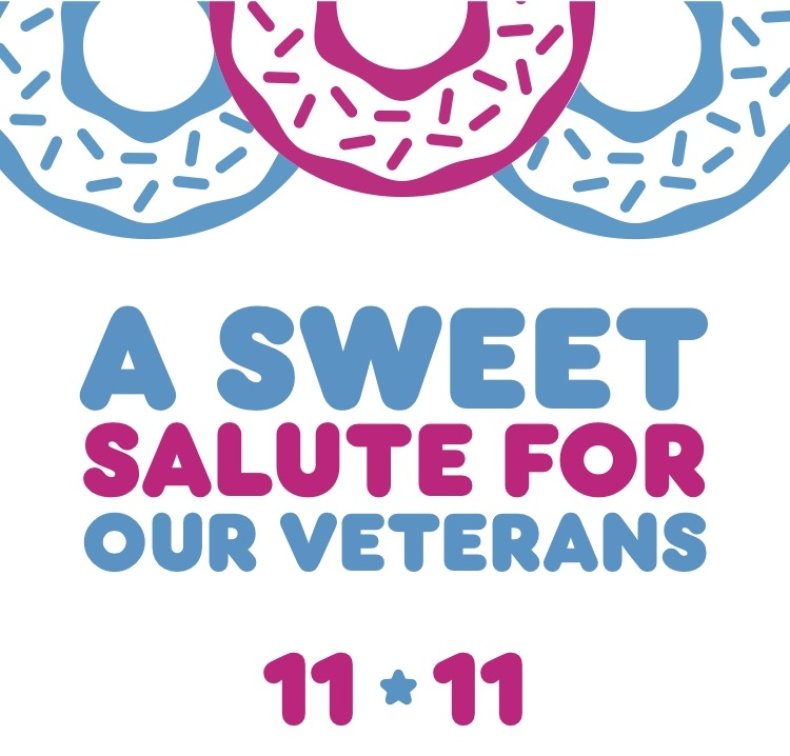 White Castle
Veterans and active-duty military personnel can get a free breakfast combo or a combo meal 1-6 at White Castle on Veterans Day.
Hooters
Hooters is offering veterans and military personnel a free entree from the Hooters Veterans Day Menu on Veterans Day, with valid ID.
Red Robin
Veterans and military personnel can go to Red Robin to get a free Tavern Double Burger with Bottomless Steak Fries on November 11 with proof of ID.
Cracker Barrel Old Country Store
Cracker Barrel Old Country Store will give all veterans and military personnel either one free double chocolate fudge Coke dessert or a pumpkin pie latte, served hot or iced, on Veterans Day.
Little Caesars Pizza
Little Caesars Pizza will provide veterans and active military with one free Hot-N-Ready Lunch Combo which includes a pizza and a drink, from 11 a.m. — 2 p.m. on November 11.

Texas Roadhouse
Texas Roadhouse will provide all veterans and active-duty military one free meal between 11 a.m. — 4 p.m. from their Veterans Day menu on November 11.
California Pizza Kitchen
California Pizza Kitchen provides one free entree from a special Veterans Day menu for all veterans and active-duty military on Veterans Day.
Starbucks
Starbucks will provide all active, reservists, veterans, and military spouses one free tall brewed coffee on Veterans Day.
Cici's Pizza
Cici's Pizza is offering a free pizza buffet with valid active or retired military ID and the coupon on November 11.
Joe's Crab Shack
Joe's Crab Shack is providing 20 percent off the bill for all veterans on tables of four or less on November 11.
Macaroni Grill
Macaroni Grill is offering veterans and active military one free Mom's Ricotta Meatballs and Spaghetti on Veterans Day.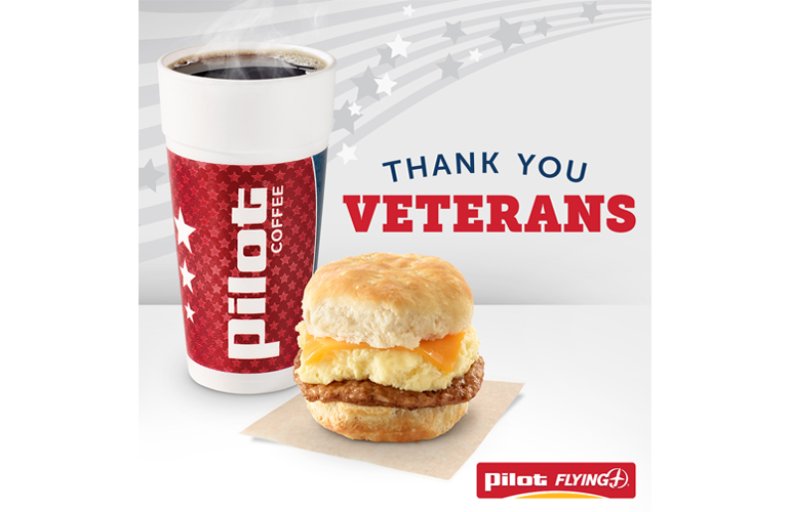 BJ's Restaurant
BJ's Restaurant will give all service members a free entree (valued up to $14.95) and one free Dr. Pepper drink on November 11.
Golden Corral
Golden Corral is hosting a military appreciation night on November 11 and will provide one free dinner for military veterans, retirees, and active duty from 5 p.m. — 9 p.m.
Bob Evans
Bob Evans is offering a free meal from a select menu for active duty and veterans on Veterans Day.
Home Town Buffet and Old Country Buffet
Home Town Buffet and Old Country Buffet will provide one free buffet and a free non-bottled drink on Veterans Day.
Lucille's Smokehouse Bar-B-Que
Lucille's Smokehouse Bar-B-Que will provide 20 percent off everything in November for Military Family Month (excluding Thanksgiving.) Veterans and active-duty personnel can also claim a free dessert on Veterans Day.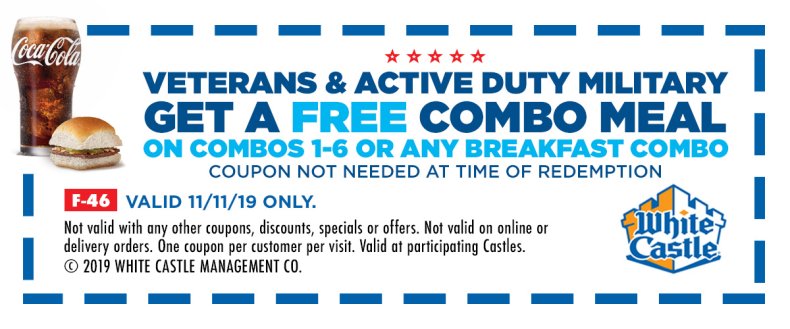 Mimi's Cafe
Mimi's Cafe is offering one free breakfast, lunch, or dinner from a select menu with purchase of any drink, and veterans and active military personnel can choose from Fried Chicken & Waffles, Brioche French Toast, Four Buttermilk Griddlecakes, Slow-Roasted Turkey, Brioche Cheeseburger or a Mandarin Chicken Salad, on November 11.
Wienerschnitzel
Wienerschnitzel is offering one free chili dog, small fries, and a Pepsi to veterans and active-duty military on November 11.
Pilot Flying J
Pilot Flying J provides all active and retired military with free breakfast and coffee on November 11.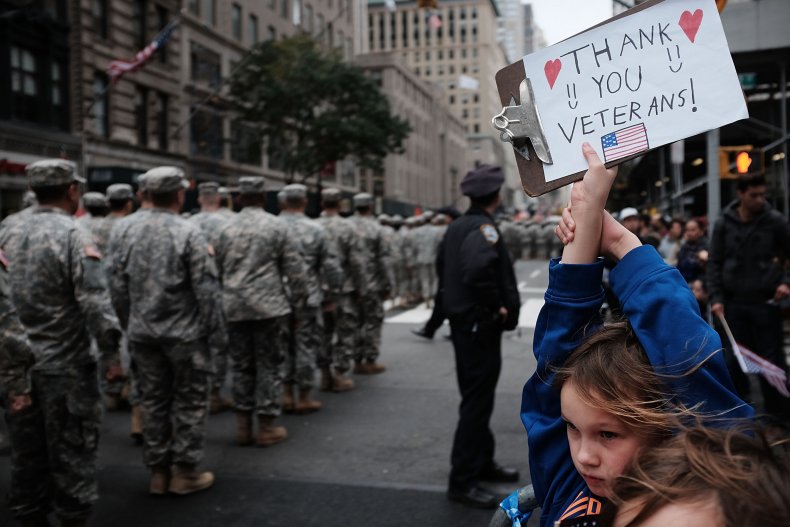 Exclusive Newsweek and CouponFollow Veterans Day Deals
iGourmet
Use the code NEWS for 10 percent off at iGourmet.com from November 11 through November 18 only.
Hamilton Beach
VETERAN20 will get you 20 percent off kitchen equipment at Hamilton Beach, from November 11 through November 17.
Illy
CFNewsweek25 will provide 25 percent off illy.com for coffee, tea, coffee machines, crockery and more.
Bokksu
Use code NEWSWEEK for $5 off any purchase from Bokksu.com for an authentic Japanese snack box subscription.
Weston Brands
VETERAN25 will get you 25 percent off kitchen equipment at Weston Brands from November 11 through November 17.
Driftaway
The code NEWSWEEK15 will give you 15 percent off coffee gifts at Driftaway.coffee from November 11 through November 19.
Smart For Life
CFNEWSWEEK15 provides 15 percent off at SmartforLife.com valid from now through November 20.
Drink Apres
Use Newsweek10 for $10 off any purchase of plant-based protein drinks at DrinkApres.com through November 13.
Veestro
NEWSWEEK20 will give you 20 percent off at Veestro.com through November 12.
Yumi
Use the code COUPONFOLLOW50 for 50 percent off your first order at helloyumi.com for organic baby food.
Factor 75
NEWSWEEK25 provides $25 off your first week of meals at Factor75.com valid now through November 12.