Veterans Day Specials: National Parks, Starbucks, Olive Garden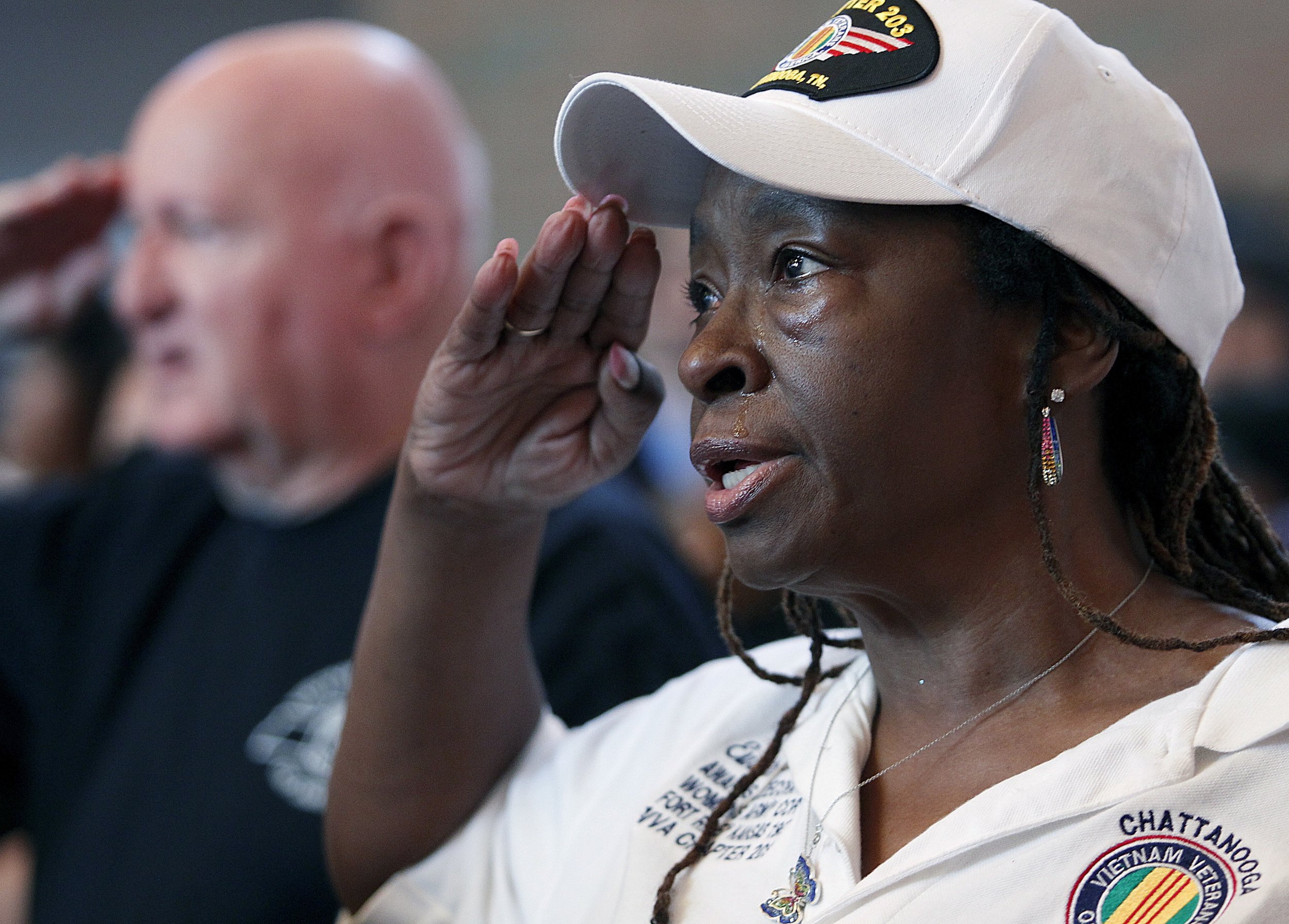 Updated | In honor of all former and active-duty American service members, many businesses are offering free meals or promotions Wednesday on the occasion of Veterans Day.
At most participating locations, veterans and current military simply must show proof of their service to receive the deal. Customers are encouraged to contact specific locations for more details.
Here is a list of some of the free and discounted offers:
Applebee's continues its annual tradition of offering a free meal to former and active service members. Customers at participating locations will have a choice between seven entrées, including breaded shrimp, grilled chicken and sirloin.
Bar Louie is giving veterans and military personnel a free meal with a maximum value of $12.
Buffalo Wild Wings will provide personnel with a free order of wings and French fries from 4 to 7 p.m.
California Pizza Kitchen provides veterans with the choice of a pizza, full-size salad or pasta dish. Personnel are encouraged to arrive dressed in uniform.
Chili's is offering all veterans and active military their choice of any lunch combination or a dinner meal from a select menu.
Cracker Barrel is offering veterans a free slice of Double Chocolate Fudge Coca Cola Cake. In addition, 10 percent of all proceeds from the sales will benefit the USO Transition 360 Alliance, which assists military personnel and their families in transitioning to civilian life after their service.
Denny's is allowing all military members to "Build Your Own Grand Slam" breakfast for free from 5 a.m. until noon.
Flywheel Sports and FlyBarre are both offering free cycling classes to all veterans and members of the military at their city locations in 10 states.
Friendly's is providing free breakfast, lunch or dinner to all personnel.
Hale and Hearty Soups is offering former and current service members a complimentary small, medium or large cup of soup.
IHOP is giving service members free red, white and blue pancakes or a combination plate, which includes eggs, bacon and hash browns, between 7 a.m. and 7 p.m.
Krispy Kreme will provide a free donut and small coffee to all veterans.
Lyft and Uber are teaming up to offer free rides to veterans who need transportation to find work. The initiative extends beyond Veterans Day, according to the White House.
Meineke is providing a free basic oil change at participating locations.
The National WWI Museum and Memorial, located in Kansas City, Missouri, and open from 9 a.m. until 5 p.m., is offering free admission.
Olive Garden is offering a free entrée for veterans and active-duty members. Guests who dine with a veteran will receive 10 percent off the total price of their bill.
Outback Steakhouse is giving veterans a free Bloomin' Onion appetizer and a nonalcoholic beverage.
Panera is honoring veterans by offering a free "You-Pick-Two" meal.
Starbucks is offering a free tall (12 ounces) brewed coffee for active-duty members, veterans and their spouses. Earlier this week, the coffee chain announced that it also is extending its policy of covering tuition for its full- and part-time employees who are veterans to cover tuition costs for spouses and children of former service members. The initiative will extend past Veterans Day.
T.G.I. Friday's is offering free lunch to all current military members and veterans between 11 a.m. and 2 p.m.
UFC Gym is offering free use of its facilities to veterans and their families from November 11 through 15.
U.S. National Parks have direct connections to the military, with dozens of battlefields, parks and historic grounds that commemorate and honor the service of Americans. The National Park Service invites all visitors to honor and remember their veterans by touring any site for free on Wednesday.
Service members also have free admission to Anheuser-Busch Parks, Colonial Williamsburg, the Harley-Davidson Museum, Historic Jamestowne and the Pro Football Hall of Fame.
Other retailers offering Veterans Day promotions include Brooks Brothers (25 percent off), Jos. A Bank (up to 70 percent off), Kohl's ($10 off), Macy's (20 percent off), Old Navy (up to 60 percent off), Steve Madden (20 percent off) and Under Armour (15 percent off).
This story has been updated to include additional Veterans Day promotions.