Veterans Day Google Doodle Honors Those Who Served with Artwork Made from Military Uniforms
Veterans Day is celebrated in today's Google Doodle, with a collage made by a Texas-based Air Force veteran. The federal holiday is dedicated to veterans and military personnel who have served in the U.S. armed forces.
Veterans Day is celebrated on November 11 to commemorate the unofficial end of the First World War, when an armistice went into effect on November 11, 1918. In November 1919, President Wilson declared November 11 the first commemoration of Armistice Day to honor those that fought in the war.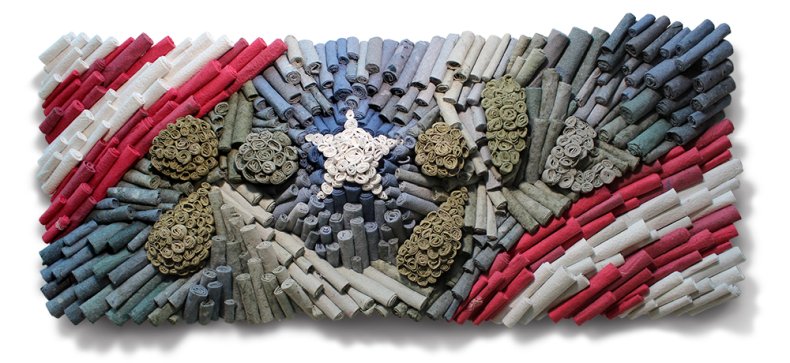 In 1938, Armistice Day became a legal holiday, and in 1954, President Eisenhower officially renamed Armistice Day to Veterans Day and it became a day to honor veterans of all wars.
This year, for the Google Doodle, guest artist and veteran Jenn Hassin, created a collage made from military uniforms to honor the United States' veterans and military members.
As a veteran, Hassin told Google: "I believe that making work tied to military issues will be a thread throughout my career. It is a community that I am respectfully tethered to, and I'll always be interested in issues tied to service."
The Veterans Day Google Doodle is made from 10 military uniforms donated by veterans, including three navy uniforms, two army uniforms, two air force uniforms, two marine corps uniforms, and one coast guard uniform, from the Veteran era to today. The uniforms were donated to Hassin with the promise she would do her best to honor the nation's military and veterans.
Hassin explained her inspiration behind the Google Doodle and said: "For the composition, I drew from patriotism and a heavy lean to service. The star and stripes respectfully give gratitude to the many patriots that help celebrate our nation's veterans.
"All other colors are military uniform hues that give tribute to those who have worn and are wearing the uniform."
The veteran and artist created the college by first cutting up the uniforms and transforming them into paper sheets. Hassin then created hundreds of rolled up pieces of paper and said: "The rolls are all slightly different, which represents the uniqueness of the individual. Our nation's military is made up of people from all walks of life, which to me, is one of the truly special aspects of serving.
"Though we are all different, what unites us is our willingness to devote our lives to our country. This bond, of brothers and sisters in uniform, lasts forever."
For Hassin, the paper rolls are also a symbol of life, with the material's transformation from a uniform to a paper roll reflecting how military members' time in uniform transforms them.
The veteran, who chose to enlist and served as a dental technician at RAF Lakenheath in England, hopes that: "the message tied to this work implores people to not just thank a veteran for their service today, but to ask them a question such as 'where did you serve?' and 'what made you join?'
"Dig deeper than the surface and you might walk away feeling less intimidated by what it means to serve and realize that the veteran you just spoke to has things in common with you, too."