The Veterans Day Google Doodle is a Painting by an Iraq War Veteran Who Lost Parts of Both Arms
Today's Google Doodle honors Veterans Day with a painting by an Irag War Veteran. The doodle, named 'Paying Tribute,' depicts two children, one in camouflage and one in a sailor's cap, planting U.S. flags in a field, with 'Google' written in the foliage.
The painting was done by Pete Damon, a Massachusetts-based veteran and artist. Damon was severely injured in 2003 while serving as a helicopter mechanic and lost parts of both of his arms. The veteran began painting as a form of therapy which led to a career in art.
The inspiration behind the Veterans Day Google Doodle came from watching his son's Cub Scout troop planting flags to honor veterans. Damon said: "I've witnessed children taking part in similar displays of patriotism on Veterans Day when large fields, usually in public spaces, are filled with a sea of little flags. I thought it would make for the perfect painting subject."
Damon chose to depict children in his painting for the Veterans Day Google Doodle with the hope of teaching children. Damon said: "With this piece, I hope people will realize and appreciate the personal sacrifice that all who serve in the military endure securing the liberty of all Americans. I particularly hope that people will recognize the importance of teaching children to honor their service."
What is Veterans Day?
Veterans Day is a federal holiday celebrated annually on November 11. It pays tribute to veterans and active-duty military personnel. The holiday was originally named Armistice Day, as on November 11, 1918, the U.S. and its allies, and Germany, signed an armistice and ceased fighting, thereby ending World War One. It became an official holiday in 1938.
In 1954, after World War Two and the Korean War, Armistice Day was renamed as Veterans Day to honor those who fought in the most recent wars.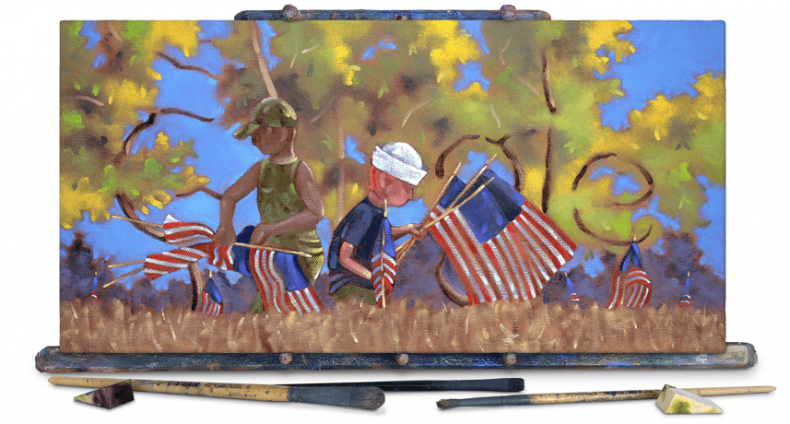 How is Veterans Day celebrated?
There will be Veterans Day parades taking place across the U.S. today, as well as events and ceremonies. Veterans and active-duty military personnel will also be offered free and discounted food and meals at restaurants for Veterans Day.
While most Americans will tell a veteran "Thank you for your service," a recent poll determined that the saying makes 49 percent of veterans and active-duty personnel uncomfortable and they would prefer if the public asked them personal questions about their service.
As Veterans Day is a federal holiday, many workers and students will have the day off from work or school. Banks will be closed and USPS mail will not be delivered. UPS and FedEx, however, will run with a limited service.