Veterans Day Restaurant Deals 2020: Denny's, Red Lobster, Wendy's, and More
Veterans Day is today, and restaurants across the U.S. are honoring current and former military members by offering deals and discounts. With discounted or free food on offer at popular restaurants including Denny's, Wendy's, and Red Lobster, veterans and active military members can celebrate the day by being treated to breakfast, lunch, or dinner.
BJ's Restaurant & Brewhouse
Military service members and former members with a military ID can claim a free entree worth up to $14.95 plus a free Dr. Pepper at BJ's Restaurant and Brewhouse on Veterans Day.
Black Angus Steakhouse
Black Angus Steakhouse is offering all military personnel the All-American Steak Plate, which comes with an 8 oz. Certified Angus Beef Top Sirloin, mashed potatoes, broccoli with garlic butter, and a non-alcoholic beverage for $10.99. The offer is valid from 3-9 p.m. local time for anyone with a valid military ID or proof of military service. Takeaway orders can be made by calling the restaurant directly.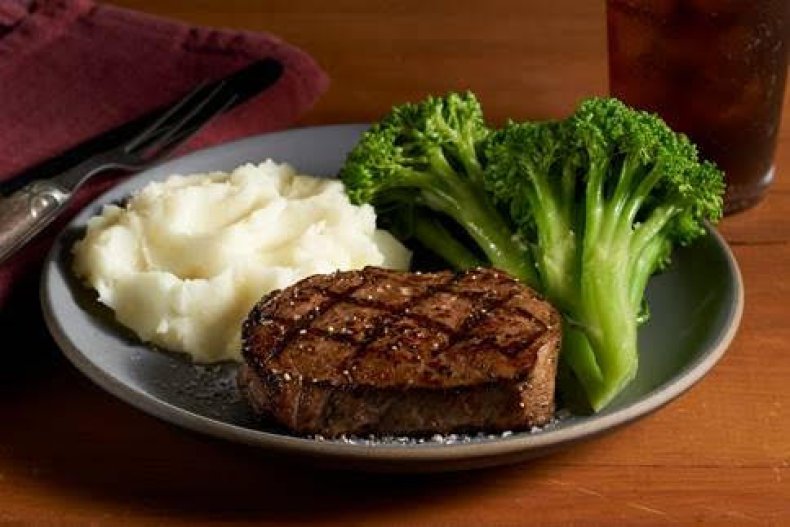 Denny's
Denny's is inviting active and inactive military personnel to participating Denny's locations nationwide on Veteran's Day from 5 a.m. until noon for a complimentary Build Your Own Grand Slam, made up of four items, with 11 items to choose from. The offer is dine-in only and can be claimed with a valid military ID or DD 214.
Red Lobster
Red Lobster is offering veterans, active-duty military, and reservists a free appetizer or dessert on Veterans Day when they show a military ID or proof of service.
The free appetizers on offer include Lobster and Langostino Pizza, Seafood-Stuffed Mushrooms, Parrot Isle Jumbo Coconut Shrimp, Langostino Lobster-Artichoke-and-Seafood Dip, Crab-Stuffed Shrimp Rangoon, Signature Jumbo Shrimp Cocktail, and Mozzarella Cheesesticks. The free desserts on offer are Chocolate Wave, Vanilla Bean Cheesecake, Warm Apple Crostada, and Key Lime Pie.
Torchy's Tacos
Veterans and active U.S. military members can enjoy a complimentary taco and non-alcoholic beverage from the special Veterans Day Menu at Torchy's Tacos, which is available for dine-in and pick-up orders placed by phone or in-person.
The items included are the chicken fajita, beef fajita, Trailer Park, Trailer Park—Trashy, or fried avocado, while the choice of drinks includes a fountain drink or iced tea.
Wendy's
Wendy's is offering a free small breakfast combo to veterans and active military with no purchase necessary. The offer is valid from 6.30-10.30 a.m. on November 11 for dine-in and drive-thru orders, though breakfast hours may vary by location. The offer is not valid for mobile orders or at a kiosk.
Additionally, service members enrolled in the Veterans Advantage get perks at Wendy's restaurant nationwide all year round. Also, members enrolled in the program can claim a free breakfast sandwich with any breakfast purchase from November 11 through December 31.