Military veterans exposed to toxins from burn pits while serving overseas are fighting to get disability pay for respiratory illnesses linked to the smoke.
Burn pits were commonly used in Iraq and Afghanistan to dispose of waste collected on military bases. Some of those items burned—like plastics, rubber, chemical mixtures, and medical waste—produced dangerous toxic smoke, the Military Times reports.
Since 2008, veterans returning from war with "unusual respiratory illnesses" believe were caused by the fumes from burn pits.
The Department of Defense has estimated nearly 3.5 million troops from recent wars may have suffered health complications from exposure to airborne environmental hazards, including burn pits.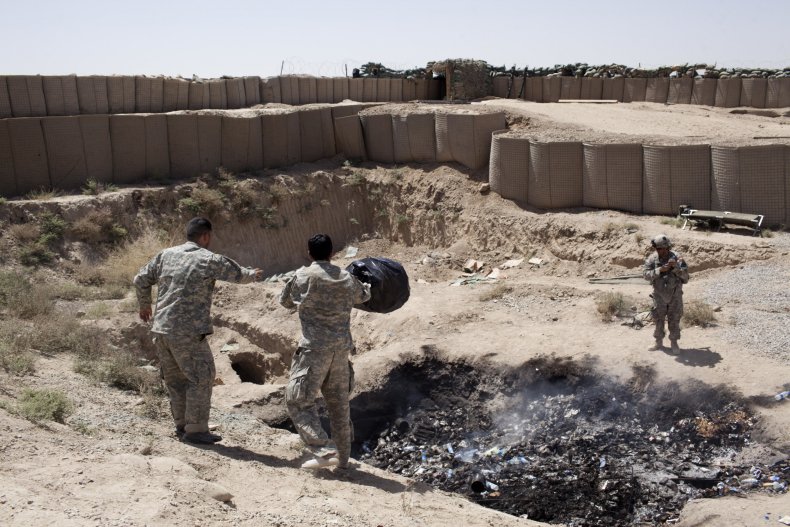 Due to the Department of Defense not keeping clear records of what was burned in the pits, the exact toxins to which a service member may have been exposed to is unknown. With that lack of information, members seeking disability are having trouble proving their symptoms are from the burn pits.
The Disabled American Veterans (DAV) group says service members seeking compensation for an illness they believe stems from burn pits must "prove that a specific ailment was caused by specific exposure—an often challenging process that DAV is working to make simpler for exposed veterans."
In early March, the House approved a comprehensive military toxic exposure bill, dubbed the PACT Act, that would provide millions of veterans expedited health care and disability payments related to illnesses caused by burn pits.
The PACT Act is now headed to the Senate for a vote. Veterans advocates are hoping the legislation passes soon to help the many service members who are suffering.
The Iraq and Afghanistan Veterans of America (IAVA), a nonprofit organization that fights for veteran rights, conducts a Burn Pit and Toxic Exposure survey every year. Last year's survey revealed that 86 percent of respondents reported exposure to burn pits or other toxins, and that 89 percent of those exposed reported symptoms that might be caused by that exposure.
The PACT ACT has been strongly backed by President Joe Biden, whose son, Beau Biden, served in the U.S. Army near burn pits in Iraq and died of a rare brain cancer in 2015. President Biden pushed for the legislation during his State of the Union address.
"We don't know for sure if a burn pit was the cause of his brain cancer, or the diseases of so many of our troops," Biden said. "But I'm committed to finding out everything we can."
Newsweek reached out to the IAVA and DAV for comment.
Uncommon Knowledge
Newsweek is committed to challenging conventional wisdom and finding connections in the search for common ground.
Newsweek is committed to challenging conventional wisdom and finding connections in the search for common ground.