In Veteran's Group Ad, WWII Survivor Condemns Trump and His GOP Allies, Says Troops 'Are Not Losers'
Vote Vets—an organization representing military veterans, families and "progressive values"—has released a political ad in which a World War II veteran criticizes Republican President Donald Trump and any politician supporting him over reports that Trump had allegedly called deceased veterans "losers" and "suckers."
In the video, Private Dan Crowley, a now-98-year-old man who fought in the U.S. Air Corps, mentions how he was forced into 42 months of slave labor as a prisoner of war after his battalion lost a battle in the Filipino province of Bataan.
"We were forced to perform unbelievable brutal manual labor," Crowley said in the ad, "probably one of the worst conditions a human being can be put in."
"None of the fellas that I served with that are no longer with us are "suckers.' They are not 'losers,'" Crowley continued. "Donald Trump disrespects everyone who served in the military. What's worse: He lies about it."
The ad ends with Crowley urging voters to vote Trump out of office alongside any politicians who continue to support him.
Newsweek reached out to the White House for comment. This story will be updated with any response.
The video contains sound clips from July 2015 in which then-candidate Trump spoke against now-deceased Republican Arizona Senator John McCain, a former Navy pilot who spent five-and-half years as a North Vietnamese prisoner of war amid the Vietnam War.
"He's not a war hero," Trump said of McCain at the time. "I like people who weren't captured."
During McCain's imprisonment in the infamous "Hanoi Hilton," he was refused treatment for his arms and legs which were broken after his plane was shot down by a Korean missile, according to historian John Hubbell's 2000 book P.O.W.: A Definitive History of the American Prisoner-of-War Experience in Vietnam, 1964-1973.
McCain spent two of his years there in solitary confinement. Suffering from heat, dysentery and malnutrition, McCain was repeatedly tied up and beaten two or three times a week for refusing to sign statements against the United States. He also refused to an early release unless the prisoners captured before him were released first.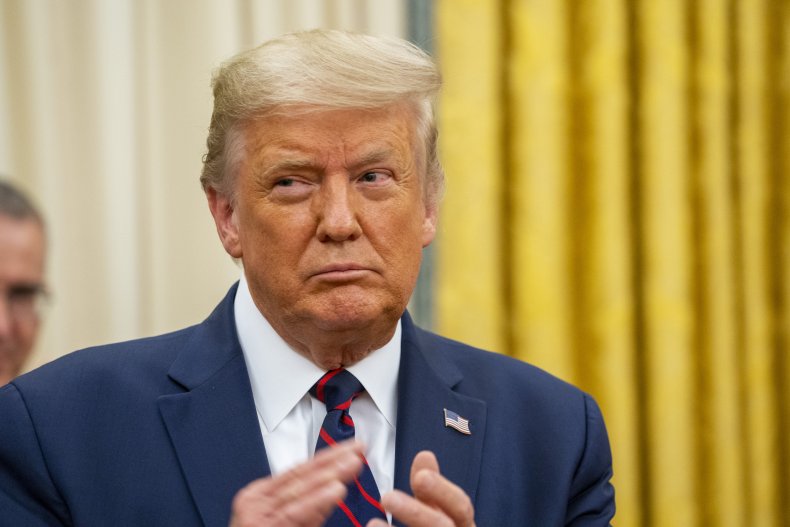 During the Vietnam War, which lasted from 1955 to 1970, Trump received four student deferments from military service. Trump has told reporters that his deferments, issued between 1964 and 1968, were for bone spurs in his feet.
In the first week of September, The Atlantic published allegations from anonymous sources that Trump had called fallen World War I veterans "losers" and "suckers" while canceling a 2018 trip to the Aisne-Marne American Cemetary in France.
The White House denied The Atlantic's report, calling it "malicious lies." Nevertheless, former Major General Paul Eaton, former Iraq veteran and Democratic presidential candidate Pete Buttigieg and various veterans groups have all criticized Trump for his alleged remarks.
In Veteran's Group Ad, WWII Survivor Condemns Trump and His GOP Allies, Says Troops 'Are Not Losers' | U.S.