The 'Veterans for Impeachment' on Why They Protested at World Series: The Trump Administration 'Doesn't Represent the Ideals Which Inspired Me to Enlist'
The two baseball fans who held up a sign reading "Veterans for Impeachment" behind the home plate at last night's World Series game said they did it because Trump didn't represent the ideals that inspired them to enlist.
U.S. Army veterans Alan Pitts and Naveed Shah told Newsweek that their statement at the tie between the Washington Nationals and Houston Astros, caught on TV cameras, was an effort to show the president "vets are not on his side."
Pitts, a combat engineer deployed and wounded in Iraq, and Shah, who was also deployed to Iraq, are both members of the anti-Trump veteran activist group Common Defense—which has the stated aim of getting ex-service personnel involved in grassroots progressive movements.
They told Newsweek that their statement yesterday was brought to an end by Washington Nationals staff, who confiscated the banner.
Their protest against the presence of President Trump at Nationals Park was not the only gesture against the commander-in-chief during Game 5 of the World Series at Nationals Park yesterday.
Trump was loudly booed when he appeared on the stadium's jumbotron beside other Republicans, and was later jeered by fans chanting "lock him up."
Speaking to Newsweek through WhatsApp Messenger, Pitts said Trump "didn't seem too happy" when the crowd began chanting "lock him up." Shah said when fans realized a curtain was drawn so Trump could walk to his box, a "chorus of boos rang out in the hall."
"The stadium was loud, and people were excited, but as soon as they showed him on the jumbotron it was like someone flipped a switch to 'boo,'" he added.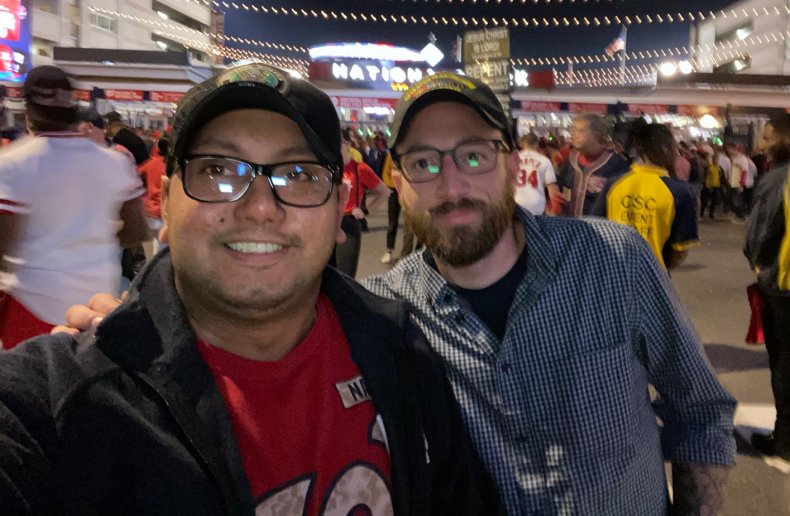 Shah said that their own protest was an idea thrown out just two days before after they became aware that the president would be at Game 5 of the World Series.
After getting through security without issue and taking their seats, the two veterans unfolded their "Veterans for Impeachment" sign, apparently to the annoyance of two fans sat next to them.
"There was a man next to me with a MAGA hat hidden under a Nats hat," Pitts told Newsweek. "He told me if I got that sign in front of his face we would have a big problem."
Nothing came of the defused situation and security at the ground was not so aggressive. Although the veterans say they were asked to put their sign away, and eventually had it taken away from them, Shah said Nationals Park staff were "very respectful."
What made them want to put their sign out in the first place? "I swore an oath when joining the Army. To defend and support the constitution against enemies both 'foreign and domestic,'" Pitts said. "Congress and the president swore similar oaths. I believe many members of Congress and especially the president are ignoring their oaths."
He went on to accuse Trump of breaking the law by withholding military aid to Ukraine and urging Ukrainian President Volodymyr Zelenskiy to investigate his political rival Joe Biden in a phone call that sparked the ongoing impeachment inquiry.
"As an immigrant, I feel like I've been under attack from President Trump from the beginning of his xenophobic campaign, to the Muslim Ban, to deporting Veterans, to putting kids in cages," Shah said. "The Trump administration has made cruelty a norm, and it doesn't represent the ideals which inspired me to enlist."
Pitts, a founding member of Common Defense more familiar with statements and protest, said he hoped the president saw their banner, adding that it was "one more thing to show him that the country and us as Vets are not on his side."
His fellow Common Defense activist Shah had not yet taken direct action since joining the group in 2018.
"This was my first direct action, and it felt great knowing he might see it," Shah said. He later added: "Trump needs to hear from people like me, people he's trying to oppress, that we won't be silenced."
A Washington Nationals spokesperson confirmed that the sign was confiscated in accordance with their "longstanding policy regarding banners and signs."