Veterans Organization Plans 5K Race Mocking Trump After Military Parade Cancellation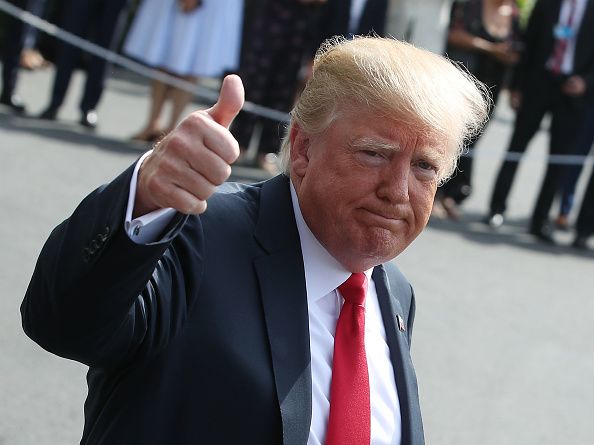 VoteVets, a nonprofit veterans organization, announced on Friday that it is looking to plan a 5k race for Veterans Day in 2019 to mock President Trump.
The mission of VoteVets is to focus on nonpartisan education and advocacy on behalf of veterans and their families. The organization said on Thursday via their official Twitter account that they have submitted a letter of intent to Washington D.C. to hold the race around the National Mall. This announcement came the same day that Trump canceled a military parade at the capitol. He announced the cancellation of the "$92 million" parade on Twitter Friday, placing the blame on other politicians.
"The local politicians who run Washington, D.C. (poorly) know a windfall when they see it," the President said. "When asked to give us a price for holding a great celebratory military parade, they wanted a number so ridiculously high that I canceled it. Never let someone hold you up! I will instead attend the big parade already scheduled at Andrews Air Force Base on a different date, & go to the Paris parade, celebrating the end of the War, on November 11th."
"Maybe we will do something next year in D.C. when the cost comes WAY DOWN," he continued. "Now we can buy some more jet fighters!"
VoteVets, who Trump has blocked on Twitter, is now planning an event in retaliation to Trump's failed power-parade. The organization sent out emails asking for signatures of support, saying the race would be 5 kilometers to symbolize Trump's five military draft deferments during the Vietnam War. "And we'll do it to raise money for a good cause like eradicating veterans' homelessness," they said in the email.
"Unless he kicks out a veterans race, [Trump] will not get his ego parade there, on that day next year, either. #NoTrumpParade," the organization added in the tweet.
The military parade was meant to be a showcase of America's military power to take place on the streets of Washington and would include about eight tanks, helicopters, fighter jets, and troops. Based on figures from a previous Newsweek analysis, the president could feed every homeless veteran in the United States three meals a day for nine months.