Veterans to Sarah Palin: Health Isn't a 'Partisan Issue'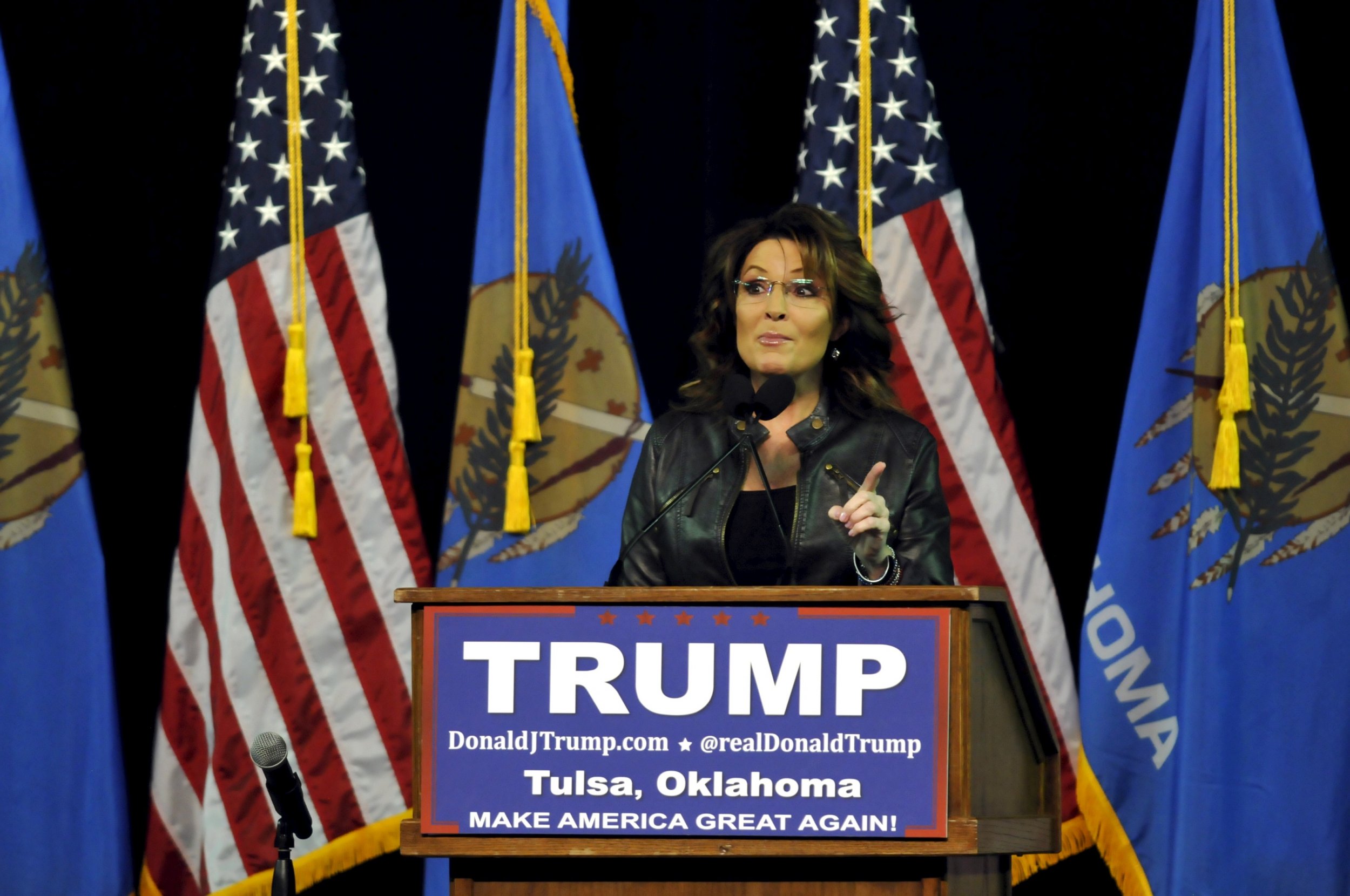 Veterans groups are speaking out in the wake of Sarah Palin's remarks this week suggesting that President Obama doesn't "respect" veterans, a group of Americans that includes her recently arrested son.
At a Donald Trump rally in Oklahoma on Wednesday, Palin began her speech by mentioning what she called the "tragic, fundamental transformation of America" that she says Obama had promised when he first took office in 2009. "What we need now is a fundamental restoration of America," she said. "We need to elect a commander in chief who will respect our troops."
Palin's 26-year-old son, Track, an Iraq war veteran, was arrested Monday on charges he physically assaulted and threatened his girlfriend with an AR-15 rifle at the Palin family home in Wasilla, Alaska. At the rally, Palin never directly stated that her son suffers from post-traumatic stress disorder (PTSD), but she seemed to indicate that his arrest stemmed from mental issues he developed during his 2008 duty in Iraq.
"Our vets and you deserve a commander in chief who will respect what it is that our forces go through and would never leave them behind," she told the audience at the rally. "Let me get a little bit personal on this: I'm talking about not leaving our wounded warriors behind, also. Our wounded warriors who come home from the battlefield bringing new battles with them."
She called the recent news about her son the "elephant in the room." "My son, like so many others, they come back a bit different, they come back hardened," she added.
"When my own son is going through what he is going through coming back, I can certainly relate with other families who kinda feel these ramifications of some PTSD and some of the woundedness that our soldiers do return with," she said.
But David Chasteen, co-founder and western regional director of the nonpartisan Iraq and Afghanistan Veterans of America (IAVA), says Track Palin is more than just a news story, and encourages politicians not to politicize the conversation about U.S. service members.
"Vets don't need talk, they need good policy," he tells Newsweek. "Veterans are not a partisan issue, and we work very hard to make sure they don't become a partisan issue."
Chasteen says he invites Trump and Palin to meet with IAVA to ensure they are supporting sufficient policies for veterans. He also encourages struggling veterans to contact his organization. "[But] electing the right politician isn't going to heal emotional trauma, I wish it were that simple. What we can do is hold the commander in chief responsible for providing good care to veterans," he says.
About 2.8 million veterans have returned home from Iraq and Afghanistan since 2001, and nearly 30 percent of new veterans seeking care from the Department of Veterans Affairs have been diagnosed with PTSD, according to the New York City–based IAVA.
"They're real people with real issues and I think that's important not to lose in the real pageantry of politics," he says. "Sarah Palin is a character because she is a politician…but Track is a real person."
Palin, the former governor and Republican vice presidential nominee, endorsed Republican front-runner Trump a day before the rally. Her latest remarks came as support continues to grow for the GOP presidential front-runner, just 11 days before the Iowa caucuses. A poll out of New Hampshire, which holds its primary eight days after the caucuses, on Thursday showed Trump with an 11-point lead over the crowd of other GOP candidates.