Veterans Still Back Trump after Alleged 'Losers' and 'Suckers' Comments: Poll
Most U.S. veterans plan to vote for President Donald Trump more than a month after it was alleged that the commander-in-chief referred to dead military personnel as "losers" and "suckers," according to new poll data.
The latest survey from the Military Times and the Institute for Veterans and Military Families found that 52 percent of ex-service personnel intended to back Trump for a second term in the White House.
A little more than 42 percent said they would be voting for Biden, while 4.6 percent favored a third party candidate and less than one percent said they would not be voting at all.
According to the Military Times, the bulk of Trump's support came from veterans aged 55 and older, with almost six in ten from the demographic (59 percent) favoring the president for re-election. Only 38 percent of the sub-group said they'd be voting for Biden.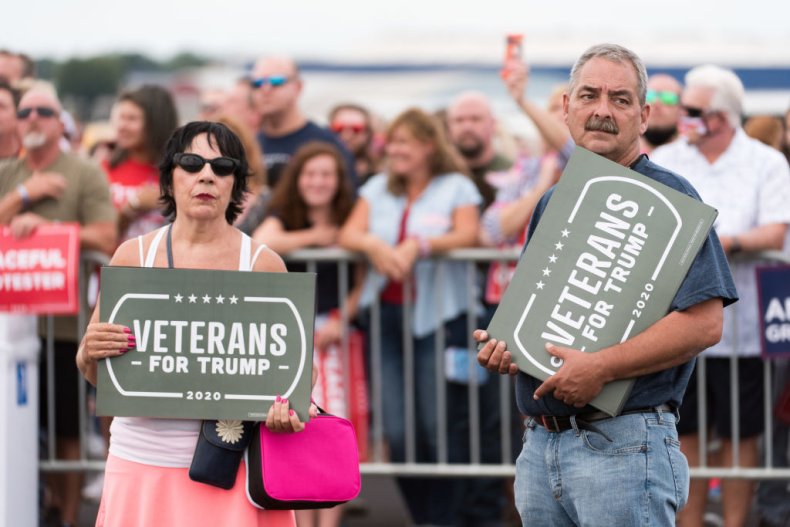 Fifty-two percent also said they had a favorable view of Trump's first term in office, while 45 percent felt he'd had a negative impact on the country during his first four years.
But when veterans enlisted after 2001 were polled, the picture was partly flipped. Forty-six percent of the group opted for Biden in and head-to-head with Trump—giving the Democratic nominee a four-point lead over the incumbent.
Veterans aged 35 to 54 took an even dimmer view of the commander-in-chief. A little more than half (51 percent) told Military Times pollsters they would back Biden, while 40 percent said they intended to vote for Trump.
When the survey results were further broken down by race and gender, pollsters found that almost two thirds of women veterans took a negative view of Trump's record in the White House, compared with 61 percent of minority veterans.
Fifty-nine percent of women veterans said they'd be voting for Biden, while 52 of minority ex-service personnel took the same view.
The Military Times and Institute for Veterans and Military Families surveyed more than 1,700 veterans between October 1 and October 13 for the new poll. Its margin of error on most questions stands at two percentage points.
The new polling data was released more than a month after The Atlantic first reported that Trump had referred to dead U.S. veterans as "losers" and "suckers" during a 2018 trip.
Anonymous sources told the magazine that the president had disparaged dead former service personnel when he was supposed to visit the World War I Aisne-Marne American Cemetery in Belleau, France.
President Trump repeatedly denied the allegations and dubbed The Atlantic report a "fake story" and a "disgrace" as he came under political pressure.