Veterans 'Uncomfortable' With 'Thank You for Your Service,' Ask for More Civilian Support This Veterans Day
Almost half of U.S. veterans and active service members feel uncomfortable with being thanked for their service, a new survey has revealed.
According to a poll commissioned by the Cohen Veterans Network (CVN), a national not-for-profit network of mental health clinics for post-9/11 veterans and military families, 49 percent of active and former members of the armed services feel uneasy with the expression "Thank you for your service."
It comes as 91 percent of Americans used the expression, according to the survey, and as the country prepares to commemorate its former military service members on Monday for Veterans Day.
"I feel very uncomfortable when civilians say thank you for your service, because I don't know what to say back," said a veteran employed at a Cohen Clinic in Washington.
The poll found that instead of saying the simple thank you, most veterans and service members preferred gratitude that went beyond simple platitudes and that tried to connect with them on a more personal level.
Commenting on the survey, Dave Gowel, CEO of RallyPoint Networks, a digital platform for the military community, said: "What we've learned is if you've met one veteran, you've met one veteran. We are as diverse in our interests as are civilians. When it comes to being thanked for our service, this diversity still applies and you can't make everyone happy.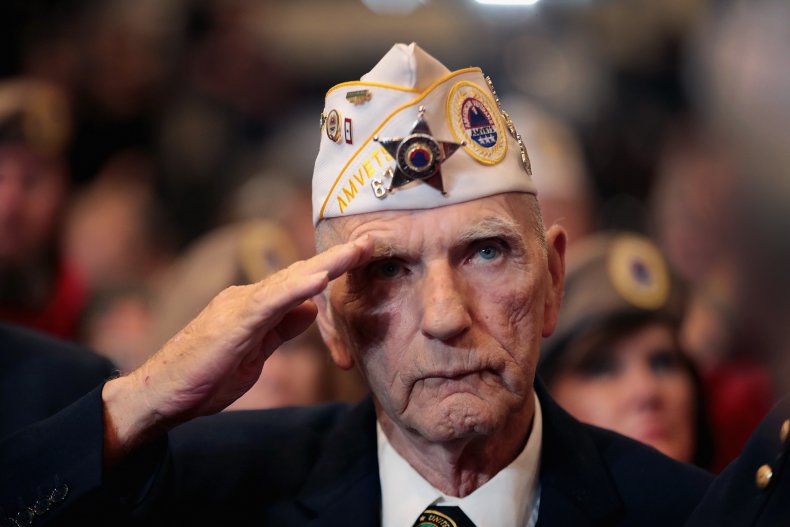 "We challenge you to show appreciation in additional ways for those who have repeatedly stepped in harm's way on your behalf; think about why you are saying thanks and realize you need to do more than check the block with a simple phrase."
The survey revealed that veterans preferred questions about when they served, where were they stationed and what specific jobs they did while serving.
Its results were released alongside a new initiative launched by CVN titled "Beyond Thank You for Your Service," an awareness campaign aimed at connecting veterans and civilians in more meaningful ways.
"Taking an interest in a veteran's story about their time in the military is one way to engage beyond just saying thank you for your service," CVN CEO and president Dr. Anthony Hassan said.
Some former service members said it would be more meaningful if people did more for the veteran community as opposed to simply saying thanks.
"Instead of hearing 'thank you for your service,' I would like to see civilians in our community give back to military families," a veteran from Tennessee said. "Either by coaching a sport, giving a class, or going to a veterans home and just sitting and listening to the stories of our older generations."
According to CVN: "The CVN Veterans Day Survey 2019 was conducted online within the United States by The Harris Poll on behalf of Cohen Veterans Network from October 10-14, 2019 among 2,019 U.S. adults ages 18 and older, among whom 218 are U.S. military veterans or active-duty service members. This online survey is not based on a probability sample and therefore no estimate of theoretical sampling error can be calculated."
The graphic below, provided by Statista, shows that in 2018 the number of veterans aged 65 or above living with an income below the poverty level was 494,000. For the 55 to 64 age group, 304,000 veterans live with an income below poverty level. For 35 to 54, it is 252,000 living with an income below poverty level.