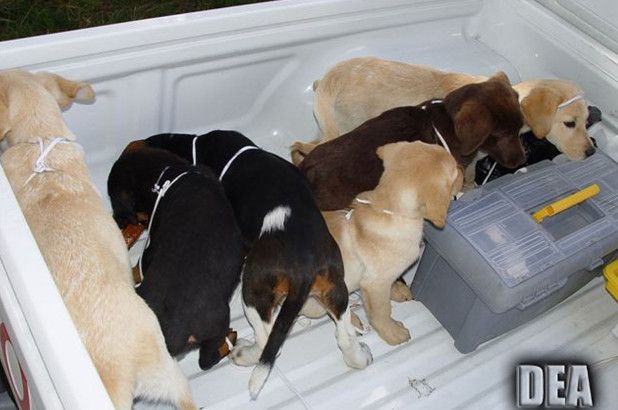 A veterinarian accused of sewing bags of liquid heroin into puppies to smuggle the drug into the U.S. was extradited from Spain to New York on Monday.
The vet, Andres Lopez Elorza, was arrested by U.S. Marshals in Madrid in 2015 after more than a decade of investigations by U.S. and Colombian authorities.
New York Drugs Enforcement Administration (DEA) officials and a DEA task force in Colombia had received a tip off about criminals smuggling drugs into the U.S. using dogs.
When agents raided a clinic that Lopez Elorza ran in Medellin, Colombia, in 2005, they found 6.6 pounds of heroin surgically implanted in six puppies. All of the puppies were rescued, but three died from infections of incisions.
"Throughout my 25-year career, this is one of the most outrageous methods of smuggling that I personally have encountered," John P. Gilbride, the special agent in charge of the DEA's New York Field Division, told the New York Times in 2006.
Police arrested 22 Colombians in connection with the raid, and charged them with smuggling 40 pounds of heroin into the U.S., reported NBC 4 New York.
However, Lopez Elorza went into hiding—before being tracked down to Spain. He was arrested in 2013, then released while his extradition was considered and re-arrested in 2015.
The group's distribution network spread from New York to Miami, and they used a range of methods to transport illegal drugs into the U.S. Lopez is expected to appear in Brooklyn federal court on Tuesday.