Vets Against Trump Condemn President's Lack of Values, Say He 'Must Go'
U.S. armed forces veterans took to Twitter on Friday to share their experiences in combat and the values they learned while also criticizing President Donald Trump, using the hashtag #VetsAgainstTrump.
Twitter user Charlie H. posted a picture of himself while an active member of the Army and wrote: "I joined the Army in 2003 and fought to uphold the values of life, liberty, and equality for all; regardless of political ideology, race, gender, sexuality, or religion."
"Donald Trump upholds no values save those that personally profit himself," the tweet added.
Another Twitter user, Fred Wellman, posted a similar tweet, noting that he served in the Army for 22 years, which included fighting in Desert Storm and three tours in Iraq.
"I proudly served next to brave men and women and worked with noble Iraqis. I lost many of them. Trump represents none of the values I swore to uphold and defend. He must go," Wellman wrote.
Pam Keith, a Democratic nominee for Florida's 18th Congressional District and a Navy veteran, replied to Wellman's tweet, stating that she couldn't agree more.
"Those of us served know that the perception of America's goodness is a key component to mission accomplishment and troop safety (such as it is). We need to act like, and be the good guys," Keith wrote. "Trump demolishes that every day."
Another veteran, Marko Spasojevic, posted a picture of himself on Twitter and wrote that he was "disgusted to see Trump attack Americans citizens exercising their right to peaceful protest."
The left-leaning veteran organization VoteVets, also recently released a "prebuttal" video to Trump's speech during the Republican National Convention (RNC) on Thursday. The video features the father of the first service member to die in combat under Trump's administration.
"Just five days into his presidency, Trump ordered Ryan's SEAL team into Yemen," Bill Owens says in the ad. "Not from the Situation Room, with all the intelligence assembled, but sitting across a dinner table from Steve Bannon."
Bill Owens' son, William Ryan Owens, was a senior chief petty officer in the Navy SEALs. He was shot in 2017 by members of al-Qaeda during a raid in Yemen in 2017, just a few days after Trump's inauguration.
"Don't trust Donald Trump with your kid's life, or your own," he says at the end of the video.
In an email sent to Newsweek, Naveed Shah, Government Affairs Associate for Common Defense, stated that "Common Defense began the Vets Against Trump movement in 2016 and since then we've been working to reassert the rule of law and normalcy which Trump's administration has attacked everyday."
According to their website, Common Defense is the "country's only veteran-led grassroots organization committed to engaging, organizing, training and mobilizing veterans to elect accountable leaders and promote progressive values in 2020 and beyond."
In his email sent to Newsweek, Shah added, "Last night, Common Defense members and veterans across the nation took it in their hands to remind Americans how Trump has failed us over and over again and how we can come together to oppose and reject another term of Trump's presidency."
"We had close to 15,000 conversations on Twitter, with over 56,000 people engaging with #VetsAgainstTrump posts, which means a potential reach of over 10 million people seeing our posts," Shah told Newsweek.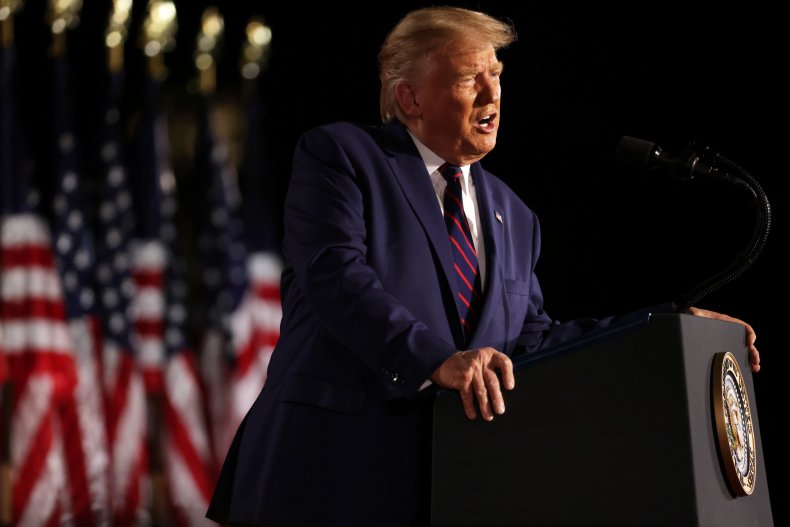 The criticism from a number of veterans comes shortly after Vice President Mike Pence spoke at the RNC, praising Trump for rebuilding the military and helping the Department of Veteran Affairs.
"After years of scandal robbed our veterans of the care that you've earned in the uniform, President Trump kept his word again," Pence said. "We reformed the VA and Veterans Choice is now available for every veteran in America."
This is not the first time Trump has faced criticism from veterans. The president saw similar backlash after he suggested he was going to deploy troops to cities and states that could not contain the protests following the death of George Floyd--as well as after he stated that he was not briefed about allegations that a Russian military intelligence unit was secretly offering bounties to Taliban-linked fighters for targeting American troops.
In response, Scott O'Grady, co-chair of Veterans for Trump, told Newsweek in a statement: "President Trump has been an stalwart leader and supporter of our nation's military and veterans and it couldn't be more clear that under Vice President Biden's leadership, these national heroes were always a second thought. President Trump has rebuilt the military, secured the most funding in history for the VA, and has expanded educational benefits for veterans, service members, and their families. The choice couldn't be more clear this November."
Newsweek reached out to VoteVets for comment, but did not receive a response in time for publication.
Updated August 28, 2020, 5:05 p.m. ET, to include a statement from Naveed Shah, Government Affairs Associate for Common Defense.