ViacomCBS Slams Alan Dershowitz After Request to Pull 'Good Fight' Episode
Attorney Alan Dershowitz threatened to sue ViacomCBS in July over an episode of the CBS All Access television program The Good Fight, which featured dialogue that connected Dershowitz with alleged pedophile Jeffrey Epstein. Dershowitz wanted the episode removed from circulation, which ViacomCBS declined to do.
Dershowitz took offense to an episode called "The Gang Discovers Who Killed Jeffrey Epstein," in which a character claims to have been Epstein's lawyer before Dershowitz.
"Probably about the time he ditched me for Dershowitz," the character said. "At least I didn't get a massage, like that shyster. And for the purposes of any potential lawsuit, 'shyster' is just my opinion, not a statement of fact."
Dershowitz's legal counsel Imran Ansari said in a letter to ViacomCBS that his client wanted a public apology in addition to the blocking of the episode.
"The statement, in whole and in part, is tortious and constitutes both defamation per se and defamation by implication," Ansari wrote. "The language of the whole piece can be 'reasonably read both to impart a defamatory inference and to affirmatively suggest that the author intended or endorsed that inference.'"
ViacomCBS Executive Vice President and General Counsel Jonathan Anschell responded to Ansari's letter on Tuesday. "If we understand your letter correctly," Anschell wrote, "you are complaining about a line spoken by a fictional character, in an episode of the fictional series The Good Fight."
"In other words," Anschell's letter added, "as one might explain to a small child, the Series, its characters and the things they say are all make-believe. People don't watch the Series for factual information about Professor Dershowitz or anyone else."
Newsweek reached out to Ansari's office for comment.
"Mixing fiction with fact doesn't allow CBS to defame me by putting malicious lies about me in the mouth of a fictional character," Dershowitz said in a statement to Newsweek on Friday. "This is an interesting legal issue that may have a positive impact on this dangerous genre of using real names in fictionalizations of actual events. It really misleads and misinforms viewers."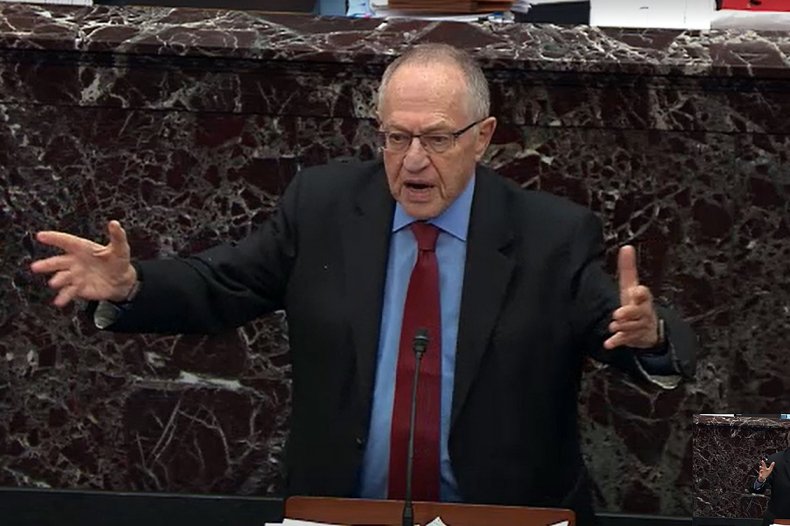 Anschell's letter also referenced the usage of the word 'shyster,' saying ViacomCBS was "confident that no viewer would ever conclude Professor Dershowitz was a shyster based on one line of opinion from a fictional character on the Series, as opposed to the real-life, factual publications that have called him exactly that."
Dershowitz was named in recently unsealed documents from a 2015 defamation case brought against Epstein's cohort Ghislaine Maxwell by Virginia Giuffre. Giuffre claims Epstein and Maxwell forced her, as a minor, to have sex with older individuals including former vice president Al Gore, Prince Andrew and Dershowitz.
"There are no new accusations against me in the documents I got unsealed," Dershowitz tweeted Friday. "All her accusations were made in suits she filed years ago. They were false then and now, as shown by her emails and manuscript that prove I never met her."
Epstein was arrested on charges of sex trafficking and conspiracy to engage in sex trafficking in July 2019. While awaiting trial, Epstein was found hanging in his jail cell at the Metropolitan Correctional Center in Manhattan. His death was ruled a suicide.
Maxwell, Epstein's alleged partner in the crimes, was arrested in July. Maxwell allegedly helped expand Epstein's network of underage girls by grooming them and threatening their families if they attempted to tell authorities. Maxwell is expected to go on trial in July 2021.
Updated 12:01 a.m. EST 08/01/2020: This story has been updated with a statement from Alan Dershowitz.