'Donald Trump is Wrong,' Rapper Vic Mensa Says of President's 'Blatant Disrespect' Toward Puerto Rico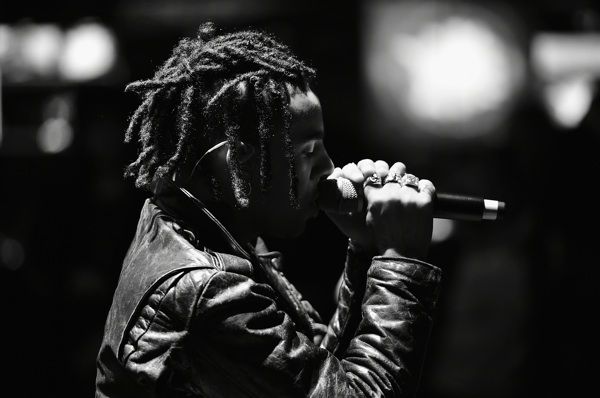 They came out in droves, the fans, all of them holding bags and bags of toilet tissue, paper towel, soap, water bottles, baby diapers, feminine products and every other toiletry victims currently stranded in Puerto Rico could possibly need.
It was the first chilly night in New York City, but that didn't stop the long line of people outside the Bowery Ballroom on Saturday from waiting. They were there to donate whatever they could for people whose basic needs weren't being met due to a chain of destructive hurricanes. They were there to step in where the American government had been failing the people of Puerto Rico. And they were there to see Vic Mensa.
It made sense that Tidal would pick the Chicago rapper to headline the streaming service's MusiCares Hurricane Relief efforts. Despite the fact that he was gearing up to join Jay Z on the 4:44 tour in promotion of his inescapably moving and incredibly woke album The Autobiography, Mensa has been particularly vocal about his disdain of President Donald Trump's politics, from his poor handling of Puerto Rico to his failure to condemn the white supremacist ideals that have been terrorizing the United States and his decision to back out of the Paris Climate Agreement.
Just hours before Mensa stood before a jam-packed auditorium performing new hits like "Rolling Like a Stoner" and "Wings," and his classic "16 Shots" tribute to murdered Chicagoan LaQuan McDonald, who was shot and killed by officer Jason Van Dyke in 2014, Mensa had fired his own shots at the president on Twitter, calling Trump an "imbecile" and "hypocrite" for criticizing President Barack Obama's very few trips to the golf course when Trump himself was currently living in the lap of luxury at his own golf course over the weekend "while PR dies in the dark."
I chatted with the 24-year-old after his performance (which is a must see if you've never caught the young rapper live) and he shared his disappointment with Trump's response toward Puerto Rico and San Juan Mayor Carmen Yulín Cruz, who Trump had just earlier on Saturday bashed on Twitter for complaining about the U.S.' lack of support.
"I think the blatant level of disrespect in saying Puerto Rico wants everything done for them when they have American passports and all they're asking for is assistance, support and compassion, it's just so representative of what we know to be true," Mensa said. "I don't want to belabor the point of Donald Trump being a bigot, a racist, a pig, because that's understood. I take issue with colonialism and just the idea of a group of people being U.S. subjects, American subjects, that can be held to standards of U.S. law but laws have to be changed for them to receive assistance in times of need...I think that's so fucked up. I thought America was founded in revolution to escape being subjects. I thought that was the genesis of this country. I thought that the heart and soul of this country was to not be subjects to someone who gives you no representation in a decision of the laws that govern you. It's just wrong. But we know Donald Trump is wrong."
Mensa is young but his passion for the truth, which he isn't afraid to share through his music and social media presence, makes him seem wise beyond his years. His upbringing in inner-city Chicago, where he says he grew across the street from Section 8, five blocks from the projects and five blocks from Obama's old house, has given him a innate perspective of the struggles that people are facing not just in his hometown or Puerto Rico, for that matter, but all across the nation. And with revolutionaries like Malcolm X, Huey Newton and Assata Shakur as some of his biggest influences, he tells me that he can't help but to be radical and use his platform to expose people to the truth of the racial and economic disparities expounded by our own government.
"I haven't been standing for the National Anthem or saying the Pledge of Allegiance since I was in the sixth grade. I quit that a long time ago when I started to realize it was a plague of miseducation in America for very obvious reasons, because they don't want the preterist to understand the weight of their situations and the reasons why they're starving and scrapping up change off the floor," he said. "So as I started to write music, these were the first things that I started to write about, what I was seeing outside. And right now I feel that we're in a moment when nothing has changed it's just more blatantly obvious and that much more poignantly disrespectful and offensive. So being that I've amassed a bit of a following and a platform to reach people and speak to people I do feel a responsibility to tell them things that they need to know."
That doesn't mean that his fans are always so responsive to his truths. But any criticism or backlash he's faced over dumping on Trump or saying anything against the majority hasn't deterred the rapper.
"I think adults are afraid of the truth because they've been conditioned and miseducated to believe lies. Now the people that spread these lies are 100 percent afraid of the truth, because the truth means people will wake up and start pointing a finger at them. Donald Trump is making money from the Dakota Access Pipeline, which he shut down the Standing Rock movement for. He's an investor. He doesn't want people to know the truth, and clearly the vast majority of Americans don't know the truth. He doesn't want them to know the truth because his bottom line is involved," Mensa said. "When you've been deliberately pointed in the wrong direction your whole life then the path to salvation is gonna look foreign to you. But I'm all about making people uncomfortable, pointing them in places that make them question themselves and question what they think they know."
Trump sold his stake in the company overseeing construction of the Dakota pipeline in December, but that doesn't take away from the fact that he's failed to recognize the detrimental effects the oil line could have on the environment. He approved the permit needed to complete the massive crude oil infrastructure just days after he was sworn into office despite environmentalists warnings of devastating impacts the land, water and residents may face along the pipeline's 1,170 mile-route.
In essence, it's Trump's careless attitude towards global warming and climate change that led to so many people coming together for Puerto Rico and his performance in New York City on Saturday, Mensa suggests.
"They removed everything about global warming from the EPA's (Environmental Protection Agency) website. I don't think it's coincidental that seven, eight months later we've had like four back to back hurricanes and earthquakes. It's not a coincidence. We're destroying this planet. We're raping Mother Earth and she's dying. And we can't be complicit in this blatant lack of attention to global warming," Mensa said.
"We got people making money off of a lack of regulation that allows a situation like what happened in Puerto Rico [and] in Texas. The whole free trade idea it's just destroying the world. And I take issue with so many facets of this imperialistic capitalism where anything goes in pursuit of a dollar. So you're telling me that in pursuit of a dollar you can have all of Puerto Rico without lights and without access to fresh water? And even with this happening, we're still opposing regulations on major corporations so that we can have free trade? That doesn't sound free to me. Free trade shouldn't confine people to a life of impoverishment. It just shouldn't," he added.
Mensa is optimistic, though, that things can change and America can be a better place for each and every one of its citizens, regardless if they live in territories like Puerto Rico, regardless if they're dead broke and struggling and regardless of their skin color, sexual orientation or religion.
As a young black man with a platform, Mensa recognizes it's important for him to galvanize those from all walks of life and unite them in struggle, in love, in pain, in effort to recreate a future in which every man shall truly be created equal. With his own foundation Save Money, Save Lives close to completion and tentative projects like Stop the Bleeding, which aims to teach residents in Chicago's most crime and violence-riddled neighborhoods first responder techniques, and Universe Vs. Capital that will pair inner-city kids with other children living in oppression across the globe and give them a space to bond and connect over making music, Mensa, in a sense, is already doing more to create a more inclusive world for everyone.
"Without hope there can be no progress," he said. "I think that one of the most dangerous things for the power structure is for oppressed people to realize their similarities and band together."
As for the state of Puerto Rico, Mensa is confident the country will rebound from the storms and come out stronger than ever.
"You have our support. As the people of America, and although those in power have expressed things other than support, we're here for you. We're thinking about you. We're actively working to help fix the extreme tragedy that's come upon you."