Vice President-elect Kamala Harris said she stands on the shoulders of all the women who came before her to fight for women's right to vote on the day that she and President-elect Joe Biden celebrated their victory in the 2020 presidential election.
Harris made history on Saturday by becoming the first woman elected to serve as vice president. She spoke for the first time as vice president-elect in Wilmington, Delaware, on Saturday night while wearing a white pantsuit—an outfit that has become synonymous with the women's suffrage movement and which was worn by Hillary Clinton while accepting her Democratic nomination in 2016 and during Donald Trump's inauguration in 2017.
Clinton's supporters have also adopted wearing white suits following her loss, and many female Democrats wore white at the 2019 State of the Union address, though they invited their Republican counterparts to do the same.
White became the color synonymous with the women's suffrage movement in the 1900s and has marched into the 21st century as a symbol for women's continued fight for equal rights and equal representation.
Harris acknowledged her mother, Biden's wife Jill Biden, and the "generations of women, Black women, Asian, white, Latina, Native American women, who throughout our nation's history have paved the way for this moment tonight" during the speech she delivered before introducing Biden to the stage.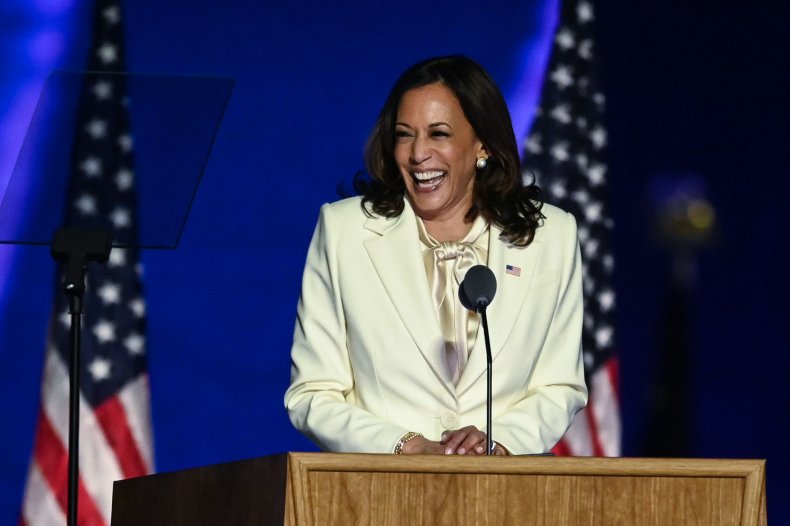 Harris pointed to the women "who fought and sacrificed so much for equality, liberty and justice for all, including the Black women, who are too often overlooked but so often prove that they are the backbone of our democracy."
Harris also nodded to those who fought for women's suffrage with the successful passing of the 19th Amendment in 1920, those who fought against racial discrimination in voting by passing the Voting Rights Act in 1965 and the "new generation of women in our country who cast their ballots and continued the fight for their fundamental right to vote and be heard" this year.
"Tonight I reflect on their struggle, their determination and the strength of their vision to see what can be, unburdened by what has been," Harris said. "And I stand on their shoulders.
"And what a testament it is to Joe's character that he had the audacity to break one of the most substantial barriers that exists in our country and select a woman as his vice president."
In addition to breaking the gender barrier for the vice presidency, Harris also made history as the first Black American and the first South Asian American elected to hold the office. Her speech acknowledged the achievements through its mentions of the 19th Amendment and the Voting Rights Act—and though she celebrated the country's history-making race, she also had a message for girls and women who aspire to careers in politics.
"While I may be the first woman in this office, I won't be the last," Harris said. "Every little girl watching tonight sees that this is a country of possibilities. And to the children of our country—regardless of your gender—our country has sent you a clear message: Dream with ambition, lead with conviction and see yourself in a way that others might not see you, simply because they've never seen it before. And we will applaud you every step of the way."
The Associated Press and several major networks called the race for Biden on Saturday after declaring a win for him in Pennsylvania, a state with 20 electoral votes that pushed Biden over the 270 needed to secure the presidency. The calls came after several days during which no clear winner was declared as election officials continued counting ballots in key swing states. Despite the consensus surrounding Biden's win, Trump has yet to concede the race.
Newsweek reached out to Trump's campaign for comment but did not receive a response in time for publication.
This story has been updated with additional information and background.