Vice President Pence Says Re-electing Trump This November Is America Choosing 'Freedom'
Vice President Mike Pence asserted that the "agenda of the far left" is the one thing standing in the way between the American people and President Donald Trump's re-election in November.
In a recent interview with Breitbart News, Pence said he believed that the U.S. is a "freedom-loving country."
"The American people are going to choose freedom on Nov. 3 when they vote to re-elect President Donald Trump," Pence said, adding that the "agenda of the far left" is the one thing that could get in the way of.
Elaborating on the vice president's comments, Ken Farnaso, a spokesman for the Trump campaign, told Newsweek that the "only way" presumptive Democratic nominee Joe Biden could win the "enthusiasm of his party" would be to embrace socialist policies pushed by the likes of Senator Bernie Sanders and Rep. Alexandria Ocasio-Cortez.
"President Trump has reversed the march towards socialism undertaken by the Obama/Biden Administration and will be victorious this fall," Farnaso wrote in an email to Newsweek.
The coming election "will be a binary choice between freedom and socialism," Farnaso added.
"Make no mistake, school choice, religious freedom, the right to bear arms, lower taxes, and freedom from an overbearing regulatory state will be on the ballot in November," he wrote.
Pence was in Pennsylvania Thursday for his first campaign bus tour since the coronavirus pandemic hit the U.S. in March. While there, he conducted a fundraiser, met with local business leaders, and spoke at a Back the Blue rally at a Fraternal Order of Police Lodge in Philadelphia.
"We've been hearing people say that we have to choose between funding our police and funding our communities," Pence told supporters Thursday. "The urging of the radical left — you've seen it. Some cities around the country are already starting to make that wrong choice."
Just that same day, the City of St. Petersburg Police Department had announced it would begin sending social workers instead of armed officers to respond to the majority of nonviolent calls.
Pence then referenced comments presumptive Biden had made in a video conversation Wednesday with a progressive activist, asserting that Biden had said he would "absolutely" cut funding for police if elected president.
In the interview aired on NowThis, Biden told activist Ady Barkan that he "absolutely" agrees that some funding for police departments could be redirected — not completely defunded, like Pence had suggested in his speech.
But Pence took the opportunity to reiterate that funding the police would continue to be a priority in Trump's White House.
"I want you to hear this directly from me: Under this president and this administration, we're not going to defund the police. Not now, not ever," he told supporters Thursday.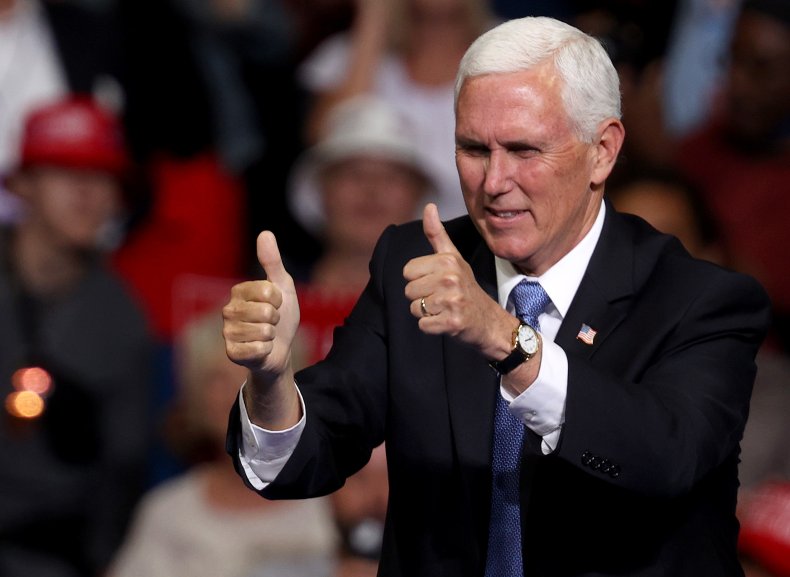 Biden had also campaigned in Pennsylvania Thursday, visiting a metal works firm near his childhood hometown of Scranton to speak about his economic agenda.
The former vice president outlined a plan that calls for a $700 billion jobs package and $400 billion to be spent on American manufacturing.
"I do not buy for a second that the vitality of American manufacturing is a thing of the past," Biden said. "When we spend taxpayers' money we should use it to buy American products and support American jobs."
Pence seemed to hit back at Biden's proposed agenda, reiterating to Breitbart that Biden "is driven by the agenda of the radical left."
"We're going to fight for all of the values and ideals and traditions of this country, which, again, to hear Joe Biden talk is to — he speaks about transforming America," Pence said. "President Donald Trump and I in our first three years – we were renewing America. We were making America great again and building on the foundation of all that's best about this country."
Newsweek contacted Biden's campaign for comment, but did not hear back in time for publication.
Update (07/12/20, 11:58 a.m. ET): This article has been updated to include a comment from President Donald Trump's campaign.