Vice President's Daughter Charlotte Pence Bought John Oliver's Gay Bunny Book, Wants to Support LGBT+ Charities
Vice President Mike Pence's daughter says she bought John Oliver's children's book about her pet rabbit, which depicts the bunny as gay.
On Monday, Charlotte Pence and her mother, Karen, published their own book, Marlon Bundo's A Day in the Life of the Vice President. But the Last Week Tonight host presented his alternative children's story on Sunday's program, in a bid to troll the VP, who has been criticized for endorsing policies that negatively affect LGBT+ citizens. Oliver's book, A Day in the Life of Marlon Bundo, has outsold the official Bundo book.
"I have bought his book. He's giving proceeds of the book to charity, and we're also giving proceeds of our book to charity, so I really think that we can all get behind it," Pence said, according to The Hill. "It doesn't have to be divisive."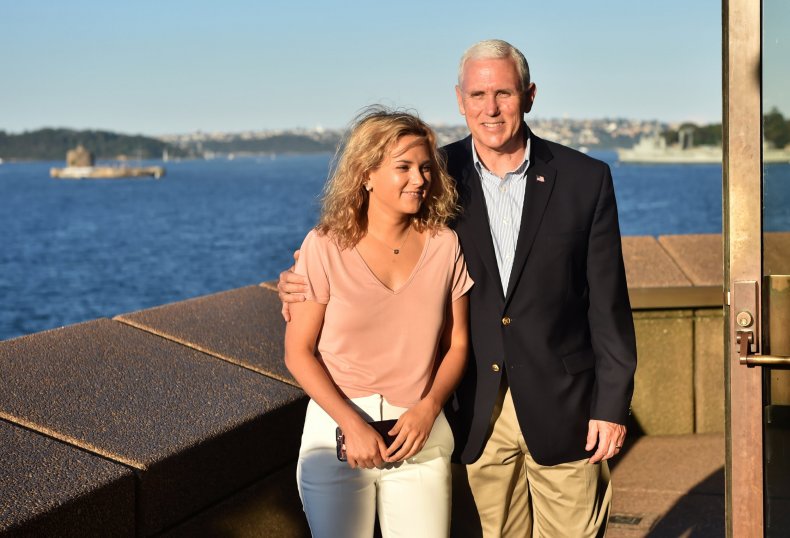 The proceeds of Oliver's book will benefit two organizations that help the LGBT+ community: The Trevor Project, which supports at-risk youth, and AIDS United. Pence said that she, too, wants to help these charities.
"I also want to support those charities—I really mean that," said the VP's daughter.
The vice president has been subject to some scrutiny over his position on gay rights. Pence has been accused in the past of endorsing gay conversion therapy. And in October, the New Yorker published an article that claimed President Donald Trump joked about Pence's attitude toward gay people. Trump reportedly motioned toward Pence and said: "Don't ask that guy—he wants to hang them all."
Charlotte Pence, however, said she is fine with public criticism of her father.
"I think you just have to have the mindset that my parents have really taught me to have, which is while people may be critical of my dad, we live in a country where we have freedoms to speak out against our elected leaders," she said. "So whenever people protest, my dad always has this line, he says, 'That's what freedom looks like.' And it's really true."