Vicious Coyote Throttled by Off-Duty Officer After It Attacked 5-year-old on Playground
An off-duty police officer lunged on a coyote and throttled it, after the animal attacked a 5-year-old girl on a New York playground over the weekend.
Kasey King-Petrellese, 36, of Hawthorne, said the coyote appeared and sprinted "like a cheetah" towards her 3-year-old son and 5-year-old daughter Natalia in Westchester County at around 4 p.m. on Sunday, reported WNBC. The family then began running to their car, but the vicious animal followed suit.
"I took my foot and I kicked him as hard as I could in his face, which knocked him to the ground and he stumbled a little. And when he got up he swung over to my daughter's side and bit her arm," King-Petrellese said.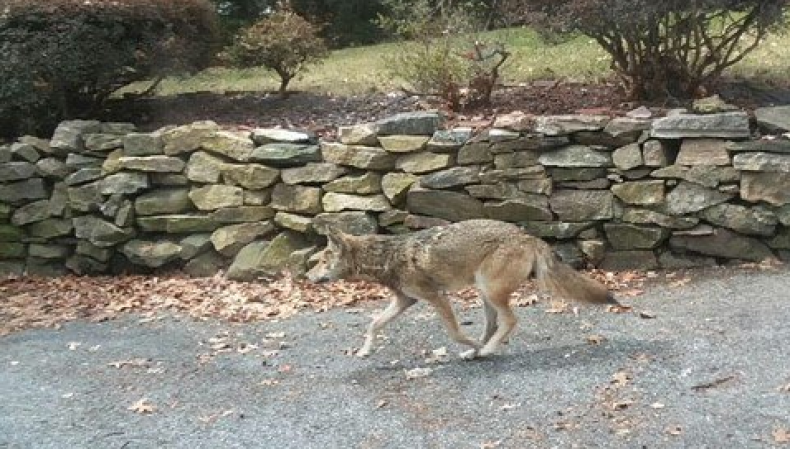 "I wasn't screaming, I wasn't panicking, I wasn't scared. I was just asking for help, and that man save my life," Natalia said.
After spotting the coyote, Arcangelo Liberatore, an off-duty Irvington police officer, and his wife evacuated their children into their car. But Liberatore turned back when he saw the attack on Natalia, and sprinted to her aid.
"It was a primal instinct. I was in a different mindset," Liberatore told New York Post. "I was telling my wife, I'm just wired differently than most people, I think. I run toward danger."
Liberatore jumped on the animal, held it down and repeatedly punched it, before throttling its neck and slamming its head to the ground.
"I just made sure my gravity was kind of low and just kind of squeezed the heck out of it. I was basically strangling it," he said. "If you control the neck, you control the entire body. And so literally, I was just holding it down by its head, so it couldn't go anywhere."
Shortly after the ordeal, Mount Pleasant police arrived on the scene and shot the animal dead.
Liberatore, King-Petrellese and her two children all received rabies shots following the incident. Natalia also received stiches and antibiotics to treat the coyote bite.