The Role 'Vicious Dogs' Play in Police Brutality Against Black People
Elijah McClain was already being held down on the ground by multiple police officers when one cop threatened to sic a dog on him.
"If you keep messing around, I'm going to bring my dog out and he's going to dog bite you," the Aurora Police officer can be heard saying in the nearly three hours of body camera footage capturing McClain's encounter with police.
McClain, a 23-year-old Black man, had been stopped by three white officers that night on August 24, 2019, after 911 dispatchers received a call about a "suspicious" man wearing a ski mask.
The 23-year-old had been on his way home from the convenience store, where he had purchased some tea, and his family says he had been wearing a ski mask for the simple reason that he liked to keep his face warm at night.
But what started with a 911 call about McClain's choice of headwear, would end up with the 23-year-old dying in hospital days after the incident after suffering cardiac arrest following police officers' decision to use a carotid hold on the young man—a maneuver that sees pressure applied to the neck to restrict blood flow to the brain from the carotid arteries.
While a canine was never deployed in the incident, it is difficult to see why an officer would consider using a dog on someone police had already exerted their control over.
However for Jason Williams, an assistant professor in justice studies at Montclair State University, the answer appears clear.
While the deployment of police dogs is typically meant to be used "to apprehend a subject," the use of canines can also "represent a higher level of mechanical force."
When you consider the disproportionate rates of use of deadly force against Black people in the U.S., he said, it is unsurprising that a white officer might threaten a Black suspect with having their flesh torn into by a trained member of the K-9 unit.
"While the justice system expects officers to execute policy and procedures equally across the board, officers are amendable to the same racial biases as everyone else in society, and research has long shown the deployment of racism (implicit and explicit) in U.S. law enforcement. More specifically, research has demonstrated racial bias in the use of force, and inevitably this includes dogs, too," Williams said.
"Thus, the same type of racial animus present in other kinds of force can be expected with the use of dogs," he said. "Research indeed shows that officers of all backgrounds are more likely to approach people with darker skin with more suspicion. Therefore, as levels of perceived dangerousness increases, these subjects are likely to face harsher treatment from officers."
Indeed, a rare study on the subject published in The Journal of Forensic and Legal Medicine last year appears to show that Black people are disproportionately injured by police dogs in the U.S.
Titled "the demographics of dog bites due to K-9 (legal intervention) in the United States," the report found that of 32,951 recorded emergency department visits due to police dog bites from 2005 to 2013, 42 percent of those bitten were Black.
That means that Black people made up nearly half of those who were forced to go to the emergency department after suffering bites from police dogs, despite the fact that currently, Black people make up just 13.4 percent of the population.
Interestingly, the 2019 study carried out by Riley Hospital for Children at Indiana University Health researchers Randall Loder and Cory Meixner also compared data on emergency department visits due to police dog bites to visits due to general dog bites.
When looking at general dog bite incidents, unrelated to police encounters, the data was vastly different, with Black people accounting for just 13 percent of those showing up in emergency department rooms with bite wounds.
Williams is not surprised by that finding, telling Newsweek: "The statistic in the study shouldn't shock since U.S. police overwhelmingly use force against all Americans, albeit disproportionately against Black Americans."
Having 32,951 emergency department visits due to police dog bites is far "too high" in and of itself, Williams said. However, he said he believes it is "symptomatic of a hyper-militarized police ideology and practice that is trained to execute overwhelming force first with consequences as a secondary factor."
"But again, this statistic is potential evidence of implicit bias in the deployment of dogs against Blacks, hence the disproportionate number of trips attributed to Blacks," Williams said.
Kyle Heyen, a former police officer and consultant on police dog training, told Newsweek that he wasn't shocked by the numbers either.
"I would love to say, 'boy that really surprises me,' but I'm not shocked by it," he said.
While he said he could not say whether racism was the driver behind the figures, he acknowledged that there is a history of police dogs being "misused" against Black communities.
"If you just look back at the riots in the Sixties and how they used police dogs then... police dogs were misused against Blacks," he said.
Williams agrees, saying the use of dogs as a form of "social control" over Black people is nothing new—and goes well past the Sixties.
"The historical use of dogs as mechanisms of social control over Black bodies date back to slavery," he explained. "Slave patrollers would often use dogs to apprehend Blacks trying to escape the inhumanity of slavery. Thus the indiscriminate use of dogs today is strangely reminiscent of the past."
Indeed, photos of anti-Segregation protests in the Sixties show Black protesters being attacked by police dogs or forced to flee demonstration areas due to fears of being attacked.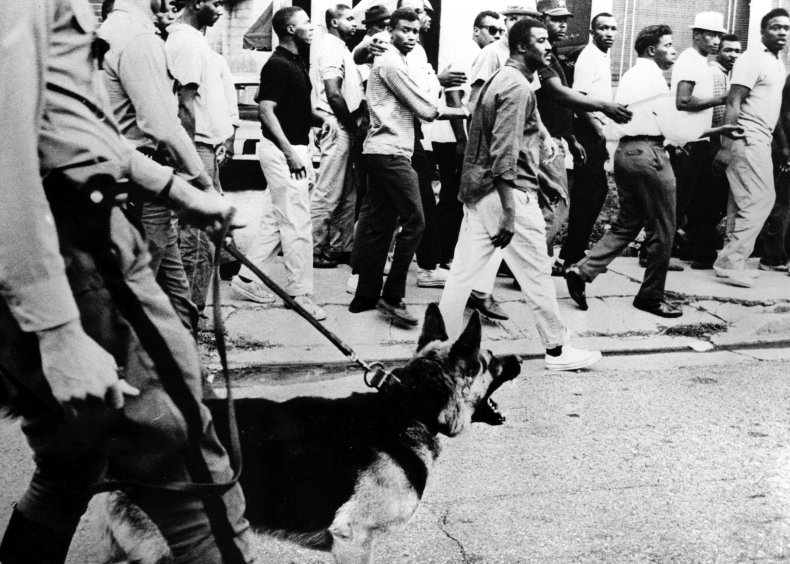 Recently, a case of a police dog attacking a Black man in April made headlines across the country after the incident was captured in a disturbing video that quickly went viral on social media.
In that case, 35-year-old Jason Anglero-Wyrick could be seen standing with his arms up when he appeared to be hit with a stun gun by an officer from the Sonoma County Sheriff's Office.
As he fell to the ground, a police dog appeared to break free of an officer's hold, with the officer only appearing to hold the dog by the collar. The canine tore into Anglero-Wyrick's leg for more than a minute as the witness screamed in horror.
Police had initially been called to Anglero-Wyrick's Graton home after he was accused of threatening someone in the area with a gun.
Deputies did not find a gun after searching the property, but they charged Anglero-Wyrick with two felony accounts of resisting arrest with threats and violence. Those charges were dropped, however, as Anglero-Wyrick accused deputies of using excessive force to detain him.
Heyen told Newsweek that with proper training and handling, the bite wounds Anglero-Wyrick suffered could likely have been prevented.
Police dogs, he said, can and should be trained to release their bite at the command of an officer.
Instead, he said, there appears to be a growing trend in policing that sees officers try to physically stop dogs from biting.
"When a dog is trained and used properly, they're the most efficient and safest way of handling a violent criminal suspect, but when not used properly they can lead to a lot of extensive damage," Heyen said.
In Anglero-Wyrick's case, the fact that it took nearly two minutes for police to stop the dog from biting into his leg should be a cause for concern, he said. "What they're doing to the citizens today, is excessive," Heyen said.
For Williams, "the case of Jason Anglero-Wyrick shows the inhumane intent (whether conscious or not) with which these dogs are often used against the living bodies of Black people."
"The continued use of dogs against Black bodies accused of acting against the law shows a resistance on behalf of the state to learn from its past, unfortunately."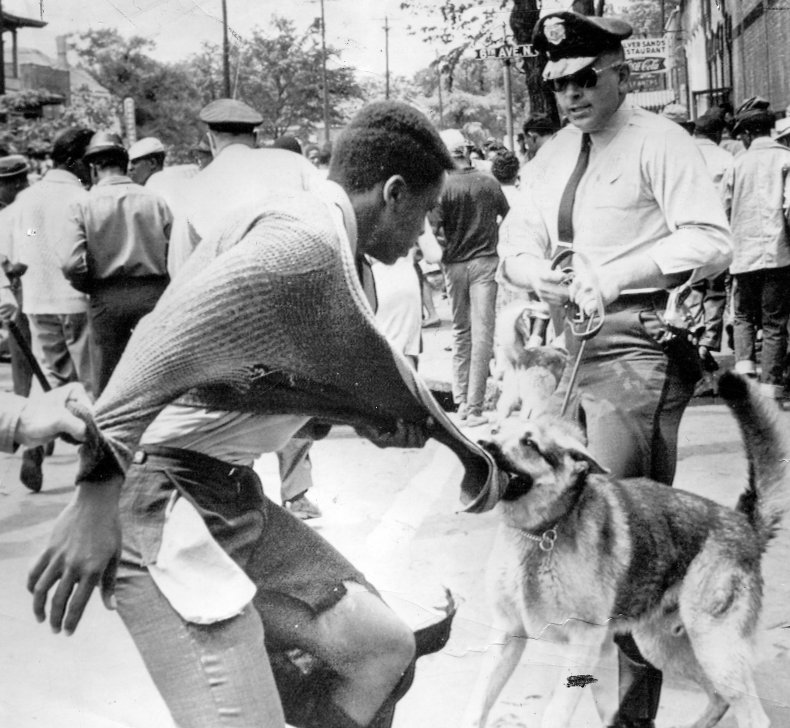 "The result of deploying dogs, of course, is the installment of a most egregious brutality and fear that no human being should have to experience," Williams said. "Not only is there physical pain but also tremendous psychological trauma associated with being intentionally attacked by a dog."
"Civil rights activists met this reality in the 60s as they marched for equal rights. However, in the broader collective consciousness of white supremacy, unfortunately, Black bodies are not humanized, so the pain associated with the deployment of dogs is met with immense antipathy," he said.
In McClain's case, Heyen said it is possible that police even exploited, subconsciously or otherwise, fears that Black communities might have around police dogs.
The former officer said he believes there is an idea among law enforcement members that Black people are genuinely more afraid of police dogs than white people are. Given the historic use of police dogs, Heyen said: "I would have been scared of them too."
So, in McClain's case, he theorized, "that could have been the threat to get compliance before having to do that."
"Is that something I would do? No," he said. However, he said he believes it is possible that the threat would be used to coerce compliance.
In fact, the threat of using police dogs was recently invoked in May by none other than the President of the United States himself, with Donald Trump appearing to condone the release of "vicious dogs" on protesters amid widespread demonstrations demanding governments address police brutality against Black people and systemic racism in the wake of George Floyd's killing.
The president had praised the Secret Service for their response to a protest outside the White House, but said that if demonstrators had gotten close to the building, they would have been met with "the most vicious dogs" and "ominous weapons."
"That's when people would have been really badly hurt, at least," the president wrote.
"The continued weaponization of dogs against Black bodies, who are simply trying to be free, or trying to comply with officers, is truly disheartening, and not reassuring of a truly democratic and free society," Williams said. That is why "people are outside marching today."