Vicious Tourists Attack Swordfish That Approached Beach to Give Birth, Stone It to Death
A video of tourists throwing stones at a swordfish that was later found dead has gone viral on social media, with an online petition to prosecute those involved attracting almost 30,000 signatures.
The footage, posted on Facebook on Friday, shows a group of sunbathing tourists attacking the animal, which had swum to shallow waters to give birth, in Chalkida, Greece. After initially believing the creature to be a shark and fleeing the waters, a group of people can be seen chasing the swordfish down.
Suddenly surrounded, the roughly three-foot fish tries to dart away as people strike it with rocks and other objects, with a couple of people attempting to grab hold of the struggling creature.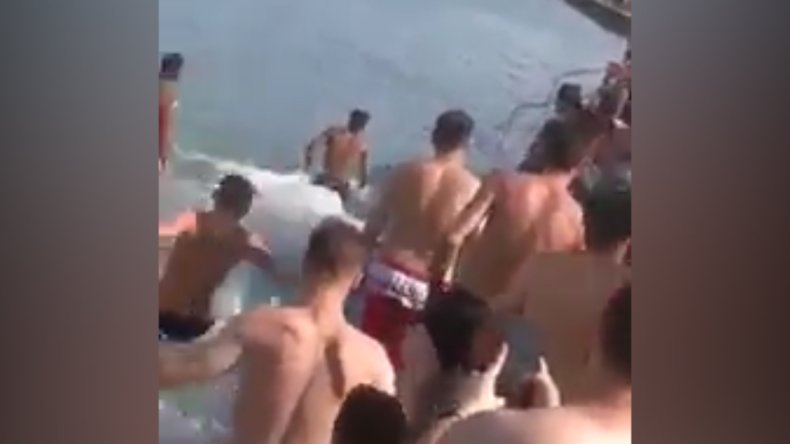 The swordfish eventually managed to escape the attackers, but was later found dead by officials, according to local media reports. Harbor officials have yet to determine the exact cause of death, but many are blaming the tourists who attacked the animal.
"A minute after the incident with the bathers, a lifeguard of the harbor found it dead," said a spokesperson for the Chalkida Port Authority, according to The Independent. An autopsy will be conducted on the animal's body by veterinary surgeons to determine the cause of death.
The video was widely shared on social media, being viewed on Facebook over 190,000 times. The shocking footage led to a public outcry, with comments underneath the video saying "What barbarity is this" and that the incident was a "shame for the human species."
In response, a petition to prosecute those responsible has already received almost 30,000 signatures. The petition asks that everyone involved in the attack to receive a fine.
The petition states that "It's time to stop the horrible tactics of beast abuse in our country," adding "We know of course that this is not a protected species, but our 'voice' must be heard so that the unacceptable 'mob' behavior towards every weak creature finally stops."
The death of the swordfish is not the only marine lifeform to make the news recently. Last Thursday, wildlife authorities appealed for information after a bottlenose dolphin in Florida was killed after someone stabbed it in the head with a "spear-like" object.
The dead animal was found washed ashore on Upper Captiva Island in Lee County in May. An examination of the carcass found that the adult male dolphin had been impaled in the head by a sharp object while it was still alive.