Victim Has Hijab Pulled During Linked Anti-Muslim Attacks Against Women in NYC
A victim wearing a hijab had her veil pulled in what authorities said was a string of anti-Muslim attacks in New York City.
Police are asking for assistance in identifying a man who they say attacked two women within about 60 minutes last Sunday in two areas in the borough of Queens. Authorities said they believe there was an assault pattern in the crime spree.
The first attack took place near Liberty Avenue and Lefferts Boulevard around 9:15 p.m. when the suspect followed a 31-year-old man and a 24-year-old woman while making anti-Muslim statements. Police said the suspect punched the man in the back and then tugged on the woman's hijab and punched her in the arm.
"Both victims sustained pain and redness but refused medical attention," a spokesperson for the New York Police Department (NYPD) told Newsweek.
In the second attack, which happened just an hour later near Inwood Avenue and Liberty Avenue, the same suspect followed a 64-year-old man and a 56-year-old woman while making anti-Muslim statements again.
The suspect then attacked the woman, punching her multiple times in the face and head before running off. Police say the woman suffered a fractured nose, small lacerations to her head and face and some pain. Paramedics responded and transported the victim to Jamaica Hospital in stable condition.
The man was not physically attacked in the incident.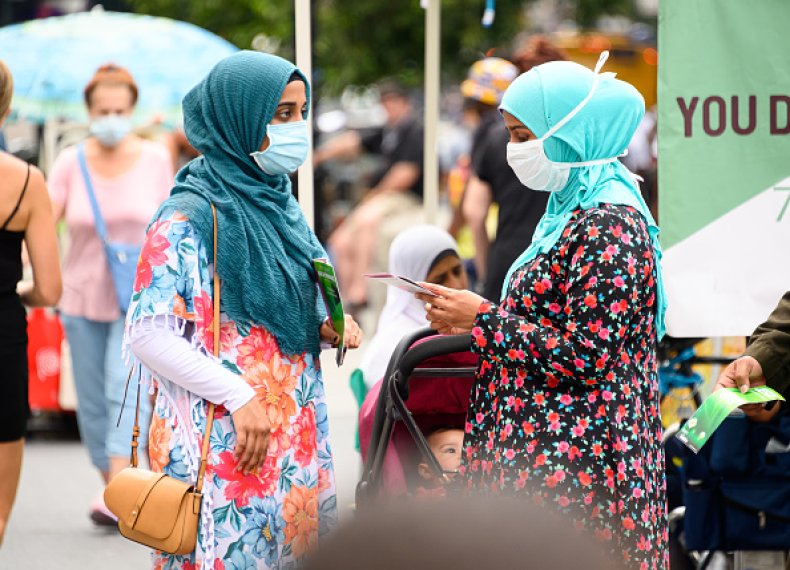 Police have released a video of the suspect and are asking for the public's help in finding him. He is described as being Black with a beard and was seen wearing a dark blue jacket, black pants, a dark blue do-rag and red sneakers.
Anyone with information about these incidents is asked to call the NYPD's Crime Stoppers Hotline at 1-800-577-TIPS (8477).
The latest attacks come as the NYPD released new figures this month showing an alarming spike in crime in the city.
According to the latest NYPD crime statistics report, overall crime in the city increased 22 percent in May 2021, compared with May 2020. There was a nearly 47 percent increase in robberies, a 20 percent increase in felony assaults and a 74 percent increase in shooting incidents.
"As the summer months approach, the NYPD remains acutely focused on reducing violence across the five boroughs," the department said. "Working in tandem with community partners, listening to local concerns and implementing intelligence-driven strategies are all integral to improved public safety."
Law enforcement officials are preparing for an especially violent summer, as the nation's largest cities have faced rises in crime over recent weeks.
On Wednesday afternoon, President Joe Biden was planning to unveil a new five-step approach to combatting gun violence in the U.S.