Victim Injured in Machete Attack Outside Courthouse, Incident Caught on Camera
A Wednesday altercation involving a machete left one man injured and another in police custody.
The incident reportedly occurred after an argument between 53-year-old suspect Tracey A. Neely and the 26-year-old stabbing victim on the steps outside the Franklin County Courthouse, in Columbus, Ohio, according to NBC4 Columbus.
Because of the location, a Franklin County Sheriff's Office spokesperson told Newsweek that: "our deputies...had a clear view of what was happening, which is why they ran outside to intervene."
The incident was captured by security cameras, and while the footage is somewhat grainy, it shows the suspect performing a stabbing motion.
The conflict escalated when the suspect charged the victim, reported NBC4. In response, the victim pulled out his machete, which he reportedly uses to clear campsites, in order to defend himself.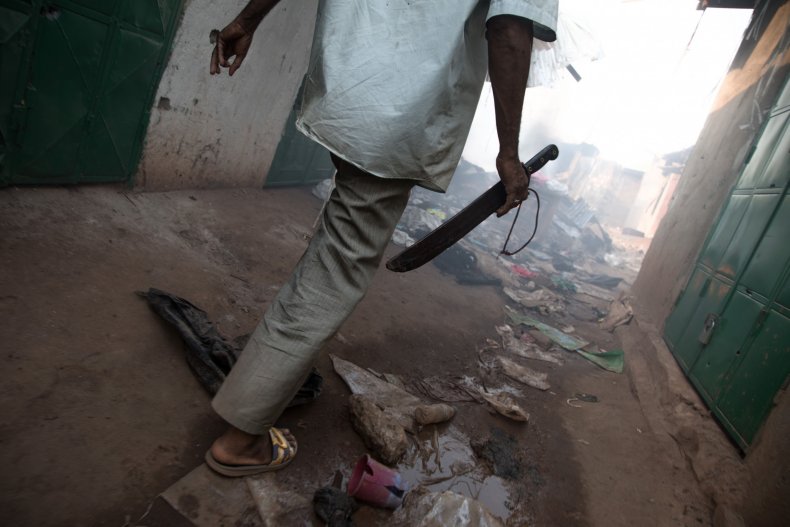 The victim, backing away from the suspect, then fell backward and dropped his weapon. The suspect allegedly grabbed the machete, reportedly thirteen inches in length, and stabbed the victim repeatedly.
The suspect was still armed when authorities intervened. "At least two deputies ... confronted the suspect at gunpoint," the Sheriff's Office spokesperson said. The suspect eventually "complied" and was arrested by officers.
A tourniquet was applied to the victim's wounds, and he was rushed to receive medical attention. The altercation left the man in serious condition.
The Franklin County Sheriff's Office said in a Facebook post: "A courthouse security employee showed tremendous courage rendering emergency first aid to a stabbing victim even as deputies were confronting the armed suspect at gunpoint."
"The deputies' split second response and cool heads prevented this incident from escalating," they wrote. "Good job to all involved."
The Sheriff is "proud" of his team's courageous efforts amid the chaos. "Our folks put themselves in harm's way," said the spokesperson.
The case has since been transferred to the Columbus Police Department. Newsweek attempted to contact Columbus Police for further comment but did not receive a response in time for publication.
Unfortunately, the Columbus case is not the only recent stabbing incident. On Monday, a 45-year-old father of three, James Markham, was fatally stabbed. Deputies now believe that the man was defending his daughter at the time of the attack. A group of youths reportedly "walking around with metal poles" instigated the conflict, and two fourteen-year-old boys have since been arrested for their possible connection to the crime.