Victims' Groups Attack 'Despicable and Opportunistic' Ukip Election Campaign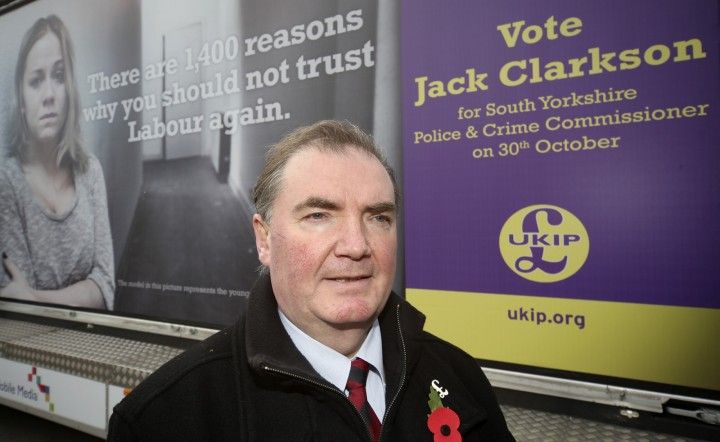 Victims' groups have accused the UK Independence Party (Ukip) of exploiting victims of sexual abuse as part of a controversial campaign in the run-up to South Yorkshire's vote to elect a new police commissioner. The campaign, described as "despicable and opportunistic", refers to the estimated number of victims of paedophile gangs in Rotherham over a 16-year period as a reason not to vote for the Labour Party candidate.
The anti-EU party's campaign poster features a vulnerable-looking woman along with the slogan "There are 1,400 reasons why you should not trust Labour again". The poster will be displayed across South Yorkshire in the run-up to Thursday's election, which follows the resignation of the Labour police commissioner Shaun Wright, who was the councillor responsible for the children's services in Rotherham from 2005 to 2010.
Wright faced widespread calls for him to quit in the wake of a report published in August by Professor Alexis Jay that estimated that at least 1,400 children had been sexually abused between 1998 and 2003, causing a national scandal. The report found the abuse had been largely perpetrated by men of Pakistani origin, while officials failed to act in part for fear of being accused of racism.
Peter Saunders, founder and CEO of The National Association of Children Abused in Childhood (NAPAC), told Newsweek: "Given that the majority of victims and survivors of childhood abuse that we hear from on a daily basis are white British it seems despicable and opportunistic for any political party to use the not-so subtle appeal of a racial element to try and gain votes."
"The abuse of children exists in every race, class and culture. For Ukip to exploit the tragedy of abuse in Rotherham is to exploit the very people we should be coming around to support, not use," Saunders said.
One victim of abuse accused Ukip of exploiting pain to get elected, telling the Independent: "People shouldn't be making such comments and using it to get themselves into high positions. That's very disrespectful to us victims."

The vote to decide who will become the next South Yorkshire police and crime commissioner will be a close call between Ukip and Labour. Speaking at the unveiling of the campaign, Ukip candidate Jack Clarkson said: "It is a sad fact that the people have been let down by the Labour Party across South Yorkshire. Politicians, both at the town halls and in uniform for years were more worried about fashionable ideas than about protecting our young in their own towns and streets."
Simon Danczuk, the Labour MP for Rochdale told Newsweek: "The way Ukip are trying to exploit the victims of child grooming is nothing short of a disgrace. They have nothing to say about how we protect children in the future, it is just a cynical attempt to win votes. This is clearly not what the victims want and shows the kind of nasty politics that Ukip are prepared to resort to."
Ukip defends its campaign, insisting that it is conveying a 'simple truth' about Labour's inability to tackle the widespread sexual abuse towards children during its time running Rotherham Council.
A Ukip spokesperson said: "We do recognize that some victims will feel uncomfortable with this poster and yes, it is upsetting. But it is not nearly as upsetting as the industrial abuse of girls in these towns."
"For people to say you should not make politics of it is silly, it is the most intensely political thing to be seen. Let's ask ourselves why there is a by-election in the first place, why did Wright have to resign? Because as a councilor he was in charge of children's services during this awful period."
As well as Rotherham, authorities in Sheffield and Rochdale are being criticized for failing to deal with allegations child abuse effectively. According to Ukip, there is one thing linking these together and that is a "lazy, complacent and politically bound Labour party ruling for decades".
A YouGov poll carried out earlier this month showed national Ukip support at a record high of 19%. At a recent by-election in the traditionally Labour constituency of Heywood and Middleton, came within 617 votes of winning the seat.
Douglas Carswell, a former Tory MP, became the first elected Ukip MP after winning the the Clacton by-election this month by almost 60% of the vote. The party is expected to win its second seat in the forthcoming Rochester and Strood by-election on November 6th, triggered after Mark Reckless defected from the Conservatives.