Names of Victims of Malaysia Airlines Flight MH17 Start to Emerge
One day after Malaysia Airlines flight MH-17 was shot down out of the skies over Ukraine, stories about those killed on board are starting to emerge. Rescue workers, including policemen and off-duty coal miners, now begin the task of identifying bodies, according to an AP report.
So far, authorities have reported that the 298 dead include 192 Dutch, 44 Malaysians, 27 Australians, 12 Indonesians, 10 from the U.K., four from Germany, four from Belgium, three from the Philippines, and one Canadian, and one from New Zealand. In a press conference earlier today, President Barack Obama said there was one American citizen on board. The State Department identified that person as Quinn Lucas Schansman, a dual U.S.-Dutch citizen. All nationalities have now been accounted for.
While the majority of of those killed are from the Netherlands, the victims of the crash come from all walks of life. Two Britons and Newcastle United football fans, Liam Sweeney, 28, and John Alder, were travelling to New Zealand to watch the team play. Newcastle United Football Club released a statement saying, "Players and staff will wear black armbands during both games in New Zealand as a mark of respect." A fan website for the team reports that both Sweeney and Adler were recognizable faces at fixtures, and that many fans knew them by sight. Alder was nicknamed "The Undertaker" because he regularly wore suits to matches, The Daily Telegraph reports.
Glenn Thomas, a former BBC journalist and media officer for the World Health Organization from Blackpool was one of the Britons killed. Like many passengers on the flight, Thomas was on his way to an international Aids conference in Melbourne, Australia.
Dutch national Karlijn Keijzer, 25, was on the flight with her boyfriend, Laurens Van Der Graaff. Keijzer was a graduate student of chemistry at the University of Indiana, and a member of the university's rowing team. Catherine Campbell, Keijzer's former roommate and rowing teammate, spoke to Newsweek from Austin, Texas. She posted the following message on her Facebook page:
"The world lost two beautiful, amazing, kind-spirited people today in Karlijn Keijzer and Laurens Van Der Graaff on Flight 17 from Amsterdam to Kuala Lumpur. I will so cherish my best friend, KK. I will always remember making crepes with you and sitting on that porch solving life problems with you. You challenged me to be an excellent rower (even when you complained about 6am workouts) and a lover of life. You didn't understand Football but, that's ok, you pretended to be a basketball player with me when we went out. I loved blasting Mike Posner's "Bow Chicka Wow Wow" and singing loud for all to hear in Big Bird. You relentlessly pursued happiness and found it everyday."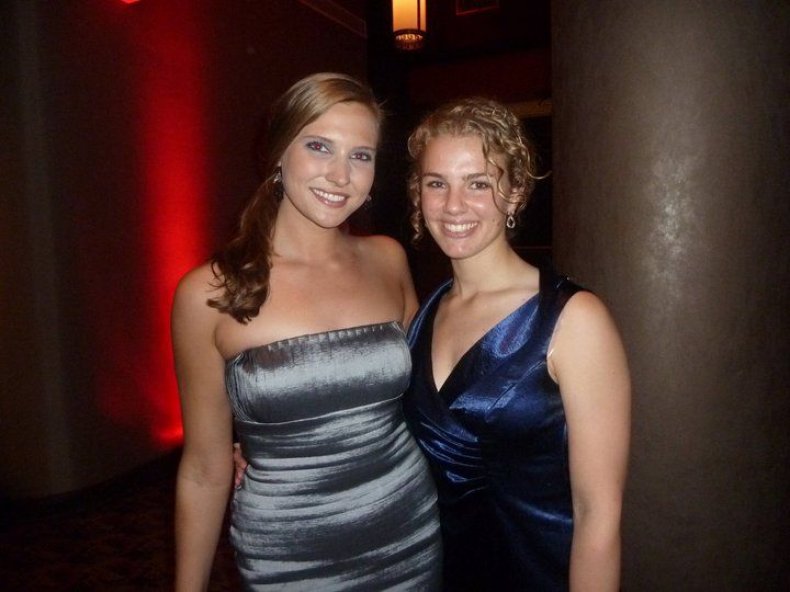 Campbell said she and Keijzer bonded over the intensity and love of rowing. Later, they became close friends, and developed a bucket list of things they wanted to do together. "We accomplished a lot of that bucket list," Campbell said, who describes Keijzer as "brilliant and beautiful… she had an inner fire about her." Campbell said she spoke to Keijzer on Skype last Thursday, and said she seemed very happy. "She was telling me about her holiday to Malaysia, and [Keijzer and Van Der Graaff] were going to make their way to Indonesia."
"She said, 'Catherine, you need to stop investing and looking so far into the future and start harvesting now. Be good, and be present in the moment.' And remembering that, just sums up Karlijn, because she was truly amazing and happy with the person that she loved," Campbell said. NBC Chicago also has a write-up.
Cor Pan, another Dutch national, was on the flight with his girlfriend, Neeljte Tol. Pan posted a photo of the plane to his Facebook page with the message, "If my flight to Malaysia disappears, this is what it looks like." Uploading the photo as a darkly humorous reference to Malaysia Airlines flight MH-370 that went missing several months ago, Pan's Facebook friends showed messages of grief and condolence underneath the blue and red plane.
Willem Witteveen, a Dutch senator for the Labor Party, was killed in the plane, according to the AP. The BBC reports that he was on the flight with his wife and children.
In Malaysia, the family of flight steward Sanjid Singh is in mourning. According to the Malaysian Insider, Singh was only on the flight after agreeing to a last-minute shift change. Sky News reports that Singh's wife, who is also a flight attendant, narrowly avoided working on the doomed Malaysia Flight MH-370, but ended up swapping out her shift. Singh's father told the Malaysian Insider that his mother had already prepared Singh's favorite dishes in anticipation of his return to Malaysia.
A 67-year-old woman who was en route to visit her family for the first time in five years has also died, Akmar Mohamad Noor, her older sister, told the Associated Press.
Australia suffered the third largest loss of life in the crash. Three young siblings from Australia, Mo Maslin, 12, Evie Maslin, 10, and Otis Maslin, 8, were killed with their grandfather, Nick Norris, 68, after returning from a family holiday in Europe, the Herald Sun reports.
An Australian family was in mourning yet again today after losing family members in both Malaysia Airlines tragedies this year. Irene Burrows and George Burrows lost their son and daughter-in-law when flight MH-370 went missing. Their son-in-law's daughter and her husband, Maree and Albert Rizk, were killed in MH-17, the BBC reports. Irene Burrows told BBC News, "We are absolutely devastated. This incident has brought back a lot of bad memories."