Victims of Purdue's OxyContin, Left Out of Past Litigation, to Join Fight for Billions of Bankruptcy Dollars
Individual victims of the opioid crisis—tired of coming in second to the needs of states, counties and tribes—are joining the nationwide fight for compensation through Purdue Pharma's bankruptcy case.
They are seeking multiple billions of dollars in funds to be distributed across the country to the people who need it most. Their attorney, Edward Neiger, will represent them in court through an ad hoc committee, according to his filing late Friday night with the U.S. Bankruptcy Court for the Southern District of New York.
Ongoing litigation surrounding the bankruptcy has largely focused on reimbursing city, county and state governments for their efforts to slow addiction and overdoses brought on Purdue's hallmark opioid, OxyContin. Yet people have suffered dramatic personal and financial setbacks of their own, from job losses to family members who overdosed. For the first time, Neiger and his eight clients will close that gap by allowing the court to consider their needs more directly, according to Neiger, who spoke to Newsweek in an interview.
Besides compensation to the tune of "multiple billions," a pool that could be administered through an independent fiduciary, Neiger, a bankruptcy attorney focusing on plaintiffs' rights, said his clients want to bring a sense of accountability to how states and counties spend their share of the opioid dollars.
At immediate issue is $200 million worth in emergency funding. After U.S. Bankruptcy Judge Robert Drain called for a temporary halt to litigation against Purdue and its owners, the drugmaker agreed to provide the cash to states and counties while they waited for proceedings to continue. Neiger said Purdue and the locales have been dragging their feet in getting the funds distributed while people continue to die.
"People lost jobs. Rehab is very expensive. A lot of the victims could really use the money, and this money belongs to them," Neiger said.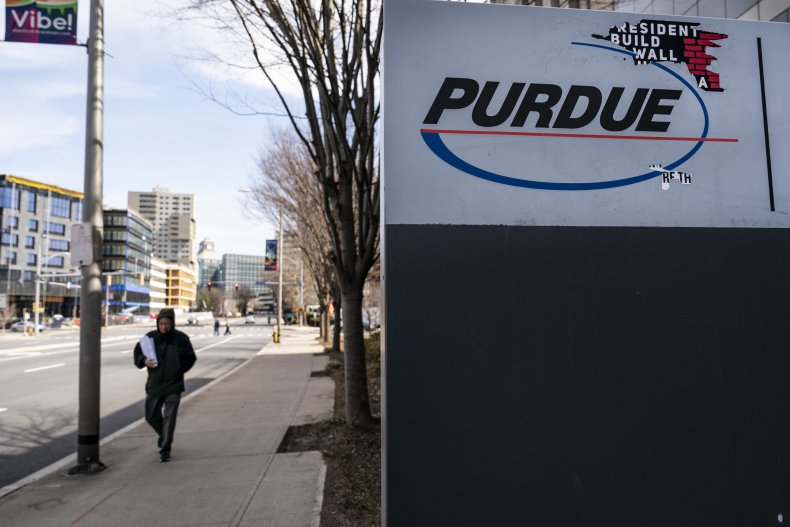 The plaintiffs themselves represent a broad range of experiences in the opioid crisis, from parents who lost children to nonprofit leaders working to reverse the addiction epidemic nationally.
"These are people who lost jobs, lost custody of their children, who buried children, who buried spouses, and there are many of them. They have no voice speaking out just for them in the bankruptcy," Neiger said.
Kathleen Scarpone, one member of the committee, lost her son, a veteran, to an overdose in 2015. Sergeant Joseph Scarpone served in the Marine Corps from 2007 to 2011 and developed post-traumatic stress disorder after a tour in Afghanistan, according Neiger's court filing. Scarpone serves on the board of directors of Team Sharing Inc., a national nonprofit dedicated to parents who have lost a child to substance use disorders.
Robert List, a former governor of Nevada, represents victims of Purdue who have elected to remain anonymous, according to the filing. List has served as an appointee to boards and commissions under six U.S. presidents, according to the filing. He also sits on the advisory board of the Recovery Advocacy Project, which organizes grass-roots support for addiction recovery policies.
Other plaintiffs include Diana Yoder and Jill Chichowicz, who lost family members. Garett Hade, Will Allphin and Lindsey Arrington experienced addiction to OxyContin firsthand, losing jobs, friends or even child custody before getting involved in projects advancing addiction services and policy reforms.
Amid fears that opioid settlements could go the way of tobacco settlements decades ago—billions were used to plug holes in state budgets—Newsweek has reported that earlier settlements in Ohio and West Virginia were awarded to drug clinics and hospitals, as well as for attorney fees and drug enforcement.
Public health experts largely agree that states need to be compensated. But voters should play a role in how the cash gets administered, according to Regina LaBelle, chief of staff in the White House Office of National Drug Control Policy during President Barack Obama's administration.
"It's not just about a lump sum payment," LaBelle said in an interview with Newsweek. "It's about where this money is going."
The opioid epidemic has cost the U.S. economy at least $631 billion over four years—but individuals' health care spending and premature mortality absorbed the bulk of that sum, according to the Society of Actuaries. It has also claimed hundreds of thousands of lives, torn families apart and left thousands of children without suitable homes, according to reporting by The Washington Post.