Victims of Texas Church Massacre Include Pregnant Woman, Children
The identities of the 26 people killed when a gunman stormed the First Baptist Church of Sutherland Springs in Texas are now emerging, with a number of children and a pregnant woman among the dead.
The victims were aged betwen five and 72-years-old and include the daughter of the pastor and Crystal Holcombe, who was eight-month's pregnant. The attack, in a town 30 miles southeast of San Antonio, is the deadliest in Texas's history.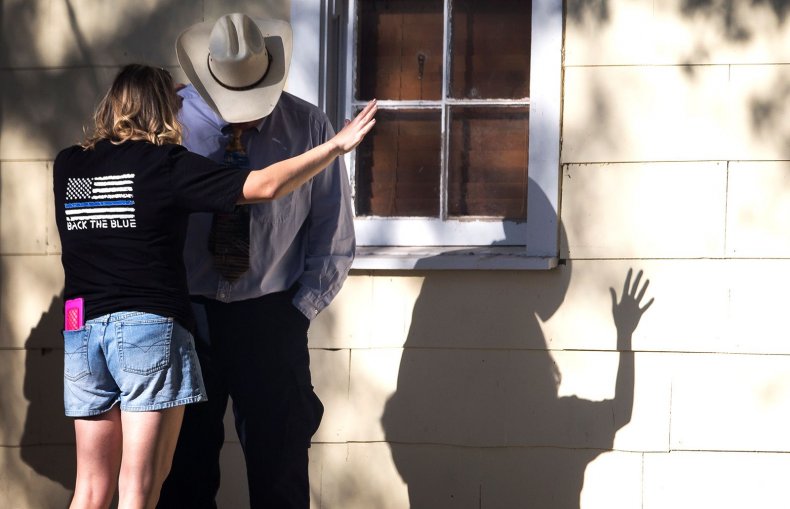 Holcombe's cousin, Nick Uhlig, told the Associated Press that the woman's in-laws were killed alongside three of her children.
Footage from a church service at First Baptist Church held October 29 posted to YouTube shows the small community singing and worshipping together with pastor Frank Pomeroy.
Pomeroy's 14-year-old daughter, Annabelle, was among the victims Sunday but he and his wife were out of town. He told ABC News that his daughter was "one very beautiful, special child."
"Heaven truly gained a real beautiful angel this morning along with many more," Annabelle's uncle, Scott Pomeroy, posted on his Facebook page.
Read more: Hours after mass shooting, Texas attorney general says more guns in church are the answer
Children, including five-year-old Brooke Ward, and seven-year-old Emily Garza, as well as Brooke's mother, Joann Ward, were also among the victims, according to the Dallas Morning News.
L.G. Moore, who operates the Holiday RV Park less than a mile from the church, told the AP that Sutherland Springs was a small town and that most residents will know one of the victims.
"They say the population is 400 and that's if you count every dog, cat and armadillo. It's more like 200 people," Moore said.
"It's unbelievable to see children, men and women, laying there. Defenseless people," said Wilson County Sheriff Joe D. Tackitt Jr., who polices Sutherland Springs. "It's one thing to see an adult, but to see a 5-year-old."
Members of the community held a candlelight vigil for the victims Sunday night.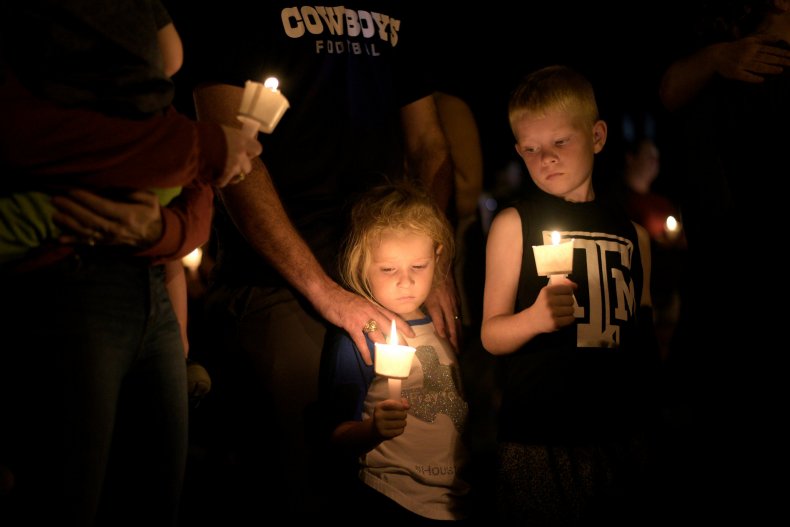 Police have identified Devin P Kelley, of New Braunfels, Texas, as the shooter. Officials said Kelley used a Ruger AR rifle and had more weapons inside his vehicle.
At a news conference Sunday police spoke about witness reports that a white man in his 20s pulled into a gas station across from the church before the shooting at around 11:20 a.m. He was wearing black tactical gear and a bullet-proof vest.
After the shooting, Kelly was pursued by an armed community member who engaged him in a shootout. Officials said it wasn't clear if Kelly died in the shootout or from a self-inflicted wound.
The shooting comes a little over a month since the worst mass shooting in American history in Las Vegas, Nevada, October 2 when a gunman opened fire on a crowd at a concert killing 59 people and injuring 527.