Victor Oladipo Injury: NBA Players React on Twitter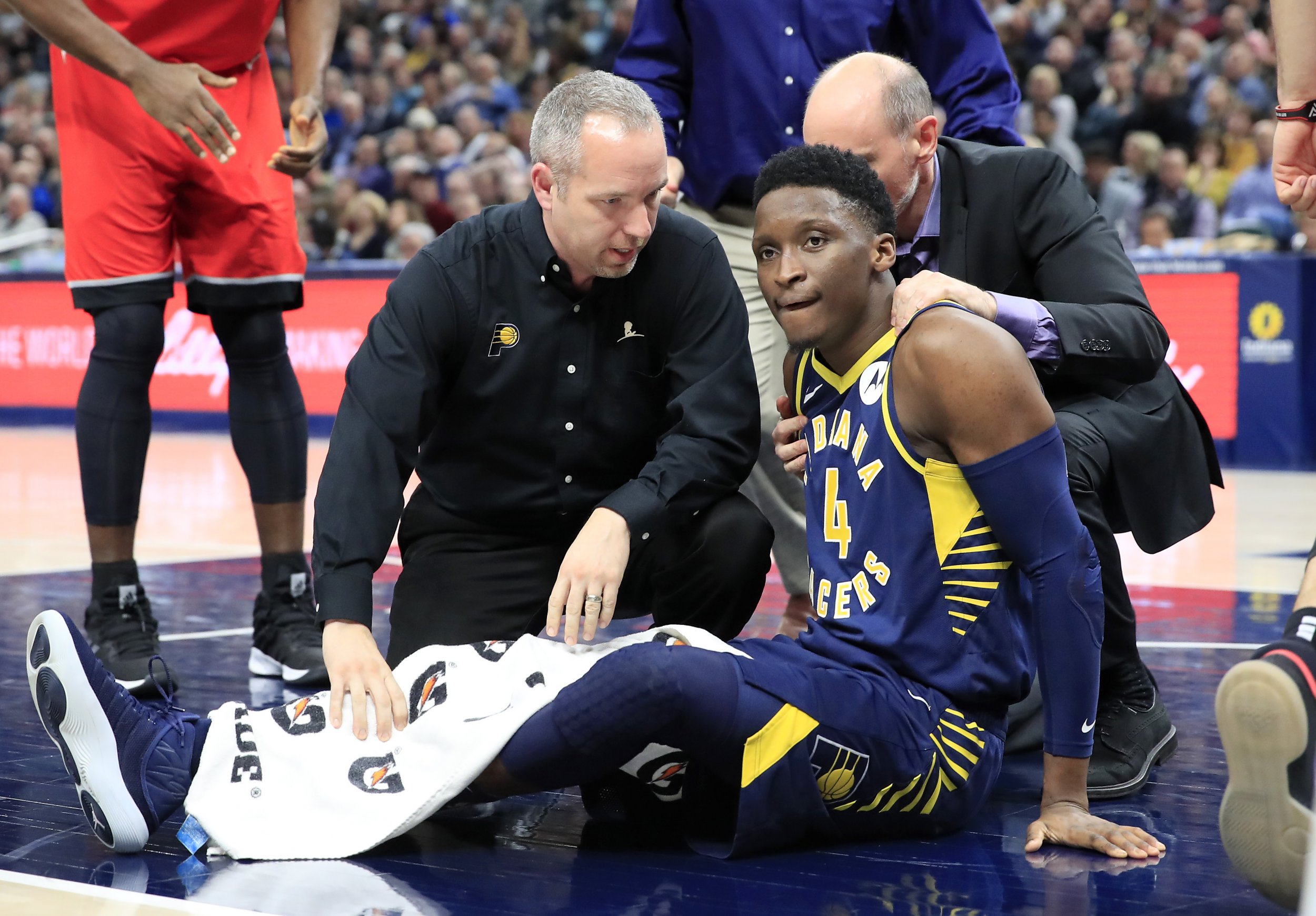 NBA players have rallied in support of Victor Oladipo amid concerns he could miss the rest of the season after suffering a serious knee injury on Wednesday night.
The Indiana Pacers' guard went down in the second quarter of the game against the Toronto Raptors, falling on the floor after trying to deflect a pass intended for Pascal Siakam. Oladipo's right knee bent awkwardly as he crumpled to the floor and had to be stretchered off the court with what immediately looked to be a very serious injury.
Players around the league and members of the media were quick to show their concern, sharing messages of support and well wishes on Twitter.
After the game, the Pacers confirmed the All-Star guard will undergo an MRI scan on Thursday to assess the full extent of the damage. ESPN reported Oladipo will in all likelihood require surgery on his right knee, which would rule him out for the remainder of the season.
"It is a serious injury and we'll know more after the MRI," Pacers coach Nate McMillan was quoted as saying by The Associated Press. "We're not going to speculate. It's a tough situation. That kid has a beautiful spirit about him. He has always been one to try and to lift us up. We've got to lift him now."
Oladipo is the Pacers' leading scorer this season with 19.2 points per game. He has developed into one of the most important players for the franchise since swapping Oklahoma for Indianapolis at the beginning of last season.
His absence could be a serious blow to his team's hopes of establishing themselves as one of the elite contenders in the Eastern Conference, but Pacers' center Myles Turner insisted Indiana couldn't allow Oladipo's injury to derail its season.
"We've got to come together and play inspired basketball,'' he said. "We can't let this get us stuck in the mud. It's emotional, but we have to overcome it and play.''
The Pacers did their best to prove they can survive without their guard, beating the Raptors 110-106, thanks to an excellent performance from Thaddeus Young.
The 30-year-old dominated at both ends of the court, finishing with 23 points, 15 rebounds, two steals and two blocks.
"What I wanted to do is just go out there and continue to impose my will on the game," the power forward told the official Pacers website after the game. "Try to impact the game in several different ways. Whether it's rebounding, scoring, making the extra pass, or playing defense on certain guys."
The win extended the Pacers' winning run to three games and improved their record for the season to 32-15.
Only the Milwaukee Bucks and Toronto have a better record than the Pacers in the Eastern Conference, while the Philadelphia 76ers are one game behind Indiana in fourth place.
Victor Oladipo Injury: NBA Players React on Twitter | Sports