Is The Victoria's Secret Era Over? Controversy Strikes Plummeting Brand Before Fashion Show Airs
Victoria's Secret's stock has dropped 41 percent in 2018 among general dislike and controversies surrounding the brand's marketing. The lingerie company seems to be steadily losing customers interest, as found in a 2017 Wells Fargo survey.
The survey revealed consumers are disappointed with the brand, according to The New York Times. The results showed 68 percent surveyed didn't like the brand as much as they had in the past, while 60 percent called the brand "fake."
Last week, Victoria's Secret caught major attention for problematic comments made by Ed Razek, chief marketing officer, about the brand's decision not to use plus size or transgender models in their annual fashion show. He reasoned the brand markets to who they sell for.
"It's like, why doesn't your show do this? Shouldn't you have transsexuals in the show? No. No, I don't think we should," he told Vogue. "Well, why not? Because the show is a fantasy. It's a 42-minute entertainment special. That's what it is."
Razek later apologized for the comment, which caught backlash across social media platforms. His statement claimed the brand very well would cast a transgender model if they fit the qualifications.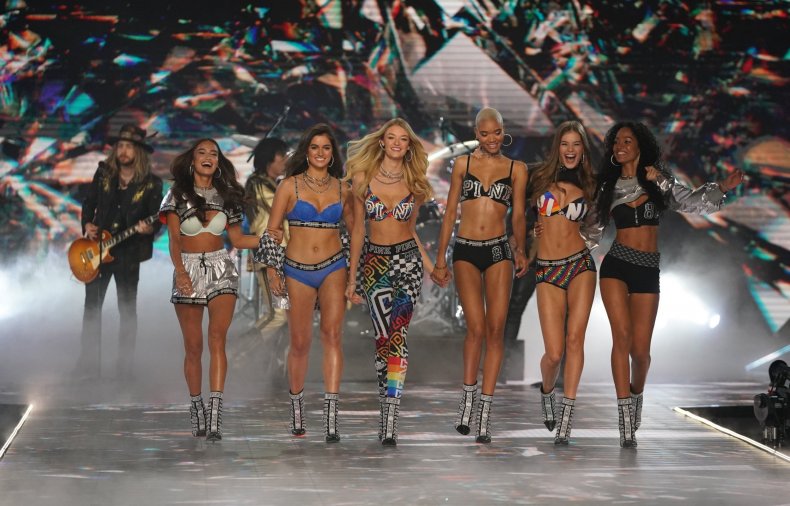 Branding experts claim the brand's downfall lies in its marketing. Beyond controversial comments and a failure to produce a well-rounded line of models, Paul Lejuez, retail analyst for Citi, told the New York Times other brands will eclipse Victoria's Secret because of their failure to relate.
"Victoria's Secret is losing share to other brands because it's out of touch," said Lejuez. "The way it's marketing is out of touch. Women don't want to be viewed as stereotypical sexy supermodels buying lingerie just to impress men."
The 2018 Victoria's Secret fashion show is scheduled to air on December 2, boasting trending models Gigi Hadid and Kendall Jenner, but even its musical guests and extravagant show can't seem to keep viewers. The TV special, only drew 5 million viewers in 2017, which is 3 million less than Rudolph the Red-Nosed Reindeer on the same evening. In 2013, the fashion show had 9.7 million viewers.
Jan Singer, CEO of the Victoria's Secret lingerie division, stepped down on Tuesday. Denise Landman, CEO of PINK is expected to step down at the end of the year. So what does the brand need to do to survive?
Shoppers and brand leaders told the New York Times they want to support a company who celebrates diversity and embraces a realistic idea of sexiness.