For Victory Day, Putin Gives Russia Key Territory and Battle with the West
For the first time since the inaugural event 77 years ago, Russia marks its World War II Victory Day in the heat of a conflict with what it claims to be forces associated with its old Nazi foe.
And once again, Moscow seeks to expand the territory under its control in Europe, seeking to establish an effective land bridge that would leave Ukraine at a loss for much of its Black Sea coastline, while uniting Russia's modern borders with allied breakaway states in the Donbas and the already annexed Crimean Peninsula.
This time, however, the Western powers that generations ago joined forces with the Soviet Union see Moscow as the menace, and have united to support Kyiv's efforts to beat back its much larger neighbor. Despite unprecedented sanctions and political pressure from the West, Russian President Vladimir Putin on Monday declared from a podium in the iconic Red Square his resolve to continue the fight.
"We will never give up our love for the country, faith, traditional values, ancestral customs and respect for all peoples and cultures," Putin stated. "As for the West, it seems to be determined to cancel these millennia-old values."
"This moral degradation paved the way for cynical falsifications of the history of World War II, attempts to incite Russophobia, glorify traitors, mock the memory of their victims and wipe out the bravery of those who fought and suffered for the Victory," he added.
One leading expert in Russia with decades of experience in its military views this Victory Day against the backdrop of an even broader conflict between Russia and its foes.
Evgeny Buzhinskiy is a retired lieutenant general who held senior positions in both the Soviet and Russian armed forces. He now serves as chairman of the executive board of the PIR Center, a Moscow-based think tank dealing with international affairs. He framed the so-called "special military operation" launched on February 24 in terms that go far beyond a spat between two ex-Soviet republics.
"Actually, it's not a war between Russia and Ukraine," Buzhinskiy told Newsweek. "It's a hybrid war between Russia and the West."
The war has already cost Russia yet untold casualties in blood and treasure. But it has rebounded from an abortive offensive on the capital Kyiv and its outskirts with effective gains along Ukraine's eastern and southern regions. These advances have created a new corridor that Buszhinsky depicted as part of a "decisive battle" between Moscow and not only Kyiv, but its foreign backers as well, including the United States.
"Russia will actually defend its position and be an independent, sovereign country or it will disappear," he said, "and I cannot imagine the disappearance of Russia."
Buzhinskiy said it was still unclear whether Putin will act on plans indicated by Russian military leadership to press westward to further link to Russia-aligned Transnistria, where Russian troops have been deployed for 20 years. But he approves of the strategy.
"You see, if I were in charge, I would do that," he said, "because I would cut off the Ukrainians from the Black Sea."
"Frankly," he added, "they do not deserve that luxury."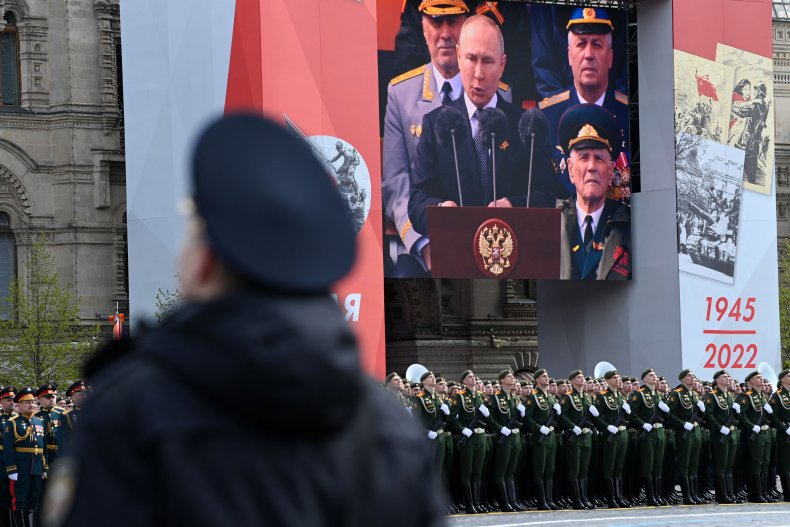 War Mapper, an online project dedicated to following the daily battlefield developments of the conflict, has identified two major goals of the current phase of Russian operations. These include "putting pressure on the supply lines to the Ukrainian strongholds in Severodonetsk, Rubizhne, and Lysychans'k" and "recent advances in the South with the objective of securing the 'land bridge' to Crimea and thus strengthening supply lines in the Kherson and Zaporizhia regions."
Ukraine's southeast is strategically important not only for its connectivity to two regions under de facto control of Russia, but also as a result of its wealth of natural resources. War Mapper told Newsweek that these resources may not be the "primary focus of the operation" but "will play some part in Russia's determination of whether continuing the investment required for continuing the conflict is worthwhile."
The region is also home to a large population of ethnic Russians and Russian-language speakers that Moscow has argued faced repressive policies from Kyiv, a claim that has been rejected by Ukraine but has nonetheless served as Russia's justification for annexing Crimea and backing rebels in the Donbas.
"The areas Russia has been focusing on have significant ethnic Russian populations," War Mapper said, "and while that does not mean that the people there welcome the Russian progress, it plays well for convincing the population in Russia, that these actions are of liberation, not conquest."
Buzhinskiy, for his part, said he felt Ukrainians in these areas would indeed embrace breaking off from the central government as they have grown "tired of this nationalist hysteria" he argued was being promoted by Ukrainian President Volodymyr Zelensky's administration.
Ukrainian forces have, however, thus far mounted a fierce resistance against Russian forces and allied separatists that have taken up arms since 2014, the same year an uprising brought to power a government seeking closer ties with the West. Kyiv and its partners always portrayed the Donbas insurgency and the referendum that brought Crimea under total Russian control as a power play by Moscow, and among the first items on Putin's agenda in the leadup to the all-out war in February was to unilaterally recognize the self-proclaimed Donetsk and Luhansk People's Republics.
In his speech Monday, Putin claimed that Ukraine had been openly preparing "for another punitive operation in the Donbass, for an invasion of our historical lands, including Crimea" in the leadup to the war, and that NATO "has begun active military development of the territories adjacent to us" after failing to engage in diplomatic efforts to rein in the bloc's expansion ahead of the conflict.
And he made reference to the followers of Stepan Bandera, a historic leader of Ukrainian nationalism known for pioneering efforts for his country's independence while collaborating with Nazi Germany against the Soviet Union during World War II.
"Thus, a threat absolutely unacceptable to us was systematically created, moreover, directly at our borders," Putin said. "Everything indicated that a clash with neo-Nazis, Banderites, on whom the United States and their junior partners staked, would be inevitable."
The Russian leader referred to his decision to commence military operations as a "preemptive rebuff to this aggression," calling it "the only correct decision" to be made by a "sovereign, independent and powerful nation."
"The United States of America, especially after the collapse of the Soviet Union, started talking about its exclusivity," Putin said "thereby humiliating not only the whole world, but also its satellites, who have to pretend that they do not notice anything and meekly swallow it all."
"But we are a different country," he added. "Russia has a different character."
Maxim Suchkov, director of the Institute for International Studies at MGIMO University in Moscow, explained to Newsweek the core tenets of the speech in the context of Victory Day's place as "the most important date in post-Soviet Russia" and "the core of the Russian state and societal identity."
"Given the current events," he said, "for President Putin the meaning of the date and of that victory is closely intertwined with the modern-day confrontation of Russia with the West."
Suchkov outlined what he saw as three key messages in Putin's address.
These included attaching modern Russia as "not just a successor state to the Soviet Union, but the heir of the military glory of the Russian Empire and the ancient Rus'." Putin also cast Russia as "a true bearer of European Christian values — unlike modern European states whose elites gave up on those values — and one of a handful of truly sovereign states in today's world who is not afraid to openly challenge U.S. hegemony."
And finally, Suchkov said that "Putin made it clear he doesn't have second thoughts about his decision to launch the military operation in Ukraine" in a bid to prevent a larger conflict from breaking out.
"As with the Great Patriotic War, Putin argued the current operation in Ukraine is about "defending the motherland,'" Suchkov said. "All of that was meant to send a message there are no cracks either in his determination or in the Russian state and the military in the face of the Western pressure."
The administration of U.S. President Joe Biden, which had warned of an impending conflict for months before its eventual outbreak despite Moscow's denials, has imposed sweeping sanctions on the Kremlin since the conflict began. These economic and political measures have since been substantially expanded, both in the span of Western powers joining them and the breadth of their Russian targets.
On Sunday, the eve of Victory Day, the Biden administration announced yet another set of steps against institutions of Russia's finance, defense and marine sectors.
"Civilian casualties continue to mount, as do widespread reports of war crimes and other atrocities perpetrated by Russia's forces in Ukraine," State Department spokesperson Ned Price said. "As the people of Ukraine continue to fight bravely against Russia's brutality, we will continue imposing severe costs to hold President Putin accountable for his utter disregard for human rights and fundamental freedoms."
"We also will hold to account those involved in his war of choice," he added, "including those suspected of taking part in atrocities and human rights abuses against civilians."
The White House has also offered Ukraine more than $3 billion in military aid since the outbreak of the war. European allies have followed suit, pledging a range of assistance to a nation that has for years sought membership in the NATO alliance to no avail.
In Kyiv, Zelensky delivered a Victory Day address of his own on Monday. And he too saw the conflict in terms of a global struggle.
"This is not a war of two armies; this is a war of two worldviews," Zelensky said. "The war waged by barbarians who shell the Skovoroda Museum and believe that their missiles can destroy our philosophy. It annoys them. It is unfamiliar to them. It scares them. Its essence is that we are free people who have their own path."
"Today we are waging war on this path," he added, "and we will not give anyone a piece of our land."
And he staunchly rejected Putin's characterization of his government as a friend of Nazism, instead praising Ukraine's role in resisting fascist occupation. Once again, he said Ukrainians "believe that we will drive the occupiers out of our own land."
Iuliia Mendel, who previously served as Zelensky's press secretary, reiterated that "Ukraine used to be one of the fighters of the German Nazi army and is not going to give Russia this right to privatize the victory."
"The important point is that Ukrainians preserved and cherished the values developed after WWII that shows us Ukrainians are part of the Western world," Mendel told Newsweek. "Russia has turned into the regime that it had been fighting during WWII, after winning in the battle with the dragon, Moscow has turned into a dragon."
She accused Putin of establishing a repressive cult of personality that "makes many Russians believe the cynical devastation of Ukraine and its people is justified," a point she said was reinforced by the Russian leader's speech on Monday. But citing Zelensky's words regarding the war of worldviews, she said "this battle cannot finish until truth prevails."
Also backing Zelensky's words was Oleksandra Matviichuk, an award-winning human rights lawyer who heads the Center for Civil Liberties in Kyiv. She too felt the "Russian-Ukrainian war has a symbolic dimension" and was ultimately a "war about values."
But she said there was a contrast in the way Putin and Zelensky approached their Victory Day addresses.
"Putin spoke about the past. He always refers to the past and tries to make an impression that we will repeat this past," Matviichuk said. "Zelensky spoke about the future, he spoke about the children for which we are fighting in this war, about future victory, which we will have when we succeed in the democratic transformation, and always defending our freedom and independence."
Still, she said Ukrainians "expect heavy battles in the future," as it appeared "Russia will not be stopped" in its quest to consolidate control over the corridor through Ukraine even in the face of the current pressure it's facing from Kyiv's Western partners. And yet, she said both Russia and the West "were wrong" for having underestimated the resolve of Ukrainians to defend their state and its institutions in the first place.
"This story is very important," Matviichuk said, "because it shows that ordinary people have much more power than they even think."
This power is tested, however, by relentless Russian strikes across Ukraine, including as far west as Lviv, located not far from the border with Poland. In the southeast, a focal point of Moscow's campaign has been the coastal city of Mariupol, which has come under effective control following a lengthy siege and on Monday hosted a Victory Day parade of its own organized by officials of the Donetsk People's Republic.
Lucian Kim, a resident fellow at the Wilson Center in Washington who has covered Putin's rule in Russia as a journalist since 2003, said that Russia's determination to take Mariupol served as further evidence of Putin's desire to establish a land bridge to Crimea. Beyond this, he said Russia was strategically "interested in taking Ukraine's entire coastline, extending all the way to Moldova, though Russian forces have so far been unsuccessful in making significant progress in this direction."
And while he argued that, "historically, Russia has always been interested in Ukraine for its wealth in natural resources and agricultural lands," Putin in this case "has made clear from the beginning that his fight in Ukraine is motivated by ethnicity and geopolitics."
"For Putin," Kim added, "this war is about preventing Ukraine, which he considers a Russian borderland, from falling under the influence of the West."