In Victory Speech, Lindsey Graham Calls SC Senate Race 'Worst Return on Investment in History of American Politics'
Sen. Lindsey Graham taunted Democrats for making "the worst return on investment in the history of American politics" while giving his victory speech after defeating his Democratic challenger Jaime Harrison in South Carolina.
AP confirmed Graham's victory over Harrison on Tuesday evening. Throughout the race, Harrison's enormous fundraising efforts broke campaign records.
Graham called Harrison "very gracious" in accepting defeat during a phone call after results were announced. However, he had no kind words for pollsters who predicted he might lose his seat, or that a potential landslide could be on the cards for Democratic presidential nominee Joe Biden before actual results saw President Donald Trump far outperforming predictions.
"I've had two calls already one from President Trump, he's gonna win," Graham said. "He is gonna win. To all the pollsters out there, you have no idea what you're doing."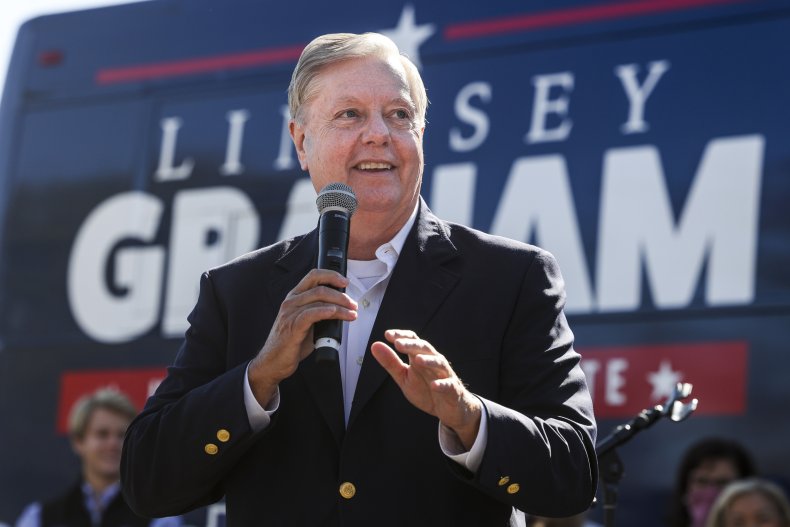 He also took the opportunity to condemn liberal donors in the election, one of the factors that helped Harrison's run become the most expensive Senate campaign in U.S. history, with over $200 million being spent.
"All the liberals in California in New York, you wasted a lot of money," said Graham. "This is the worst return on investment in the history of American politics."
Regardless of his opinions on those who donated to the Harrison and Biden campaigns, Graham offered personal praise for his Democratic challenger.
"I got a call from Mr. Harrison," said Graham. "Jaime, thank you. He was very gracious. He created an incredible campaign for the first time he's ever run for office. He raised more money than anybody in the history of the United States Senate."
"I think I had a lot to do with that, but Jaime I appreciate the phone call," added Graham. "I will do my best to unite us where I can. You're a good father, you're a good husband, you're a good man and I look forward to working with you where I can."
With weeks to go in the election, the Harrison campaign had raised $131 million by October 14, while Graham's campaign raised $78 million.
The most expensive losing Senate campaign before Tuesday happened when Democratic challenger Beto O'Rourke lost his $80 million bid to unseat Sen. Ted Cruz of Texas by 2.6 percent in 2018, with the incumbent's winning campaign gathering $45 million.
With 62 percent of the vote counted on Tuesday night, Graham led Harrison by more than 13 percent, suggesting that his winning margin could far exceed predictions and polling.
Although a majority of polls gave Graham an edge leading up to Election Day, some showed the race neck-in-neck and forecasts from the Cook Report and RealClearPolitics considered the race to be a "toss-up."
Newsweek reached out the Graham's office for additional comment.