Video: 19,289 Hockey Fans Throw 28,815 Teddy Bears Onto the Ice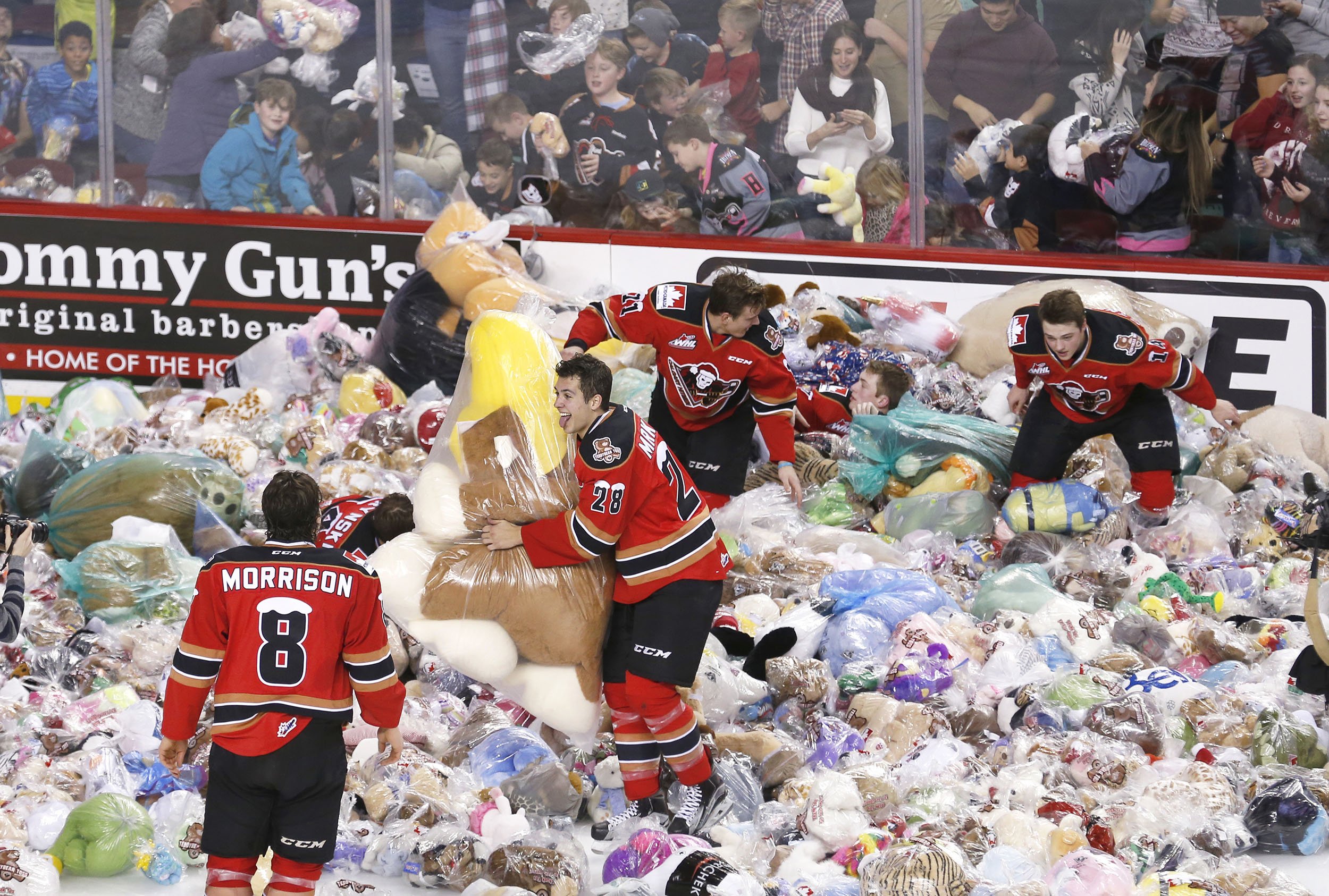 The Calgary Hitmen Hockey Club donated to charity more than 28,000 teddy bears on Monday after fans participated in the team's annual Teddy Bear Toss over the weekend.
The bear toss is a tradition among some Western Hockey League teams, with fans being asked to bring bears to the stadiums and to throw them when the home team scores its first goal.
On Sunday, the Hitmen played against the Swift Current Broncos at the Scotiabank Saddledome in Calgary, Alberta, with 19,289 fans in attendance. After Jordy Stallard scored the Hitmen's first goal, fans covered the ice with exactly 28,815 bears, about one-and-a-half bears per fan (though perhaps some stadium staff and players brought their own bears to toss, too).
"It felt incredible to get it," Stallard said in a statement. "I would have been happy just to win the game, but to get the goal just made it that much better. The fans were absolutely outstanding, and to top it off it's all for a great cause so it was just a great night all around." Stallard's teammates are already calling him "Teddy."
The impressive outpouring of teddy bear love delayed the game, as trucks had to be used to clear them off the ice. It took 37 minutes to get the bears cleaned up.
The bears will find new homes in more than 50 different local charities. Some will go to the Calgary Food Bank, others to the Salvation Army and a local children's services organization.
The team has been participating in the Teddy Bear Toss since 1995. In that time, it estimates it's collected about 300,000 cuddly bears for those in need.
In addition to handing out bears to local charities, the team is auctioning off the jerseys worn during the game, with proceeds going to a food drive.
You can watch the toss in all its glory here: