1MDB: Malaysian Ex-PM On $2.7bn Corruption Trial Records 'Kiss and Say Goodbye' Cover to Prove Innocence
While it may not soar like "My Way" or "Non, Je Ne Regrette Rien," a song just released by disgraced former Malaysian Prime Minister Najib Razak is just as defiant.
His head dizzy after a fall from grace so rapid that, within weeks, he was thrust from being prime minister to the accused in the biggest corruption case in the country's history, Najib decided to express his innocence the best way he knows how—through song.
Najib is accused of abusing his position in getting a 2.6 million ringgit ($630 million) "donation" from the Saudi royal family in 2013, which he insists was a gift. Investigators say the money was siphoned off state fund 1Malaysia Development Berhad (1MDB) through a complex web of transactions.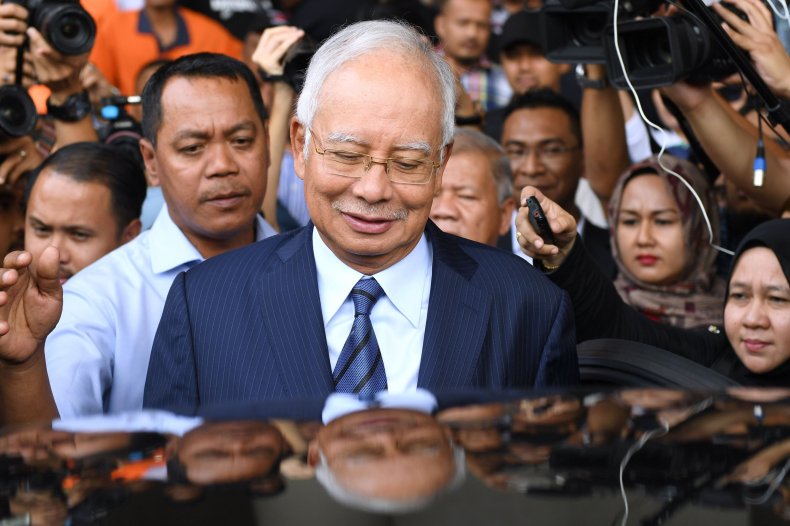 He denies the charges—and is not afraid to use to a recording studio to say so.
With a group of slightly reluctant young backing singers in tow, he sings a Malay-language version of the ballad by The Manhattans "Kiss and Say Goodbye," which was a worldwide hit for the all-male group in 1976.
Najib's spoken introduction was not quite the honeyed baritone the Manhattans' Winfred Lovett displayed in the original but it was just as heartfelt, describing what has "got to be the saddest day of my life."
"Since May 9, 2018, I was ousted. All this while, I have been fighting for the people who I really love. But what can I do?" Najib pondered, according to The Guardian.
"I was abused by [ruling party] Pakatan Harapan with their agenda of revenge and slander. But I surrender to God to be given the strength to reorganize Barisan," he said, referring to the coalition he led until 2018 before Mahathir Mohamad became the world's oldest elected leader, aged 93.
"Hopes as high as mountains but crushed to become dust, I believed in you, all your promises," he added, in a dig at the current government, the Straits Times reported.
To a backing track in which the singers appear to be moving out of time with the music, they sway uncertainly with their former leader. Whether the public will be swayed by a video showing a close up of Najib's face as he emotes is also uncertain.
This is just the latest idiosyncratic showbiz denial ahead of a prominent court case.
Last month, actor Kevin Spacey appeared in character as Frank Underwood from Netflix series House of Card s in a video released on social media in which he apparently protests his innocence to sexual assault allegations against him.
People in Malaysia are eagerly waiting for the trial of Najib, which starts next month and could land him a 200-year sentence.