Video: Activists Build Giant ICE Cage at Burning Man to Slam Palantir and Amazon Over Agency Contracts
The "abolish ICE" movement made its way to the Burning Man festival this year, with protesters bringing a giant cage labeled with the U.S. Immigration and Customs Enforcement agency's acronym. It was part of a bid to raise awareness around Palantir and Amazon's involvement with the federal immigration agency.
Palantir has a contract worth about $51 million to provide investigative case management software to ICE, according to the US government's spending website.
The software helps the agency access and maintain information on undocumented immigrants, including employment information, phone records and immigration history, according to The Intercept.
ICE Cage time lapse from Jacqueline Fielder on Vimeo.
Palantir also relies on Amazon's cloud services, which has led to calls from Amazon employees demanding that CEO Jeff Bezos end the company's relationship with the software firm.
"ICE's actions have been enabled by tech companies like Palantir that give the agency critical software," organizers with Mijente, a national advocacy group for the Latinx and Chicanx communities that organized the Burning Man demonstration, said in a statement to Newsweek.
"At Burning Man, we aimed to remind tech workers that they are complicit in these abuses."
The advocacy group said that while it seeks to raise awareness around Palantir's role, it also wants to "target key levers upholding Palantir—one of which is Amazon Web Services, who hosts their data."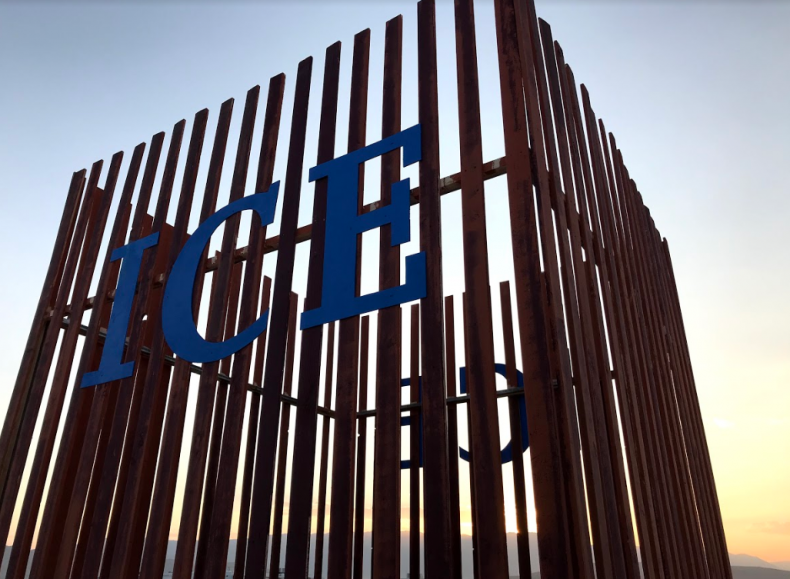 Mijente organizers said that Burning Man, an annual event that sees a "temporary city" erected in the Black Rock Desert of northwest Nevada, was the perfect place to "start a conversation with tech workers" around the industry's relationship with agencies like ICE.
The late summer event is known to attract Silicon Valley tech leaders, including Bezos.
"While our people are sitting in cages and being targeted by ICE agents in one desert, tech workers are letting their hair down in another," organizers said.
"We want to derail Trump's deportation machine, and that's where Silicon Valley tech workers come into play. If they refuse to build the tech, ICE won't be able to do what they are doing," they added.
Noting that employees of tech giants, including Amazon, Microsoft and Salesforce, have written petitions and rallied for their companies to cut ties with ICE, organizers said that was "not enough."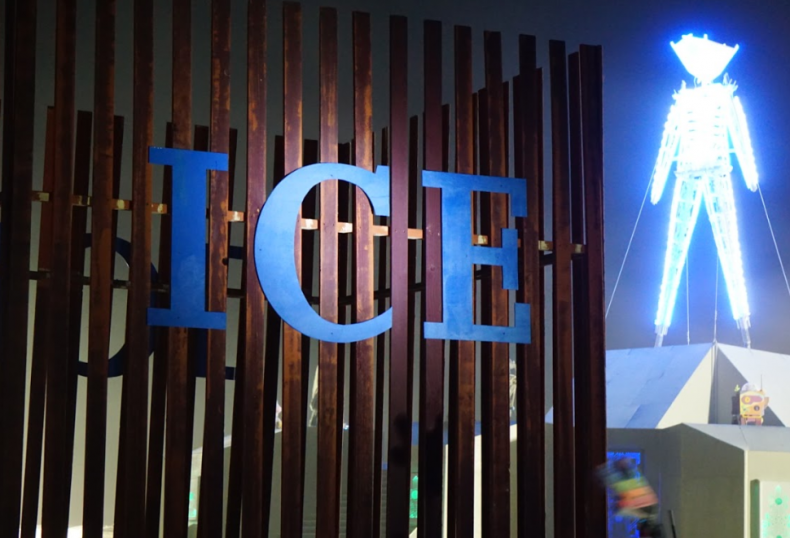 "We need every tech worker across the country to say, 'not in my name' and condemn the actions of companies who enable Trump's deportation machine," they said.
"At Burning Man, tech workers feel free—to be who they are, to make art, to take drugs and dance and generally revel," they said.
"Nothing like that sanctuary exists for immigrants in this country now. Our community is fearful to attend birthday parties with family and friends," they said, adding: "Tech workers must be reminded of that every day, and choose a side: Either ally with our country's most vulnerable to oppose this deportation dragnet, or go down in history as an ICE collaborator."