Video of Adult Woman Finally Meeting Her Father Viewed Over 7 Million Times
One TikTok user's first meeting with her biological father after finding him through 23andMe has gone viral online, amassing over seven million views.
Brandais, who uses the TikTok handle @dodocaca_92, shared the video, which can also be seen here, on June 27, but has been following up with videos since as she learns more herself.
In the clip, Brandais is introduced to Nick, her biological father, by her grandmother, who she had been in contact with for two years prior. Brandais' parents met as patients in a mental health facility and she was conceived during their time there. Nick's family, who was unaware of her existence, had been unsure on when to tell him about his daughter. As confirmed in a later comment, her biological father now has dementia.
"I was really nervous," she told Newsweek. "They made me wait almost two years before telling him the news. Due to his condition they didn't know how'd he react, so I was prepared for rejection. I was not expecting him to be so welcoming."
"Esta muchacha es tu hija," said the grandmother in the video. "Brandais is my granddaughter, because she's your daughter," she clarified, after Nick said he didn't understand what was happening.
"How is that ma," he asked, clearly shocked by the news. Soon, however, he became emotional and pulled Brandais in for a hug.
Brandais informed her biological father that she took a DNA test which matched her to Beatrice, his sister. She then added that she has a paternity test ready for him to take, which he agrees to.
"I didn't know I had a daughter mom, I didn't know ma," he said.
After the success of her heartwarming video, many have followed Brandais' journey, as she documents more of her story online. "When I posted the video it got such a rave that I wasn't prepared for. My biological parents meeting in a mental [health facility] was interesting for a lot of people and because they asked I just spilled. I'm normally a keep-to-myself person, but after a death in my family last year I told myself not to hold back anything," Brandais told Newsweek. "That's why I've been so open and raw."
According to videos by the TikTok user, she had used 23andMe in an attempt to track down her two siblings on her mother's side, rather than to find her father.
Brandais' mother was in a car crash at the age of 16, and "was never mentally the same" after, leading her to have "been in mental institutions ever since then."
Her father Nick has also had mental health struggles since he was that age, and as awareness hugely lacked at that time, he was also in the same institution. Brandais said in a video that she isn't 100 percent sure on the specifics of the story, but knows that she was conceived there. For her whole life, it was believed that her birth was a consequence of assault on her mother by a doctor or nurse, however she now says she believes this was a cover-up for the hospital to hide that they allowed a relationship between two patients.
As explained in her TikTok videos, Brandais was fostered at two months old and adopted at six by a woman who she didn't have a good relationship with.
"I've never known a love like my abuelas and my new family," wrote Brandais in a caption. "He's still trying to wrap his head around everything," she added.
Brandais said she met her birth mother once when she was a child, when her adopted mother took her to visit her in the hospital, where she still resides.
At aged 14, Brandais unknowingly lived across the road from her birth mother, and only discovered this in recent years when she visited the hospital. She speaks to her mother, who still calls her by her birth name Magdalena, on the phone and visits her in person.
"She talks about Magdalena all the time, talks about having a daughter all the time," said one of the hospital nurses to Brandais the first time she visited. She said the nurses became emotional and were shocked by her visit.
Birth mother Shirley doesn't remember Nick, and her family were previously not aware of Brandais' existence either. The TikToker said this adds to her questions about the mental health facility she was in during her pregnancy, as they didn't make her family aware.
"If it were up to me, I'd love for them to meet again," said Brandais. "My birth mother I've known since I was 19 so now that Nick is in the picture, I plan on getting to know him better before his illness progresses. I have a notebook full of questions that I been having him answer a few every weekend when we talk. My next visit with him, I hope to take him to a Chinese restaurant because he said that that is his favorite food."
Brandais' family and heritage discovery is an ongoing journey, which thousands are tagging along for, and have rushed to share their joy at the now-viral initial meeting.
"The way I just cried when he reached to hug you," commented one user.
"Crying tears of happiness for you," wrote another.
"I love this grandma. Her and her new granddaughter will be close," added another TikTok user.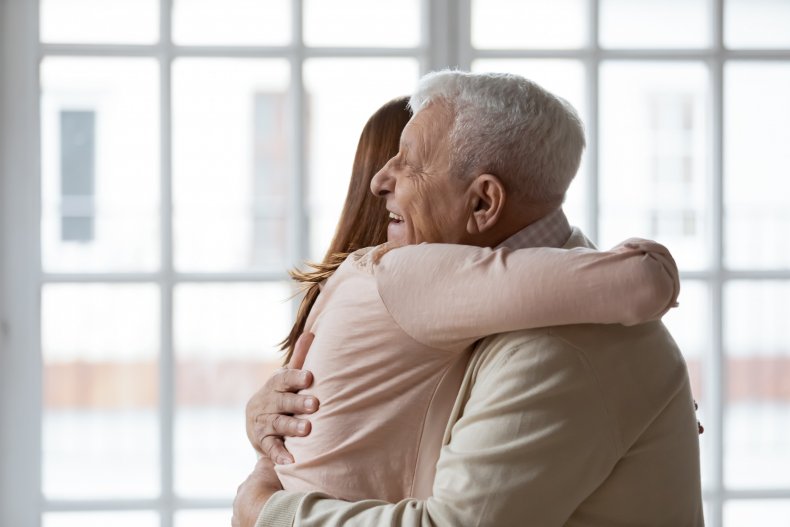 Correction 07/19/21, 8:33 a.m. ET: This article was corrected to include the correct spelling of Brandais' name.
Update 07/19/21 10:18 a.m. ET: This article was updated to include comments from Brandais.